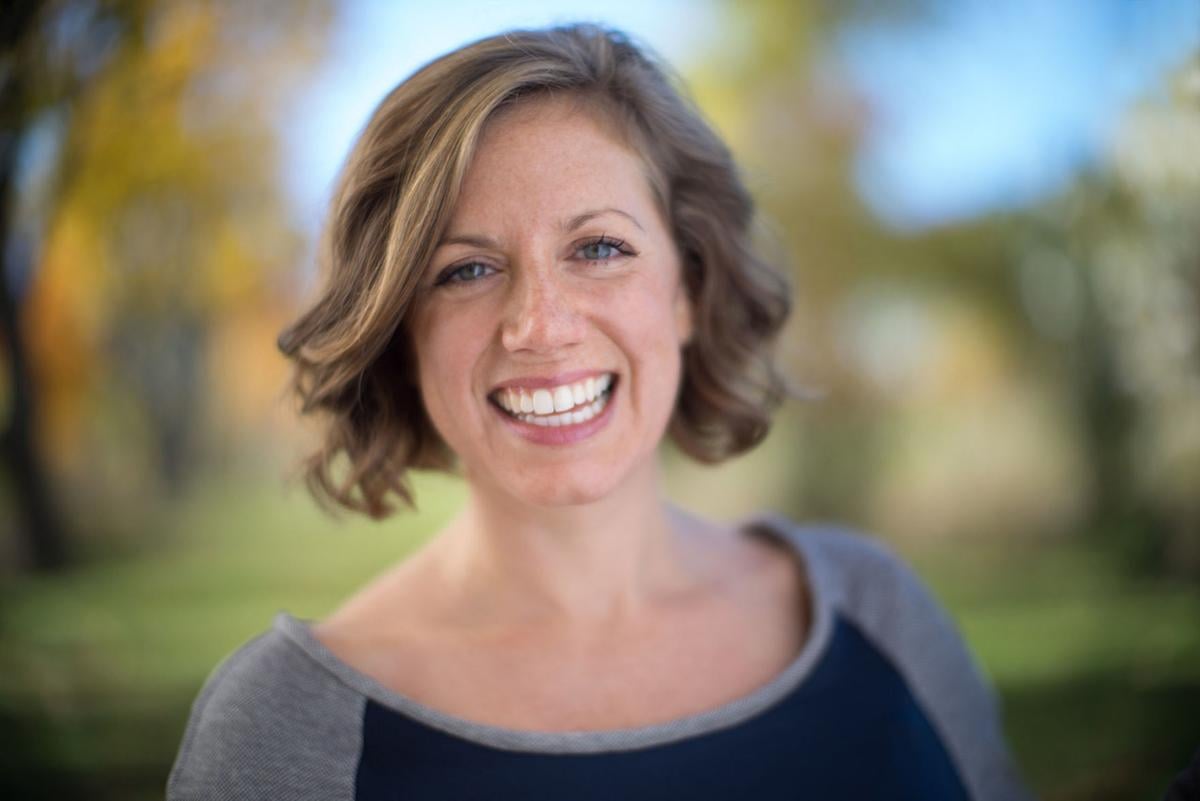 CEDAR FALLS – Everyone hopes to make a mark, make a difference in people's lives and leave behind a legacy. The late Mayor Jon Crews accomplished that.
On Thursday, Cedar Falls residents paid tribute to his memory at the dedication of a new public artwork in his honor. "Fence Roadway," designed by award-winning Boston artist and University of Northern Iowa graduate Gillian Christy, was installed and dedicated.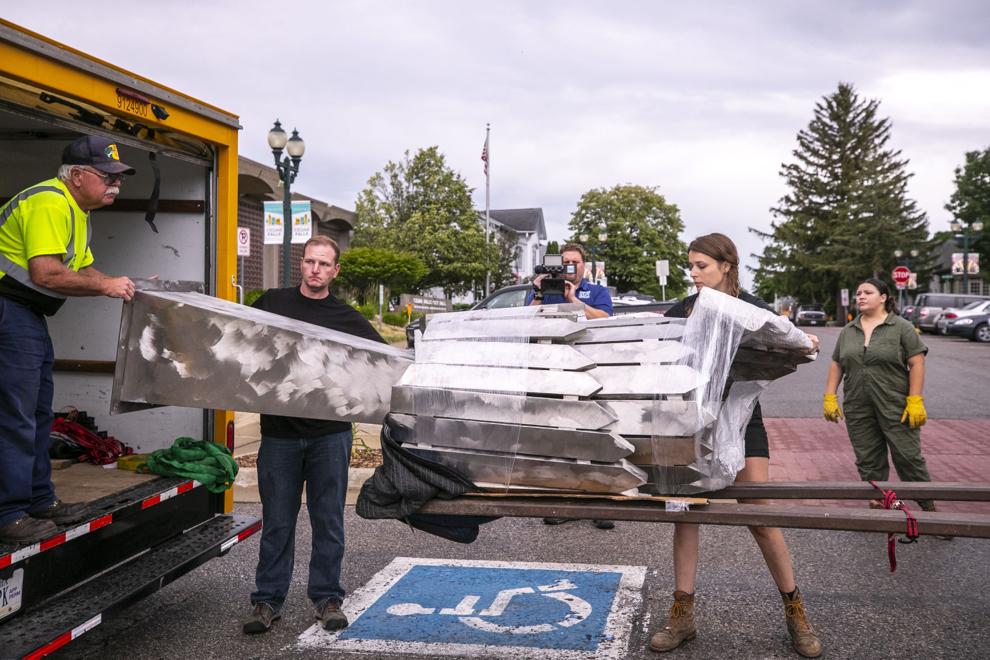 The stainless steel and powder-coated steel sculpture measures 9 feet 5 inches tall by 8 feet wide by 4 feet deep. It was installed Thursday morning outside Cedar Falls City Hall on Clay Street where the Eternal Flame sculpture previously stood. That sculpture has been moved to Veteran's Park.
Crews' family and friends, as well as Christy, were present for the unveiling at a ceremony Thursday evening.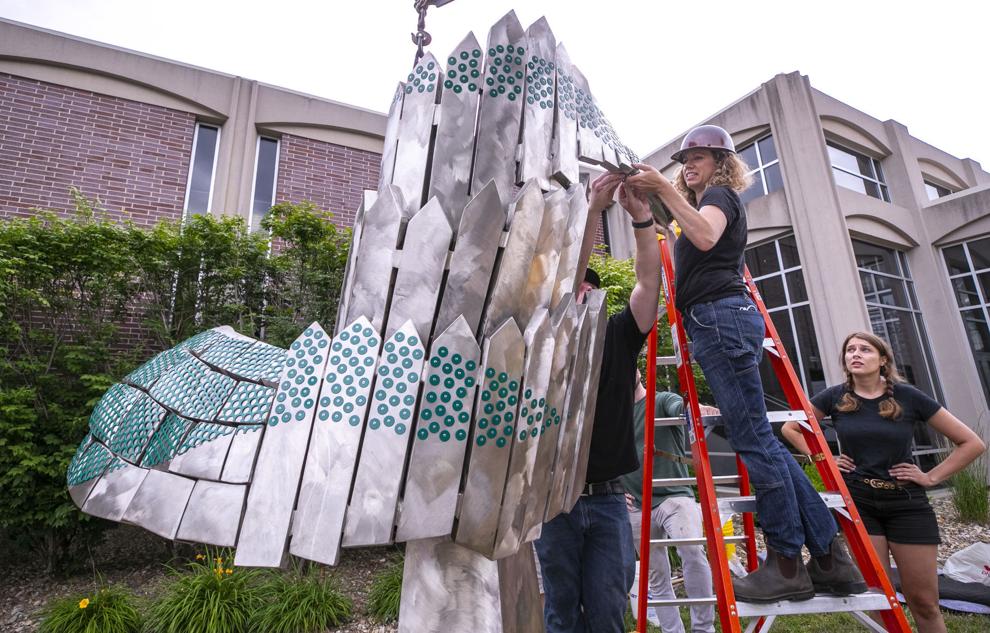 Crews served three stints as mayor totaling more than 30 years. He was one of the youngest mayors in the country when first elected in 1971 at age 24. He served until 1979, again from 1987-1993 and 1999-2015. He died in April 2017 after battling liver cancer.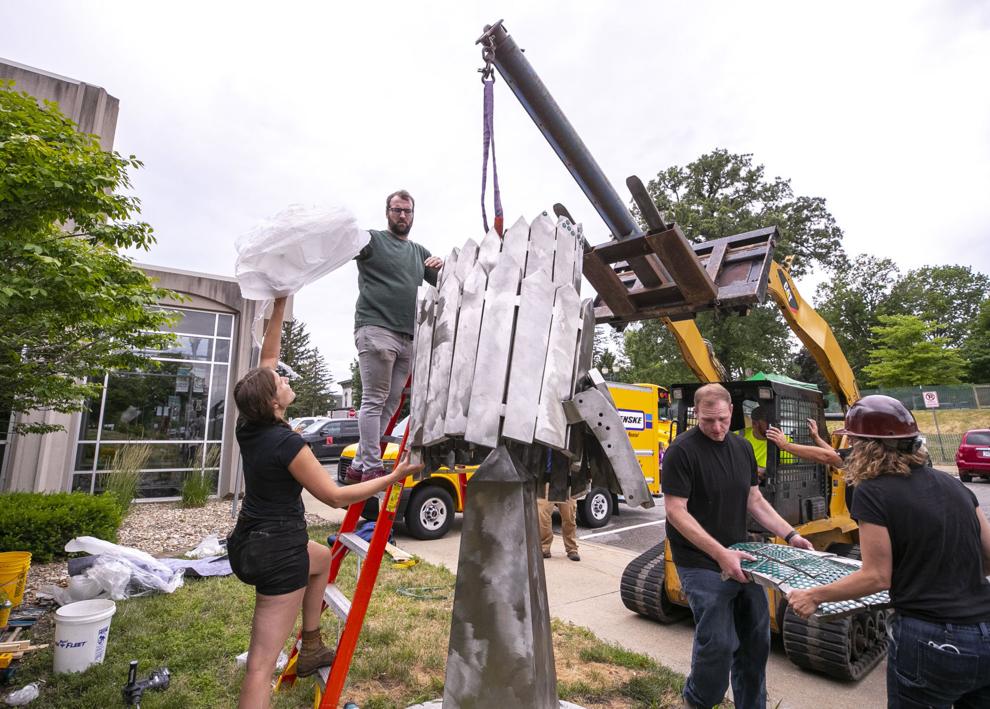 The new commemorative sculpture, at the behest of Crews' brother Chuck, of Columbia, Mo., and Crews' wife, Ronelle Langely, is meant to focus on Crews' devotion to the community. The Cedar Falls Public Art Committee began an 18-month process in 2018 for planning, fundraising, requesting applications and selecting an artist for the commission.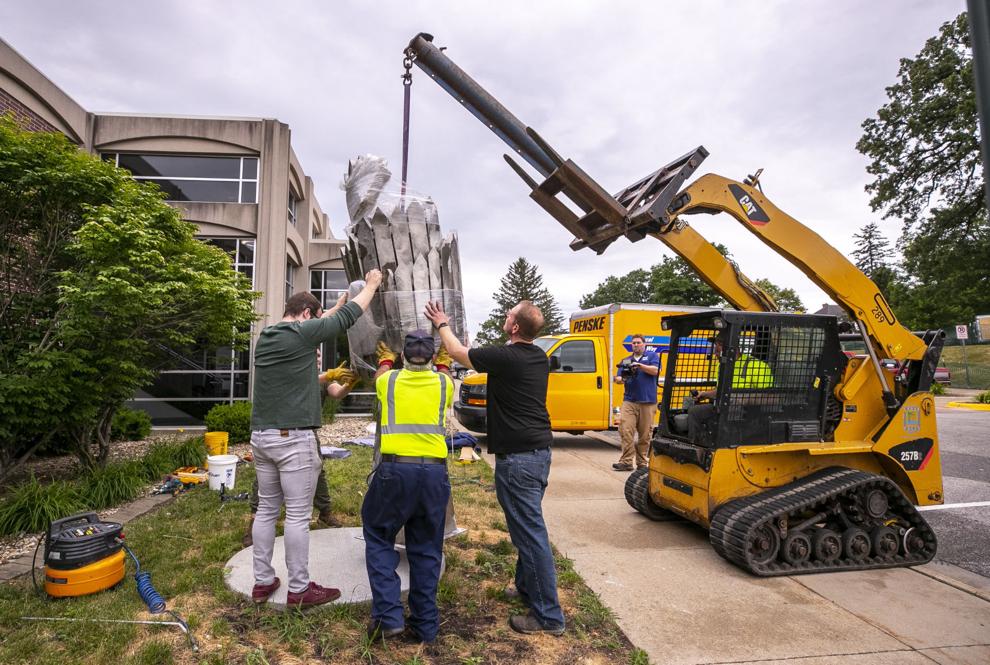 Dan Perry, UNI instructor and coordinator of the public art incubator, worked on raising the $20,000 for the sculpture and installation.
"Jon was such a strong supporter of the arts, and the Public Art Committee really flourished under his administration to where it is now, so this seems very fitting. Gillian's sculpture is a representation of building a community and growing ideas. It's not a straightforward memorial pieces; it's open to interpretation," Perry said.
Originally, the sculpture was planned for installation last summer, but the coronavirus pandemic delayed the event.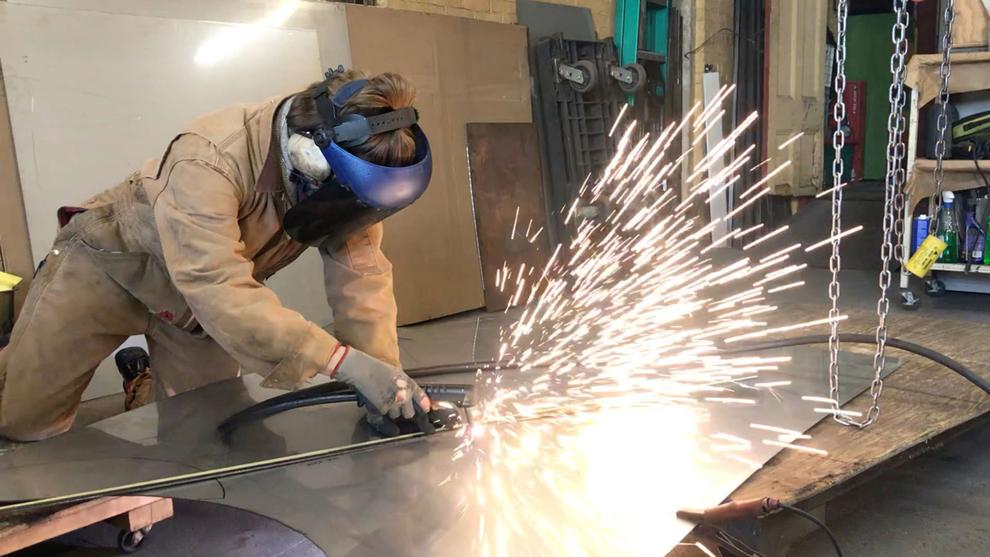 Christy, a Davenport native, graduated from the UNI in 2002.
"I enjoy making artwork that serves as a celebration of something, designing and creating work that is positive and uplifting," Christy said. "I was in the beginning stage of making this piece, and the fact that it was honoring the mayor and his community spirit, it seemed to work. I'm glad the committee liked it and thought it would be fitting."
Christy typically works within the notion that "connectors – those things in our built environment like roads and fences — connect us to each other. I've always liked the cobblestone, 'follow the yellow brick road' theme, wrapping it into a dynamic sculpture."
She credits Tom Stancliffe, UNI professor emeritus in art, with opening her eyes to creating public art. "I always imagined myself as being a sculptor with clay. Then I took a class with him and learned to weld with metal. I liked that I could weld something and build a piece of art that could stand up by itself and not break. I could see Tom actively working on his own public art projects, and I began imagining that for myself," she explained.
Christy recently received a Mass Cultural Council fellowship and has received grants from New England Foundation for the Arts, Rhode Island State Council for the Arts and the Rhode Island Foundation. She is a past recipient of the Americans for the Arts' America's best reviewed public art award. Commercially, she has created artwork for "NFL on CBS," among others, and for the W Hotel in Boston.
Beyond designing, problem-solving and building a monumental piece of art, moving such large pieces is a consideration.
"It's something I factor in from day one — making sure it will fit out my studio door. I have an industrial space for my studio, but the door is only 4 by 8 feet. I work with pulleys and chain hoists to lower it down and use a forklift to put it on the truck. I do all of the delivery and installation myself. It makes me feel more comfortable. It's my baby, and I don't want anything to happen before the big install," the artist said.
The sculpture was installed on a round concrete pad about 8 feet in diameter and can be seen from Overman Park. Plans are to create a stepping stone pathway so the public can interact with the piece.
"That's all taken into consideration when I'm working on a piece. Everything is fully welded and assembled with lock-tight anchors and smooth to the touch."
Photos: 2019 Sturgis Falls Celebration
062919kw-sturgis-falls-07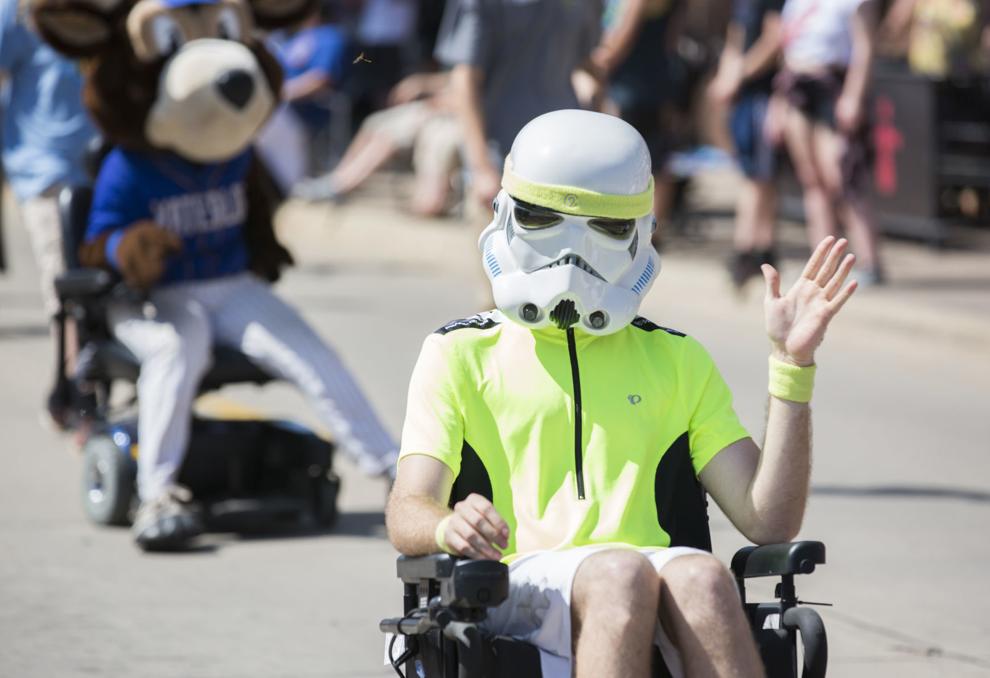 062919kw-sturgis-falls-08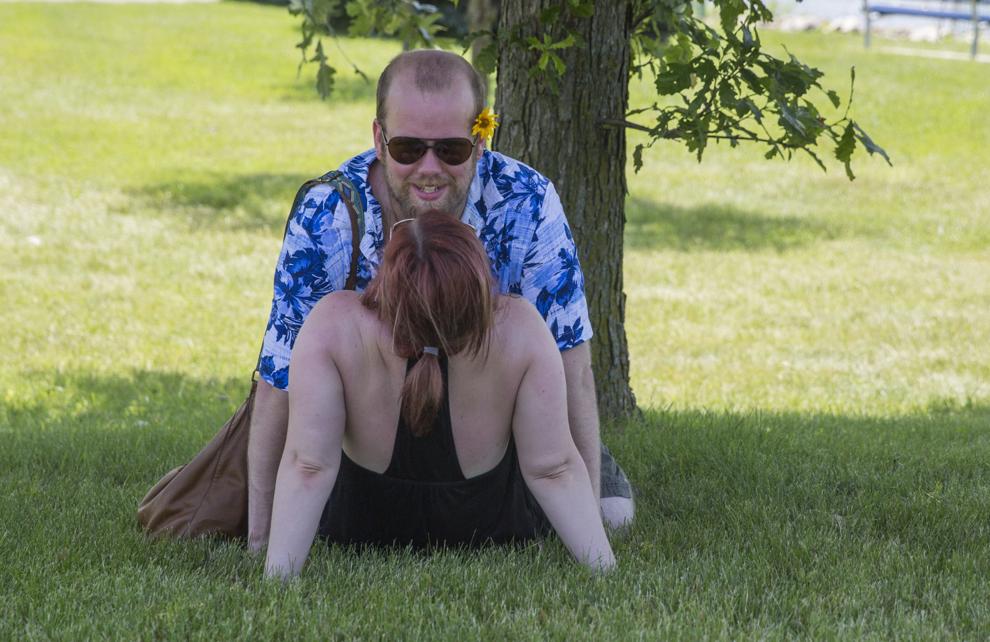 062919kw-sturgis-falls-02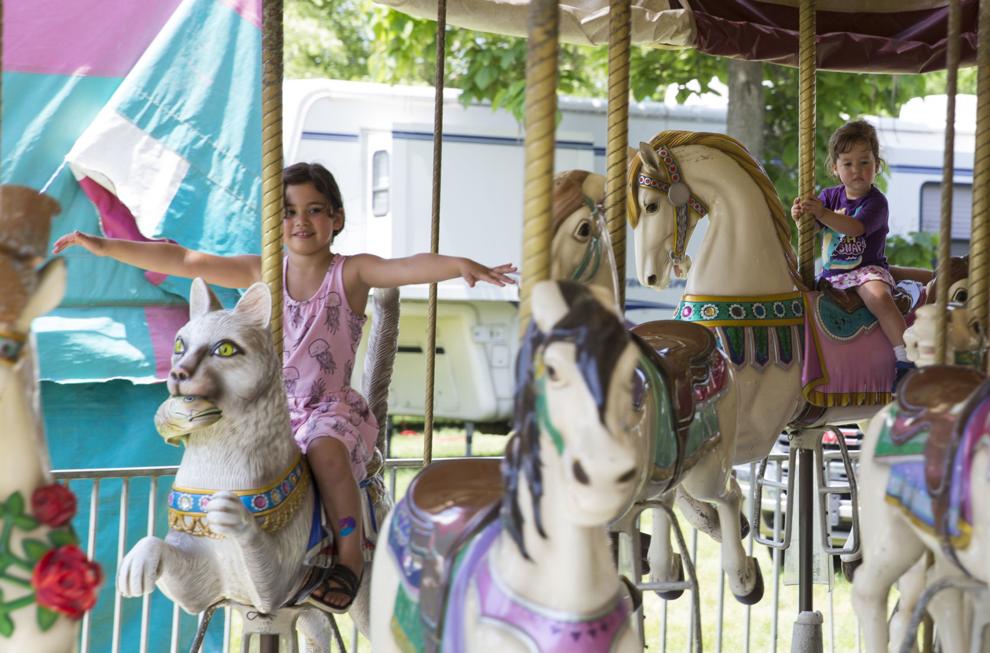 062919kw-sturgis-falls-03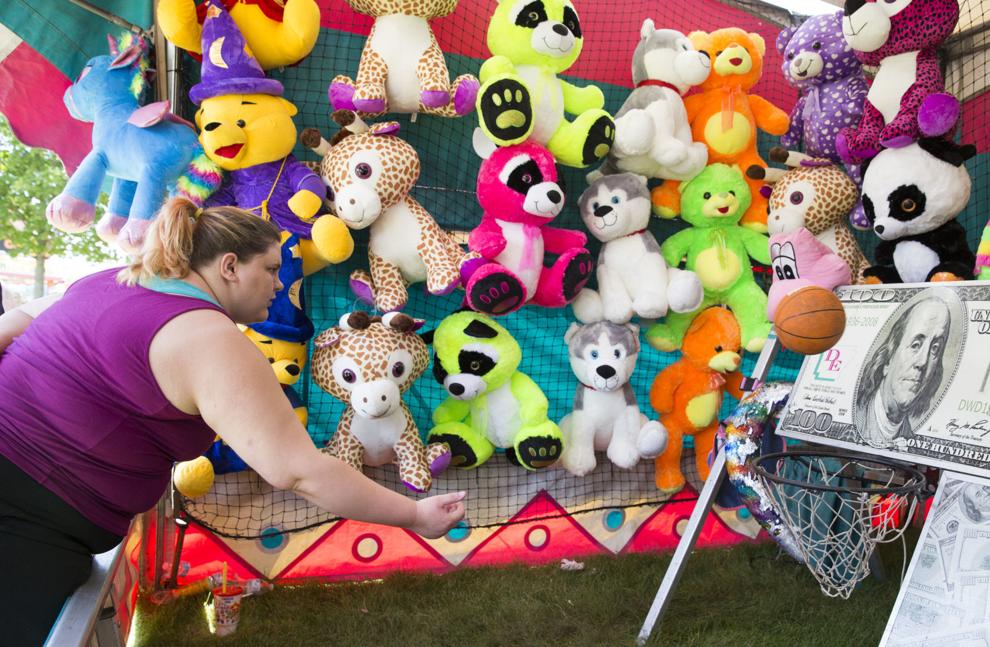 062919kw-sturgis-falls-04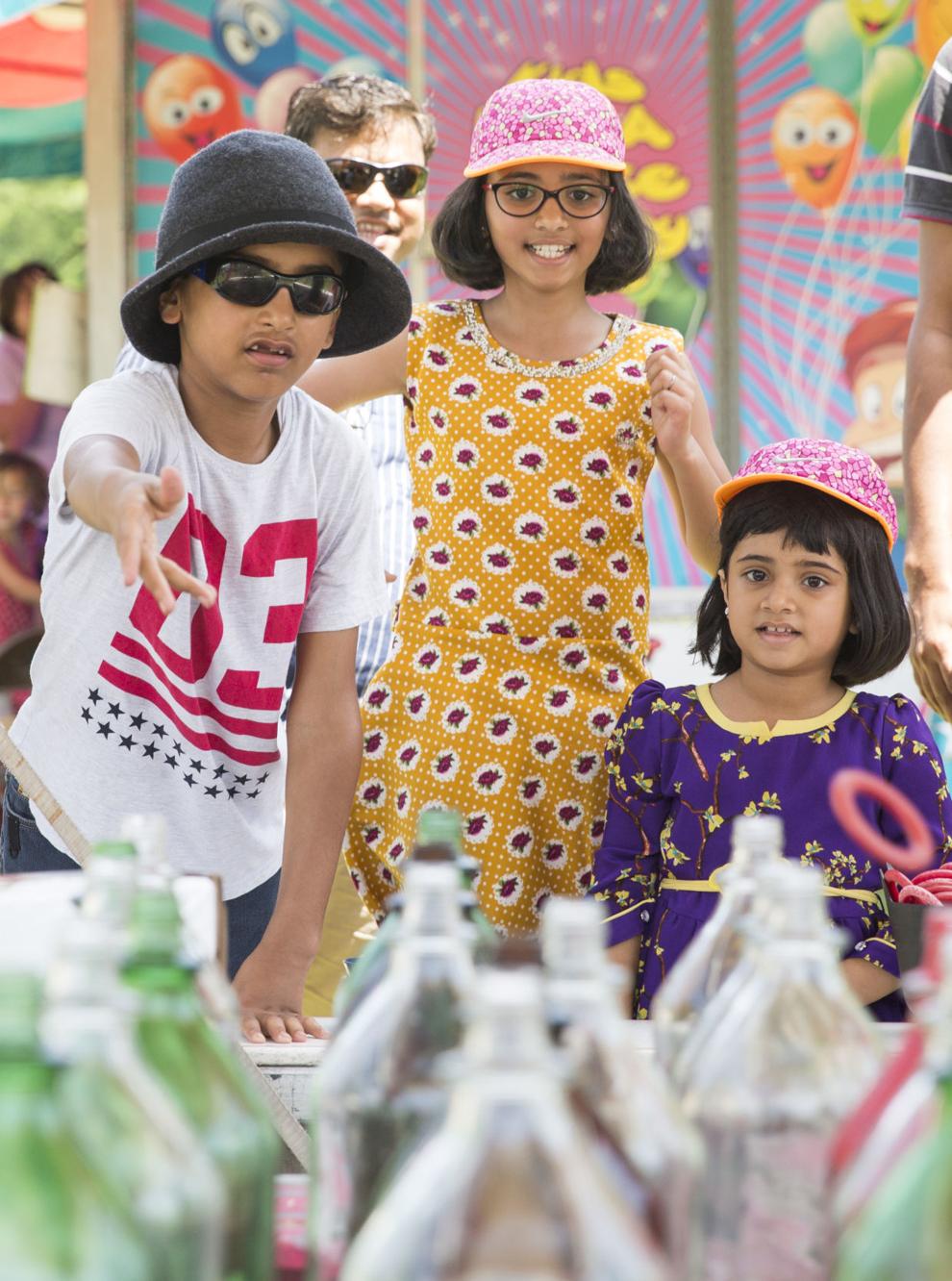 062919kw-sturgis-falls-05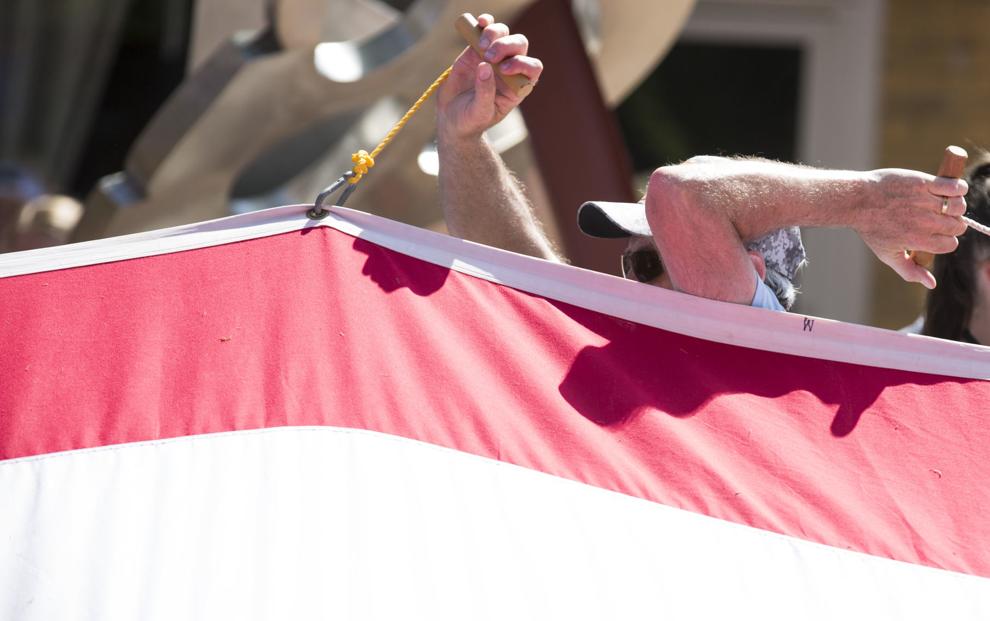 062919kw-sturgis-falls-06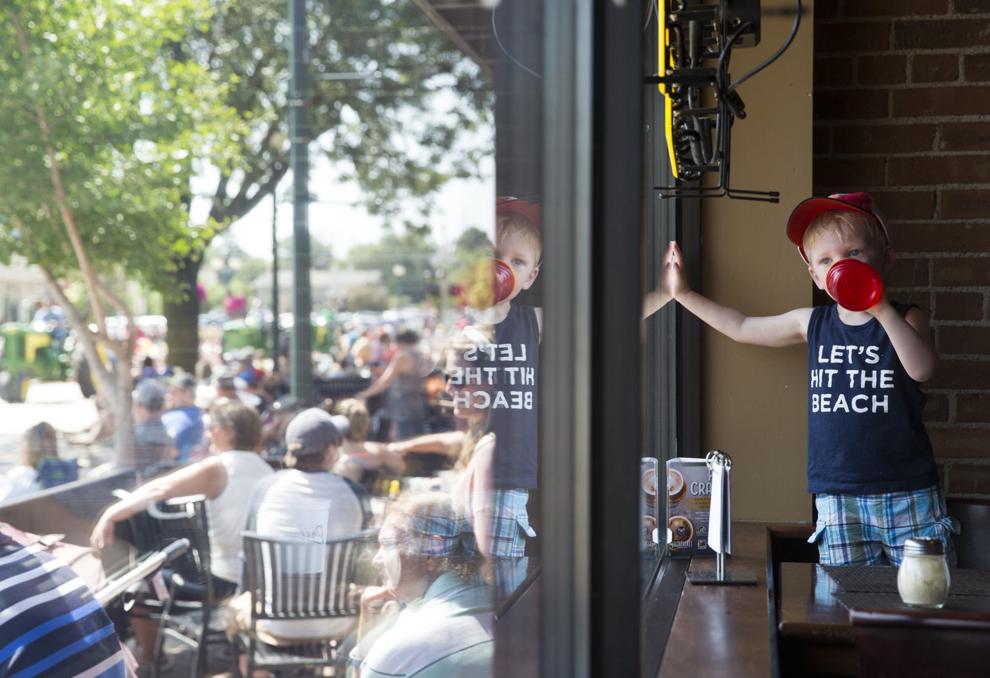 062919kw-sturgis-falls-01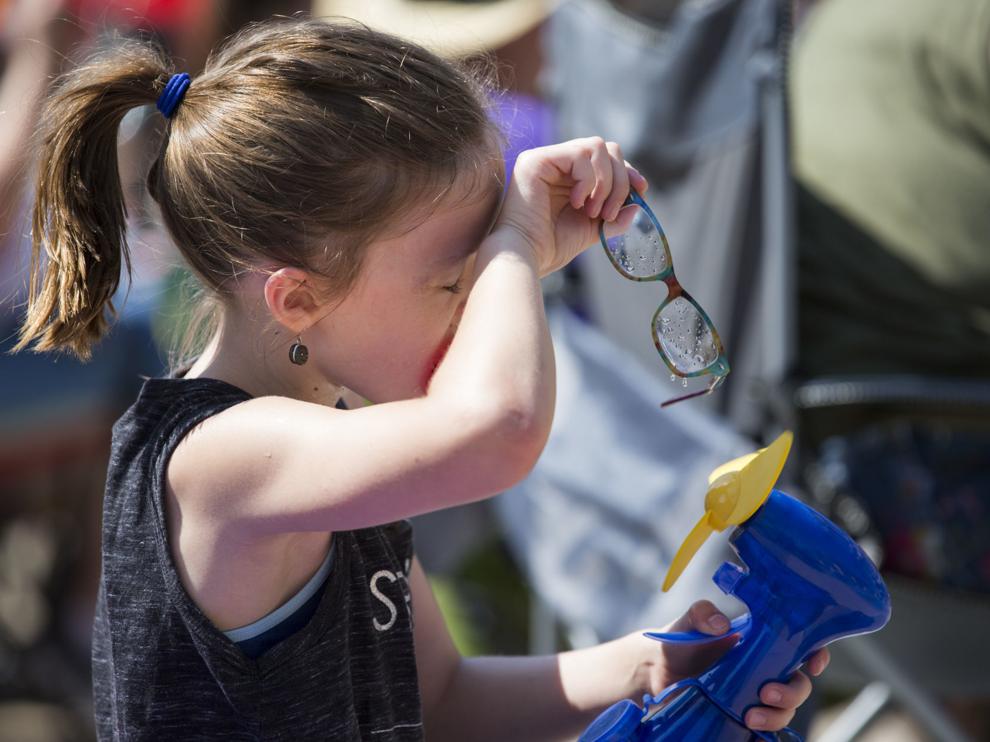 062919kw-sturgis-falls-09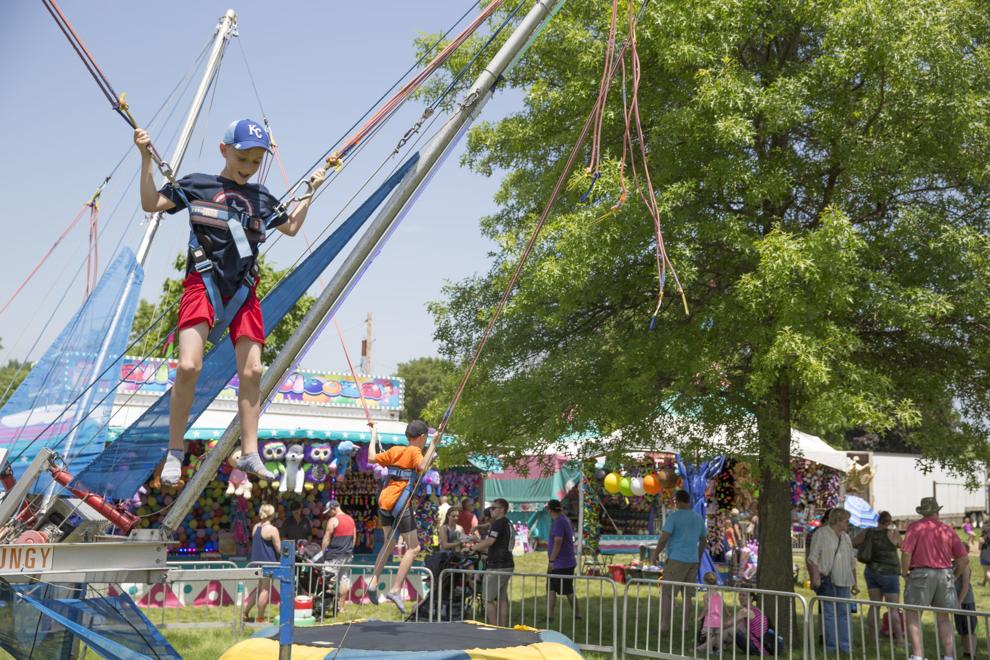 062919kw-sturgis-falls-10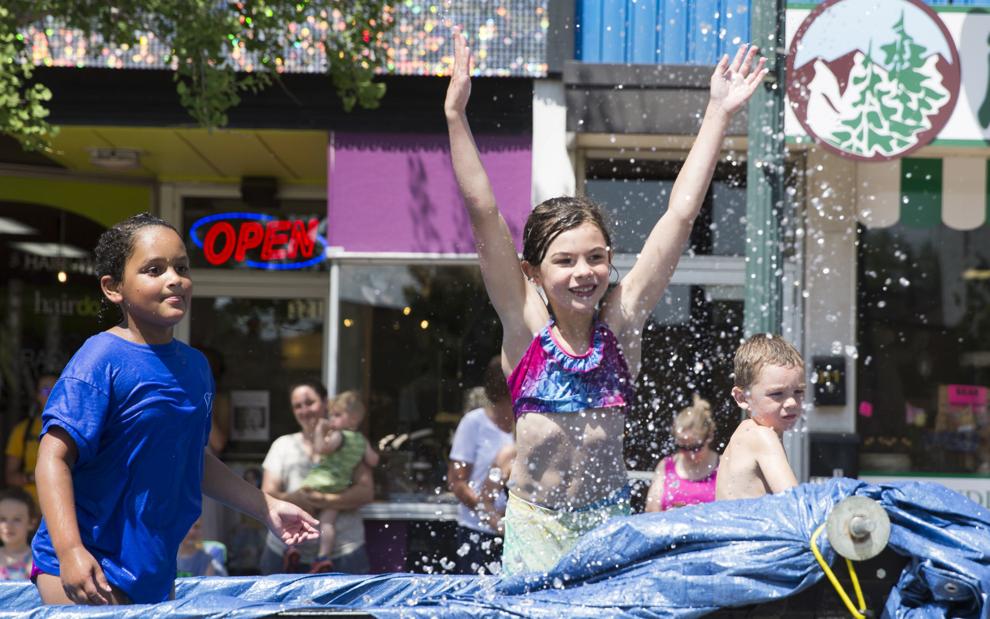 062919kw-sturgis-falls-11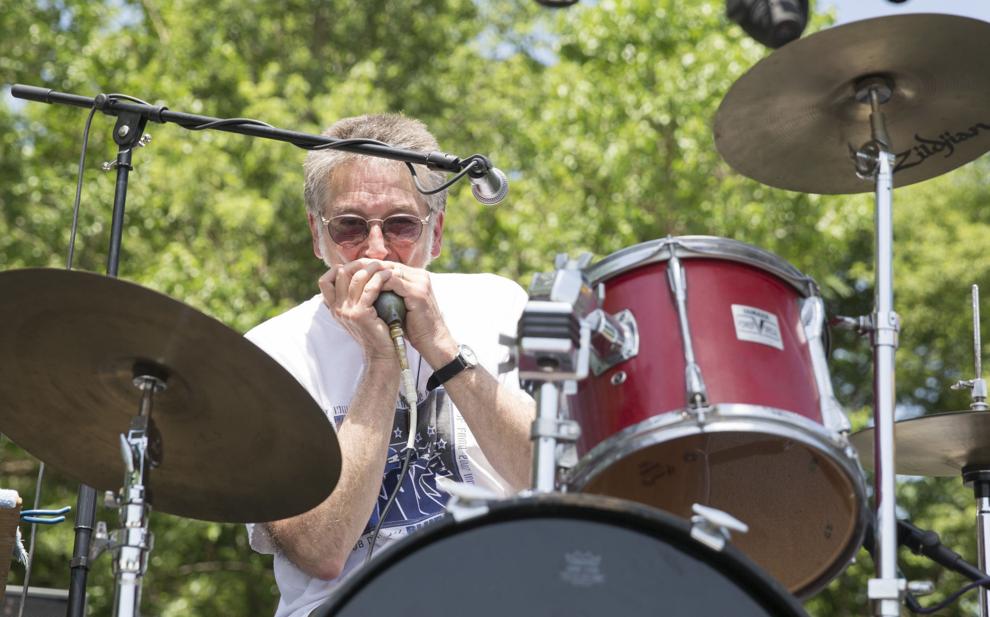 062919kw-sturgis-falls-12