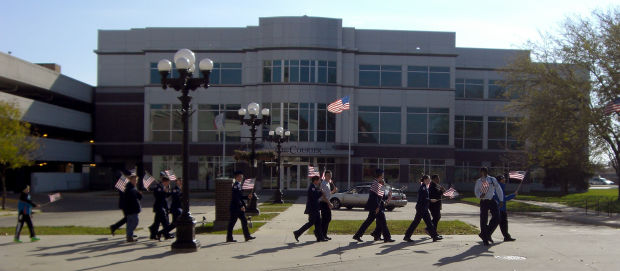 WATERLOO | The young marched with the old through the windy streets of Waterloo on Saturday morning in honor of Black Hawk County's veterans.
Members of the American veterans organizations from Hudson, Evansdale, and Waterloo walked alongside Air Force Junior ROTC cadets from East and West high schools in a show of support that raised about $5,000 for the Iowa Veterans Home in Marshalltown.
The 20th such event since it began in 1992, the walk has raised more than $100,000 for America's veterans over the years, according to Randy Miller, a member of AMVETS Post 19 in Waterloo.
Clutching American flags that fluttered in the brisk river breeze, the walkers started off at the Veterans Memorial Hall at 10 a.m., stopping after a circuitous route over several city blocks at Black Hawk County Vietnam Veterans Memorial at Paramount Park on East Fourth Street.
Jim Sadler, a member of the AMVETS Riders, sidled along in a leather coat emblazoned with patches and military insignias indicating his service in the Air Force as an aircraft mechanic crew chief from 1985 to 2007. For four of those years, Sadler worked in special operations, something he shies away from talking about.
"It's a lot of cool stories that I can never tell anybody," he said. "It just opens your eyes."
 The job has led the Cedar Falls native far from home, basing him in Oklahoma, South Carolina, Arkansas, Missouri and Japan in his nearly 22 years of military service.
Working at Grainger Industrial Supply, Sadler's thinking of pulling up roots again someday to move to Texas. In the meantime, he's staying involved with the AMVETS Riders in the hopes of getting younger people interested in the armed services.
People like Jacob Charriez, 15. Dressed in formal JROTC blues, the West High student hopes to join the Army when he turns 17 to help pay for college.
Kira Easton, 14, is less sure whether she wants to join the military after high school. For now she enjoys the discipline the JROTC has imparted to her, something that also attracts fellow West High student Jesse Danielson.
Danielson, 14, said many of his family members have enlisted in the military over the generations. His brother just returned from Afghanistan after serving as an Army infantryman, and Danielson hopes to someday follow in his footsteps.
Maj. David Richards is an instructor with the JROTC at West High.
"It's just nice for our cadets, even though many of them won't join the military, to pay homage to those people that did, to reflect on back on those people that sacrificed everything," Richards said.
The AMVETS ended up donating $1,000 to the two JROTC programs as a result of this year's walk.
Get local news delivered to your inbox!
Subscribe to our Daily Headlines newsletter.