LA PORTE CITY — On April 7, La Porte City was teeming with people. A big bike ride began and stopped there. A class reunion was going on. It was the day 16-year-old Jake Wilson went missing.
While law enforcement has spent a week searching the town and waterways around La Porte City, the teen, who has autism, has not been found.
But authorities believe with so many people in town, there had to be more photos and videos shot on people's phones. Some people are coming in, and police desperately want to see more as they seek clues as to what happened to the boy.
Black Hawk County Sheriff Tony Thompson and La Porte City Police Chief Chris Brecher spoke to a crowd of volunteer firefighters and community members at the fire station Saturday, reiterating the need to see those pictures and video.
"We know that there was activity. We know there were events going on in town," he said. "This is very seriously a demand now."
Any picture from that day could be helpful, they said.
In addition, authorities have a lead they need help with.
Anyone in La Porte City around 8:30 p.m. April 7 who saw someone walking in the areas of Commercial Street and Bishop is asked to come forward.
"Any direction. We're looking for descriptions. We're looking for confirmation on some other things that have been said," Thompson said.
Meanwhile, following a brutal weather day for searchers as they battled high winds, rain and hail, Brecher announced Saturday evening that the operation is "scaling back significantly."
Showing a map of a wide swath around La Porte City that officials have searched, as well as days in Wolf Creek, officials believe they have done all they can to find the teen. Now the case turns over toThompson and his investigative team.
"Every incident gets to this point at some point, and we are at this point. We have a very robust investigation going on," Thompson said. They have stopped short of calling the matter criminal, just saying that the search has moved from a very visible searching mode to an investigative one. The headquarters for the search will move in the next days from La Porte City to the Black Hawk County Sheriff's Office.
Both Brecher and Thompson said they met with the family Saturday afternoon. "They understand where we are at and they have been very understanding of the whole process," Brecher said. "They're not giving up hope and neither are we."
Thompson said he looked Jake's parents in the eye and said "we are in this for the long haul."
"Our mission doesn't change, our efforts don't change," Thompson said.
On Saturday, a new device was unleashed in the creek — a remote-controlled underwater vehicle that goes places people can't. A search and rescue team from Illinois is assisting with the underwater sonar capabilities.
Brecher said sonar will again be used to check under the surface of the murky waters.
He said authorities and volunteers also have searched surrounding areas including McFarlane Park and Hickory Hills in La Porte City, and Seven Bridges Wildlife Area near Waverly, as well as areas in Evansdale and down to Vinton. Seven Bridges park is where the remains of missing cousins Lyric Cook-Morrissey and Elizabeth Collins were found more than five years ago. They were kidnapped from Evansdale and killed. Police have never found their assailant. Authorities have not publicly linked the two cases.
Brecher said they used every piece of technology in searching the water and the wide search area and did not find the teen.
"We wanted to be in a different point by now. But we are not done. We will find Jake. We will bring him home. That is our job," Brecher said.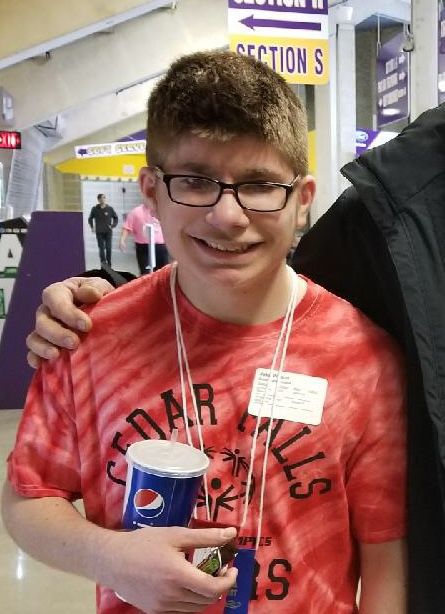 Chris Taylor, a family friend, on Saturday morning read a prepared statement thanking everyone for their efforts and describing Jake's favorite activities.
She said Jake has had a mild intellectual disorder since birth, and the family has said he functions as a 9-year-old. He won first place in long jump and second place in softball at the Special Olympics. He loves music, performing in choir, playing X-box and exploring nature. He enjoys feeding chickens, visiting his aunt and uncle's acreage and collecting feathers from the coops, going to the park in town to swing and eating ice cream.
"He loves to fish and collect all kinds of treasures like antlers, empty shells and all kinds of other things that a teenage boy would collect," she read.
It was his love of ice cream that took him out April 7.
Jake went to Tootsie's ice cream shop in La Porte for ice cream that night, came home and then told his family he was going to nearby Wolf Creek around 8:30 to 9 p.m. and would be right back. His family called authorities when he failed to return, and the following days brought hundreds of volunteers, professional searchers and investigators.
Jake is about 5 feet, 6 inches tall and weighs about 135 pounds with hazel eyes and dirty blonde hair, his mother said. He was wearing a dark brown zip-up jacket, dark sweatpants and cowboy boots.
Anyone with information on Jake Wilson's whereabouts is asked to call Black Hawk County Dispatch at (319) 291-2515 or local authorities.
For those unsure of how to upload to the site, Thompson urged them to come to the police department in La Porte City and there will be staff available to upload the media.