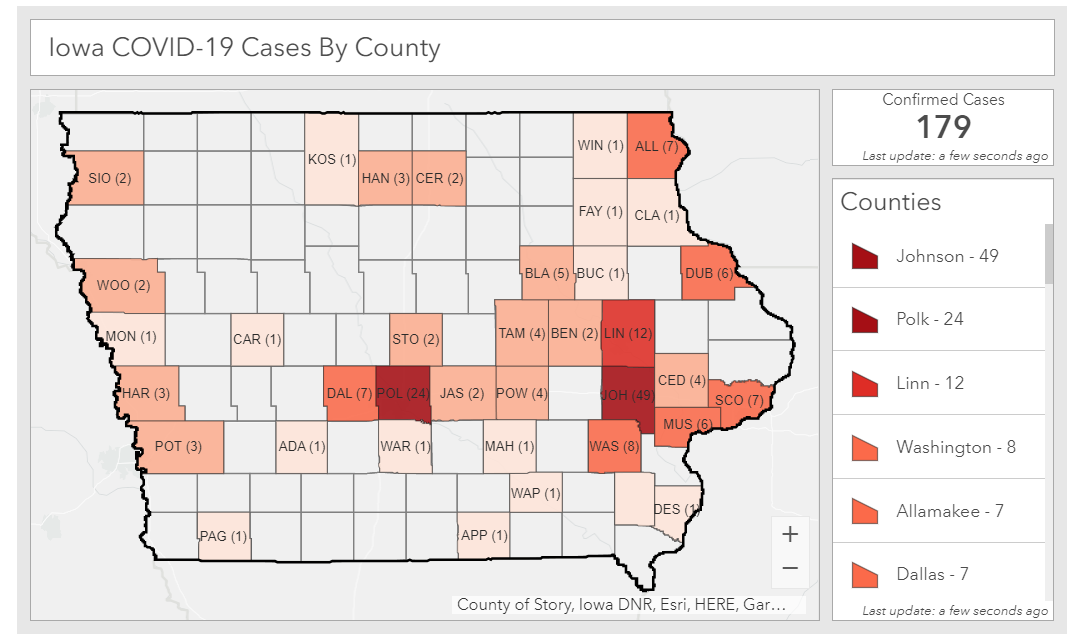 DES MOINES — Many non-essential Iowa businesses will remain closed through April 7, an extension of one week announced Thursday by Gov. Kim Reynolds.
The governor also expanded the scope of retail establishments covered by the order.
Meanwhile, Black Hawk County added its first coronavirus patient under age 40, it was announced Thursday, while the state tallied 34 additional cases of COVID-19. It brings the total statewide to 179 positive cases.
Also Thursday, Reynolds announced local officials do not have the authority to issue shelter-at-home orders for their communities.
Earlier this week Black Hawk County supervisors asked legal counsel for direction on how the board could implement more aggressive measures than those already ordered by Reynolds to prevent people from interacting.
Reynolds' announcement Thursday seemingly precludes any such step.
"We are working with the Attorney General's Office and looking at the statute, and right now it appears they do not have the authority to issue a shelter-in-place order," Reynolds said Thursday.
That differs from a Monday statement in which Reynolds said local officials could take such action if they felt it right for their communities.
Reynolds originally ordered many non-essential businesses closed through the end of March as a means to help slow the spread of the coronavirus.
She announced the extension during her daily briefing on the state's response to the pandemic Thursday at the State Emergency Operations Center at Camp Dodge in Johnston. She also added to her order the closure of additional retail stores, including book stores; clothing and shoe stores; jewelry, luggage, cosmetics, perfume, and beauty supply stores; florists; and furniture and home furnishing stores.
"These additional steps, along with those we've already taken, are equivalent to the goals of many of the shelter-in-place orders (instituted in other states)," Reynolds said. "I understand that these decisions will continue to impact the lives and livelihoods of Iowans. But the more we do now to mitigate the spread of the virus, the sooner that we will get through this so that life and business can get back to normal."
Reynolds also ordered the suspension of all non-essential or elective surgeries, any medical procedures that can be delayed without undue risk to the patient, and all elective dental procedures, including routine hygienic, cosmetic or orthodontic procedures, excepting only emergency dental procedures.
She also ordered health care facilities and nursing homes to engage in advanced health screenings for staff.
The governor also ordered insurance companies to reimburse health care providers for telehealth services at the same rate as in-person services.
"These actions will help us preserve the personal protective equipment (used by health care workers) as well as our health care workforce," Reynolds said.
Thirty-four new cases of the novel coronavirus in Iowa were confirmed Thursday by the state.
That brings Iowa's total to 179 confirmed cases in 37 counties. Just one coronavirus-related death has been reported thus far.
Thirty-one individuals are hospitalized due to the virus, according to state public health department data. Another 15 individuals hospitalized for the virus were discharged and are recovering.
Reynolds said she extended the closures in part because not enough time has passed to give state public health officials sufficient data to determine whether current orders are proving effective in slowing the virus' spread. She said with her original order nearly set to expire next week, she extended the closures Thursday to allow businesses to plan accordingly.
"As we work through this week and next we'll start to get some of the information, and then we'll continue to re-evaluate and see how we can move forward," Reynolds said. "Every day I need Iowans and businesses to know that we're re-evaluating those metrics and seeing what they look like and talking about what we need to do next. And that went into the decisions that we made (Thursday)."
In another matter, the the Iowa Department of Education has received a waiver from the U.S. Department of Agriculture providing more flexibility related to school meal distributions. Effective immediately, children do not have to be present when caregivers pick up meals at Iowa's 303 approved "grab and go" meal sites. Parents and caregivers will only be asked to share the school name where each child attends, if they are of school age.
For more information, see the Iowa Department of Education's "COVID-19 Guidance and Information" online at educateiowa.gov.