WATERLOO – With a fire raging one floor below, Kathryn Gerold phoned 911 and then jumped out of the second-story window of her townhouse.
Safely on the ground with a pulled leg muscle and covered in soot, she turned to her 7-year-old son, Jayden, and told him to do the same, catching him before he hit the ground.
"I said jump, and I meant jump. It was like a sudden, quick-thinking type deal," Gerold said.
Gerold's adult cousin wasn't as lucky. She later died, apparently of injuries from the blaze that broke out shortly before midnight at 418 Sunnyside Ave.
"I can confirm an adult has sadly passed away," Fire Chief Pat Treloar said.
Six people — three adults and three children — were taken to the hospital. Five of them were removed from the burning house by firefighters.
One of those was Gerold's 5-year-old son, Demetrius. He remained in the hospital as of Tuesday night, she said. She recounted trying to find him before jumping out the window, but the smoke was too thick.
Her cousin's two children — a 10-year-old daughter and a 9-year-old son — were also rescued by firefighters, Gerold said.
When crews pulled up, an adult and a child had fled through a second-floor window and were trapped on a porch roof.
"There was smoke coming out of the top floor windows and an orange glow of fire in a bottom window," said Battalion Chief Bill Beck with Waterloo Fire Rescue.
Firefighters used a ladder to rescue the pair.
"We had crews enter through the upper windows, we had a crew enter through a door in the back and we had a crew enter the main entry door," Beck said. The upstairs crew removed a child through a window and down the ladder.
By this time the fire was knocked down, and firefighters brought another child and an adult down the stairs.
Treloar said crews from two stations arrived at the fire in less than four minutes of receiving the call, a good response time for a middle-of-the-night alarm.
"We are very pleased with our response times," said Treloar, who noted all of the city's fire stations were staffed at the time. Crews from stations No. 6 and No. 1 arrived at the same time.
Back at the townhouse Tuesday afternoon, Gerold and relatives sifted through the debris to look for belongings they will need in the coming days. Neighbors came over to help. They carried out a few bags of Christmas gifts and some clothing.
"Should I even take this and salvage it, granny," Gerold asked, holding up a robe. "I didn't think so."
Against a blackened living room wall were the charred springs and red armrests of couch that appeared to be ground zero for the fire. Next to it, a small artificial frosted Christmas tree slumped in the corner.
"They just put up that tree and everything. A small fire originated earlier that evening from that tree," a relative said. It was put out, and everything seemed fine, the family member said. Apparently the fire department wasn't alerted.
"I don't understand how this happened. Nothing was on. We were all sleeping," Gerold said.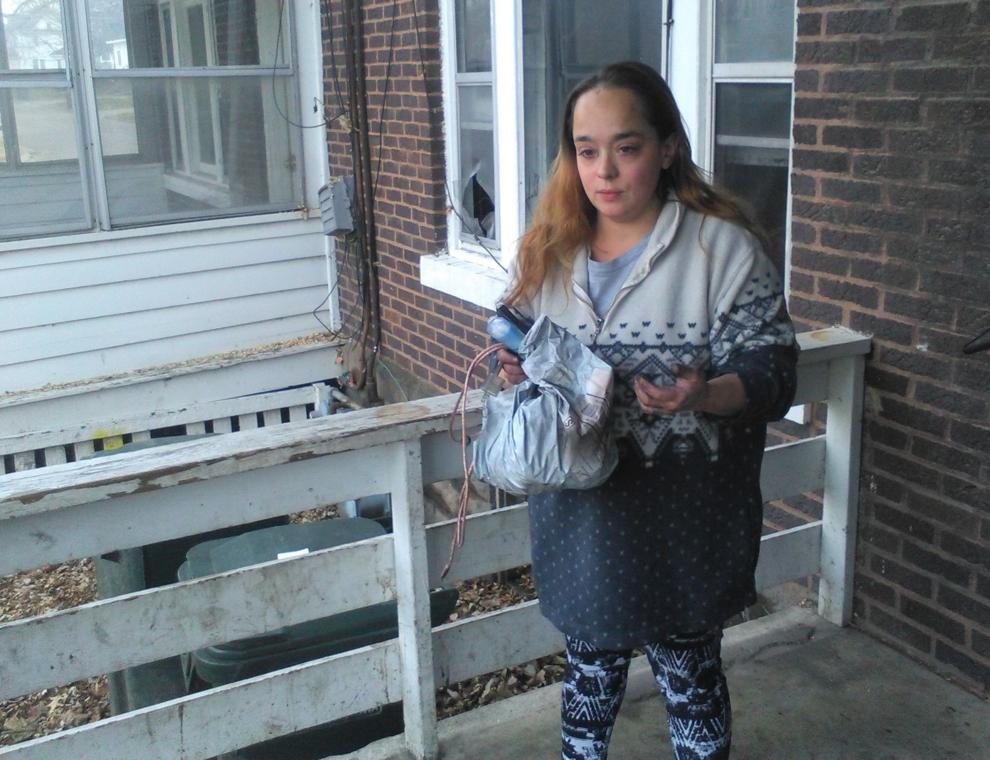 The official cause of the fire hasn't been determined and remains under investigation.
Fire damage was confined to the living room, and the rest of the house had smoke damage.
It wasn't immediately clear if the home had smoke alarms. Treloar said firefighters didn't report hearing them on the scene.
The property is owned by New Era Rentals of Waterloo, according to county records.



WATCH NOW: Courier fire videos
WATCH NOW: Courier fire videos
Former church fire, Waverly, Iowa, Dec. 19, 2016
VIDEO: House Fire, Gable St., Waterloo, Iowa 120319
Apartment fire, Jefferson St., Feb. 19, 2016
Duplex Fire, Western Ave., Feb. 9. 2016
Fire, Beaver Ridge Trail, Cedar Falls, Iowa Feb. 5, 2018
Garage/house fire, Seneca Ave., Waterloo, Iowa Dec. 11, 2017
House Fire, W. Second St., Waterloo, Iowa, Oct. 20, 2016
House fire, Marion St., Evansdale, Iowa June 6, 2018
House fire, W. 2nd St., Waterloo, Iowa July 7, 2017