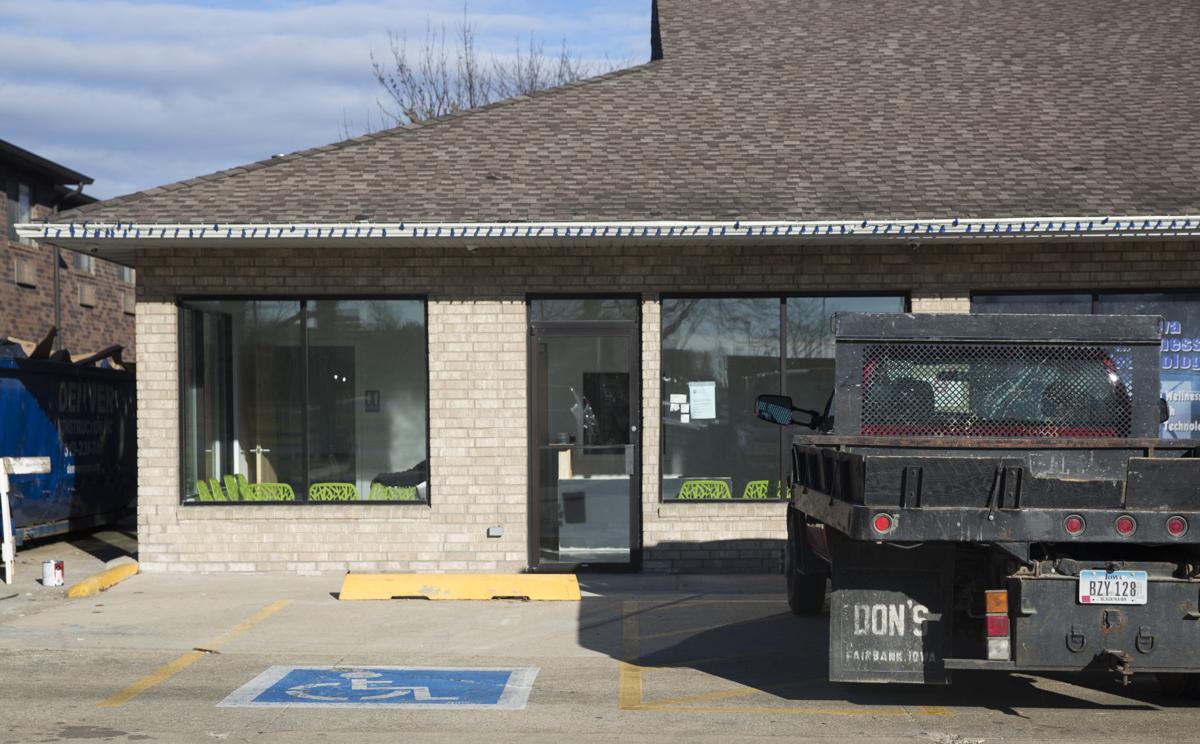 Second in a two-part series on the opening of Iowa's medical cannabidiol dispensaries.
WATERLOO — Aaron Boshart could have continued his career in marijuana in Spokane, Wash., serving thousands of customers daily as part of the state's legal recreational marijuana market.
Instead, he's back in his home state, getting ready to open one of Iowa's first five medical cannabidiol dispensaries, a much different market with very different products and a whole host of new regulations.
"Definitely the industry here is a lot different than recreational," Boshart said. "We have some new challenges in terms of getting our stuff up to speed, understanding the clinical side."
But Boshart, director of operations for Iowa Cannabis Co., as well as his CEO, Tate Kapple, decided they were up for the challenge.
"Tate and I are both from Iowa originally," Boshart said. "When we saw the opportunity to participate in Iowa, Tate and I were both excited to jump into the market."
The pair won one of five dispensary licenses awarded by the Iowa Department of Public Health, which oversees the medical cannabidiol market approved by the Iowa Legislature last year, and they've been getting ready to open Iowa Cannabis Co. at 1955 La Porte Road in Waterloo ever since.
They'll open their doors Saturday, along with the other four dispensaries around the state, selling creams, gel capsules and tinctures manufactured by MedPharm Iowa, the state's only medical cannabidiol manufacturer, based in Des Moines.
Iowa Cannabis Co. will be 11 a.m. to 7 p.m. open Monday through Saturday.
Below is an interview with Boshart as he prepares to open:
What made you want to leave a booming recreational market in Washington and come to Iowa, where marijuana is much more restricted?
"(Iowa Cannabis Co. CEO) Tate (Kapple) and I are both from Iowa originally. I grew up here. Tate started operating dispensaries in Spokane -- one of the first in the state. We were having success in Washington, but when we saw the opportunity to participate in Iowa, Tate and I were both excited to jump into the market. We were fortunate enough to win Waterloo.
"Definitely, the industry here is a lot different than recreational -- it's a very medical market and CBD (cannabidiol)-specific market. We have some new challenges in terms of getting our stuff up to speed, understanding the clinical side. We brought on a pharmacist adviser, who we had along with us through the application process and now as we are opening up the dispensary, so we've had some really good guidance in dispelling some of the myths of cannabis. We've done a lot to make sure we understand what we're doing -- we always want to be the experts in our field."
What what the patient experience will be like inside Iowa Cannabis Co.?
"When we open up, we will have five employees here -- and that may grow, and I hope it does as the industry begins to grow. At this time, Iowa has only one manufacturer -- MedPharm -- though an additional manufacturer has been licensed, Iowa Relief (LLC, based in Cedar Rapids). They're owned by Acreage Holdings (based in New Jersey), a very large company in the cannabis industry. They'll be there in July 2019. So until then, there are just 14 unique products by MedPharm.
"We have capsules, tinctures and creams, with variations on dosing starting at very high CBD and low THC (tetrahydrocannabinol), all the way up to very high THC and low CBD."
Isn't the highest THC content, by Iowa law, no more than 3 percent?
"It's 3 percent by volume, so milligram dosing doesn't have a limit. The highest-end THC will have 20 milligrams of THC, so that's about four times a recreational dose sizing. It's usually about 5 milligrams (of THC) for an edible, for example. It's fairly high, but it's meant to be effective for people with certain types of conditions."
(MedPharm's website confirms they will sell a high-THC "Comfort" capsule, with the highest dose being 20 milligrams of THC and 1 milligram of CBD per capsule.)
First in a two-part series on medical cannabidiol dispensaries opening in Iowa.
What are the differences in the products?
"Pain, spasms, nausea, vomiting, sleep -- those are typically on the high-THC end of things. The CBD helps to sort of cushion, as they say, the intoxicating effects of THC -- you can reduce the psychoactive effects. CBD is also great for (those symptoms), but it really works for seizures -- it's kind of a miracle.
"I don't claim to be a doctor. In some states, like Minnesota, they do have pharmacists dispensing, and they do treat it more like a drug. There's differing opinions nationwide, but having a pharmacist at these dispensaries is a challenge, in the rural areas especially."
How do people know the products are safe?
"We have a unique perspective on this coming from the recreational market: We sell over-the-counter, and we've served over a million customers in the state of Washington, and we've done that successfully, never having serious issues -- no situations that were dangerous or had such negative effects that they were hospitalized.
"Cannabis is, by nature, a natural substance, and therefore is relatively safe as long as it's prepared responsibly. MedPharm has extremely rigorous lab standards they are being held to by the Iowa Department of Public Health. The products themselves are just very safe. As long as we are in the habit of following our guidelines -- our motto is to start slow and go slow. We want to make sure people aren't taking too much THC."
How many customers are you expecting when you open?
"We expect there to be about a thousand customers -- patients that have already obtained their certification from the Department of Public Health. Given that, those people are essentially waiting for us. With that in mind, we're preparing ourselves to be able to handle quite a few patients in the first several weeks, as people learn we're finally open. I imagine there will be some pent-up demand.
"In Spokane, we often see between 1,000 and 1,500 customers every day, so we understand what it takes to run a high-volume store."
"As you're seeing a new market like this open up, it presents a complicated scenario for some physicians. A lot of physicians are bound by the rules of their employer, and many in large health-care systems have been given a memorandum on this subject. And so those doctors, when they're asked that question, have to say they can't -- it's part of what they're bound to.
"And the federal government -- (marijuana is) still a Schedule 1 substance, so there's the potential for a doctor that is actively recommending cannabis to potentially lose their DEA certification, though I haven't seen that before. So there's still some general fear of the unknown, as we live in the gray area between state and federal.
"For most of the patients being referred, they're at a point where nothing has worked and they want to try something new. A lot of people are desperate, and a lot of (doctors) understand it's worth the risk to help their patients. As time goes on, you'll have a lot more physicians being educated.
"But we don't see that as a huge obstacle. We see that as our job to help those patients who want to get a (patient registration) card and connecting them with doctors that will help.
"We're excited to provide this new form of treatment to the patient of Iowa. We just want people to stop in, give us a call. We'll do everything we can to help people navigate the system of getting a card and navigating the products."