La PORTE CITY -- A search for an autistic teen who disappeared in La Porte City continued Sunday through driving snowfall.
Barring any overnight developments, the search for 16-year-old Jake Wilson is slated to resume at 8 a.m. Monday. Those wishing to volunteer can report to the city's fire department at that time, said Police Chief Chris Brecher.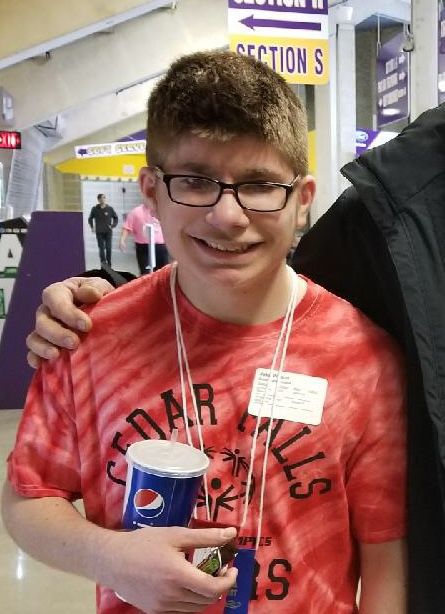 Wilson was last seen around 8:30 to 9 p.m. Saturday when he left his home to go to Wolf Creek, about two blocks away. When he didn't return, family members searched and called authorities who scoured the creek banks and surrounding area to no avail.
"It's like he just vanished," said his mother, Megan Neiswonger. "We searched everywhere."
Authorities are asking farmers within a five mile radius of town to check their outbuildings and vehicles, any place that a someone could hide.
"He is young, and kids can really curl up and get really small," said Black Hawk County Sheriff Tony Thompson.
Jake is about 5 feet, 6 inches tall and weighs about 135 pounds with hazel eyes and dirty blonde hair, his mother said. He was wearing a dark brown zip-up jacket, dark sweatpants and cowboy boots.
He has autism with a mild intellectual disorder, Neiswonger said. He thinks like a 9-year-old and will go up to anybody and go with anybody, she said.
Jake apparently left without his glasses, which his mother found at the home overnight. She said he is able to get around without his glasses, but worried about his ability to navigate in the dark without them.
She said he went to Tootsie's, the town ice cream shop, Saturday evening, and when he returned, he asked if he could go to the creek -- about two blocks away -- saying he would come right back.
"He just asked if he could go down to the creek, and my husband told him the directions. It's a pretty straight shot, he's taken it before, just never alone and hasn't been there since summer time," Neiswonger said. She said she was asleep at the time.
When he didn't return about half an hour later, family members began looking for him, she said.
She said her husband took a kayak out on the creek in the dark but was unable to locate him.
LaPorte City police officers and firefighters walked the creek on both sides in both directions as temperatures dipped around 20 degrees, and officers from neighboring communities assisted. Waterloo police brought a K-9 and handler to help.
At 9 a.m. Sunday, more than 200 volunteers from neighboring communities filled the fire station and formed groups of 15 to check fields and neighborhoods surrounding the creek. By 10 a.m. emergency officials signaled they had more than enough volunteers.
"The help we are getting from the community, the outpouring, is very humbling, and it makes me proud of the town," Brecher said.
The search included firefighters, officers and deputies from numerous departments. Crews with Task Force 1, a Cedar Rapids search-and-rescue outfit, helped coordinate. The Iowa State Patrol had an airplane using infrared, and two drones also were involved. Searchers on kayaks were on the creek.
Weather was a major factor in Sunday's search.
"Any time we start contemplating weather and environmental conditions, those come into play and it makes us nervous because he's autistic, he doesn't process information the same way that you or I would, and so the concern enhances considerably because it's cold, it' windy," Thompson said.
The snow began to fall shortly before 1 p.m., adding a sense of urgency while blanketing the terrain, slashing visibility and grounding aircraft and drones.
Brecher said trained searchers were planning to operate through the night.
Neiswonger said Jake usually went to a small dam, which is at the end of Bishop Avenue. One bank abuts residential backyards; the other bank is up against a farm field.
Neighbor Tim Flodeen has lived next to creek for going on three decades. He said during warm months the steam is a draw for children, especially the dam and a rope swing on the far side just downstream.
He said he didn't hear anything overnight Saturday and checked his shed in the morning after hearing of the disappearance. The padlock was still secure, he said. He also checked his security home's camera and found nothing more than footage of police bring a tracking dog across his lawn.
"I hope they find the boy," Flodeen said.
The neighborhood side banks are mowed. There are a few tangles of branches and tree trunks in the channel, and officials said the stream is fairly shallow. Downstream near the Main Street bride, the banks get overgrown. On the other side of Highway 218, the terrain gets thicker.
Anyone with information on Jake Wilson's whereabouts is asked to call Black Hawk County Dispatch at (319) 291-2515 or local authorities.