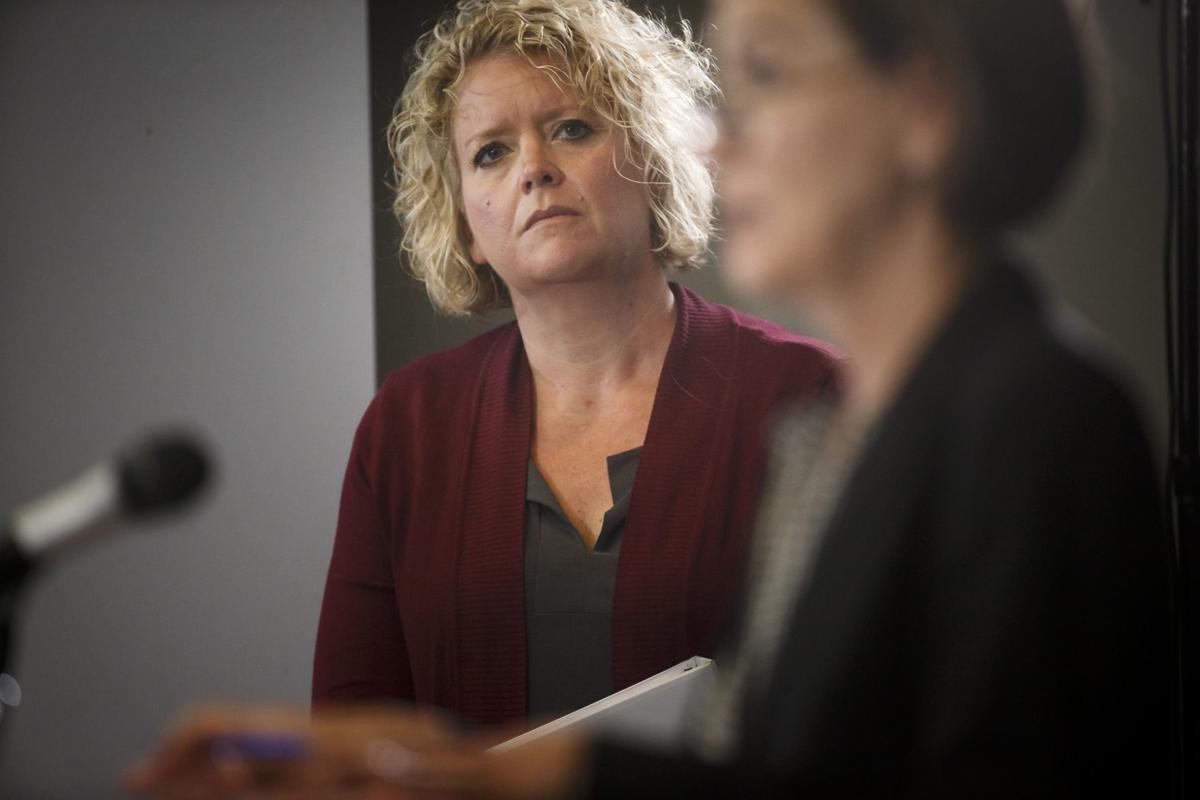 DES MOINES — Gov. Kim Reynolds defended the state's handling of coronavirus case data after it was revealed Wednesday a northwest Iowa county that is home to a meatpacking plant has seen nearly 500 coronavirus cases in the past week.
State officials haven't always publicly released meat processing plant outbreaks unless asked specifically about certain locations by reporters, as was the case with recent outbreaks at a Perdue Farms pork processing facilities in Sioux City and Sioux Center.
The state Tuesday confirmed those outbreaks after a reporter asked about them during the governor's daily briefing on the state's pandemic response.
Not immediately announcing outbreaks gives business owners time to notify employees and community members themselves, said Sarah Reisetter, public health deputy director.
It also facilitates the contact tracing information-gathering process, she said.
State officials never declared an outbreak at Tyson Fresh Meats in Waterloo, though Black Hawk County officials eventually did April 17.
Tyson voluntarily closed the Waterloo plant April 22, but by then the damage was done: A total of 1,031 cases were eventually recorded among the Waterloo plant's 2,700 workers.
The state reported 595 new cases of coronavirus and 21 deaths from COVID-19 on Wednesday for a total of 18,492 cases and 485 deaths. It was the most cases in one day since May 7, when there were 655 cases.
The Black Hawk County Health Department reported 13 new cases and two more deaths for a total of 1,935 cases and 43 deaths.
More than 400 of Wednesday's new cases were from Buena Vista County alone, which now has 675 cases and an infection rate of 3.4% by population, the highest rate in the state.
When asked if the large jump in Buena Vista County's numbers was due to an outbreak at a Tyson Fresh Meats plant in Storm Lake, Reynolds said it didn't yet qualify as an outbreak, which the state defines in workplaces as 10% or more of the workforce.
She was pressed by reporters on why the IDPH does not include workplace outbreaks on the state's website, which does list long-term care facility outbreaks.
"Sometimes it takes us a little bit of time to pull together the information and to understand whether there's been an outbreak in a particular facility," Reisetter said. "It also provides an opportunity for the business to independently, outside of having to do it at a press conference, to notify their communities as Perdue Farms did. It gave them the opportunity to take the lead in making that notification."
Reisetter also said public health officials interview people with confirmed cases and contact any individuals who may have come in contact with them.
When asked how Iowans can protect themselves from the virus' spread if they are not notified about outbreaks in their communities, Reynolds said there may be a way for the state to work with local public health partners to inform residents when outbreaks occur.
"But I hear you," she said toward the end of the briefing. "We can take a look at our local partners to see if there's a better way we can inform Iowans of what's going on, because that serves us all."
The governor defended her administration's transparency in its pandemic response efforts.
"We are really trying very hard to provide Iowans with an incredible amount of data to be as transparent as possible," Reynolds said. "We can always do better. We're always looking at the information we're getting, making sure that we're protecting the privacy of Iowans while trying to provide Iowans with the information that they need to also ensure their safety."
Reynolds noted Iowa's coronavirus data transparency was graded "A+" by The Covid Tracking Project, a volunteer project launched by The Atlantic.
The project's grading system includes such factors as whether the state's central website is the best data source, whether both positive and negative test results are reported, whether hospitalization data includes data on the number of people in intensive care and on ventilators, and whether cases and deaths are broken down by demographics.
Iowa's was one of 12 "A+" grades given by the project; only 10 states were graded "C" or worse. Neighboring Nebraska was given one of the "D" grades.