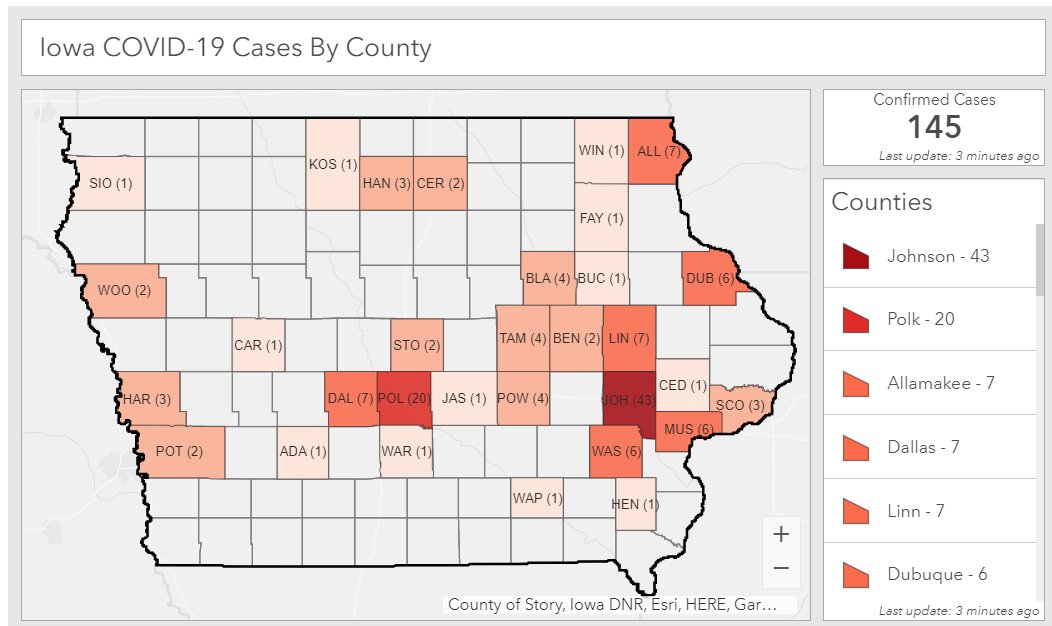 JOHNSTON — Gov. Kim Reynolds said Wednesday there's no need to impose stringent shelter-in-place restrictions as long as Iowans continue to abide by voluntary measures intended to mitigate the spread of the COVID-19 epidemic that has claimed one Iowan's life and hospitalized at least 23 others.
Speaking at an afternoon news conference at the state's emergency operations center, the governor said current measures — to have Iowans work and stay in their homes as much as possible; to seek medical help if necessary but treat minor illnesses themselves; and to practice social distancing — have succeeded at a time when other states are enlisting tougher controls.
"A lot of the things that we've already implemented are included in the shelter-in-place orders that states are putting in place," the governor said. "So I would say what else are we doing by doing that except for potentially disrupting the supply chain, putting additional pressure on the essential workforce and making sure that we are considering how we bring that back up, and actually what's the benefit from taking that additional step?"
During her news conference, Reynolds said the Iowa Department of Public Health has confirmed 21 additional positive cases of Iowans with COVID-19, bringing the statewide total of 145 positive cases in 31 counties since the viral outbreak began earlier this month.
Twenty-three Iowans were hospitalized for coronavirus symptoms Wednesday, officials added.
Some 2,578 people tested negative for the virus, a total that includes testing reported by the State Hygienic Lab and other labs.
One death was reported — a Dubuque County resident between the ages of 61 and 80, who died Tuesday. No additional information about the individual will be provided.
According to state health officials, the locations and age ranges of the 21 individuals added to today's list of positive cases are:
Allamakee County, one middle-aged adults (41-60 years).
Washington County, two adults (18-40 years).
A status report of monitoring and testing of COVID19 in Iowa is provided by the Department of Public Health on its website.
In addition, a public hotline has been established for Iowans with questions about COVID-19. The line is available 24/7 by calling 2-1-1 or (800) 244-7431.
The state of Iowa has started sharing the number of negative tests conducted at outside labs and is providing additional information on the conditions of those infected with COVID-19.
Concerned about COVID-19?
Sign up now to get the most recent coronavirus headlines and other important local and national news sent to your email inbox daily.