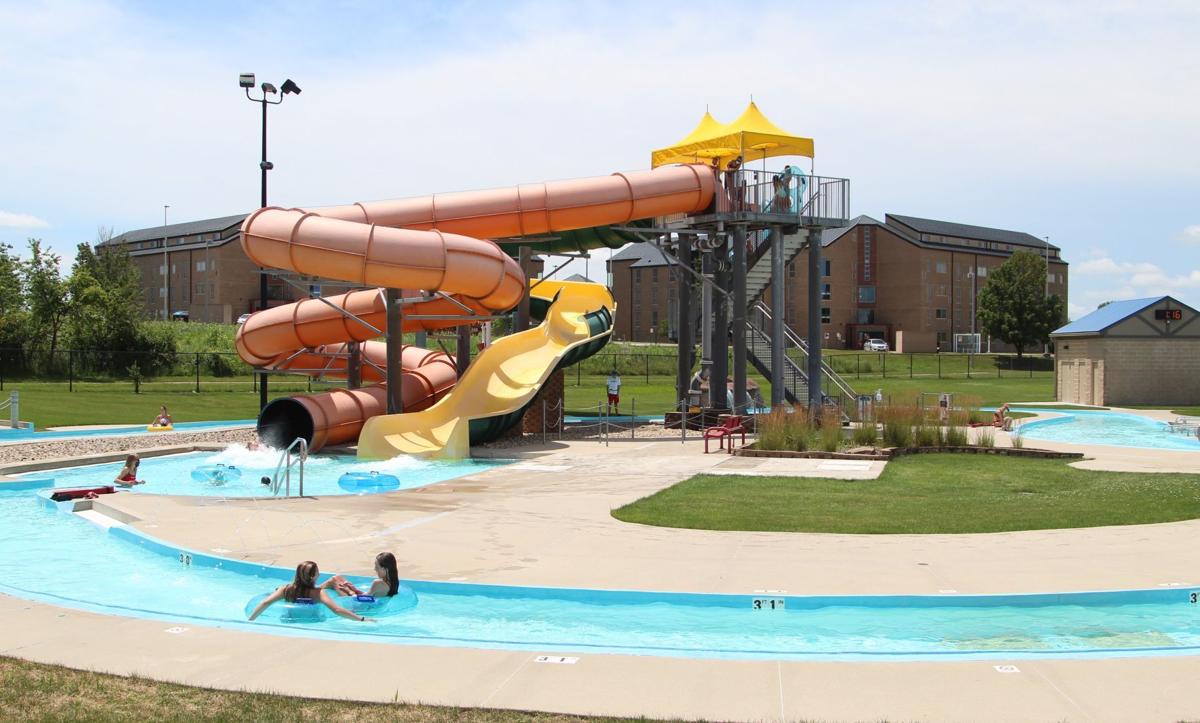 CEDAR FALLS — A parent's post about allegations of fights outside of The Falls Aquatic Center, along with photos of people gathered in the parking lot, sparked a flurry of comments and a response from the Cedar Falls mayor saying the city was "increasing police presence" at the pool.
The Cedar Falls mother's post Wednesday evening, which has since been deleted, received 165 comments and was shared a couple of dozen times as of Thursday afternoon.
The Cedar Falls resident alleged "probably 30 adults, teens and little kids" were "in a fist fight outside," and said that she felt "disgusted" she paid for a season pass for her family.
She included two photos, including one of police officers and a squad car, in the parking lot of The Falls, adding she had "never felt angrier leaving our nice public pool."
"Do me a favor and go elsewhere. Stay away from The Falls," the woman wrote, tagging the aquatic center's page. "Inexcusable to have my little girls watch this as we were trying to get to our car."
One photo shows about a half-dozen Black people near a car, and the other shows a police squad car and at least two members of law enforcement speaking with a group of mostly Black people in the parking lot.
In a public post Thursday afternoon, Cedar Falls Mayor Rob Green said he understood the pool and the teenagers that frequent it could "be a little rowdy," but recent incidents rose to a more "disturbing" level.
"I've been made aware of many intimidating and other aggressive behaviors toward other patrons and city staff, and several mass altercations," Green wrote. "This is completely unacceptable, and I will not tolerate it."
The Cedar Falls Police Department doesn't list any recent arrests at The Falls, according to its online police logs.
"The Department of Public Safety, the Parks Division, the Parks and Recreation Commission and I will be working to prevent further disturbances at The Falls, so that all patrons can enjoy this wonderful public facility," Green added, noting he would "be there with my own kids during this summer."
The city of Cedar Falls put out a statement on its website Thursday evening noting there would be "increased police presence" and "additional supervisory staff" at the pool in the future, adding that "additional actions may be considered if necessary."
"The City of Cedar Falls reminds users of the zero-tolerance policy against profanity, disrespectful actions toward staff, thefts, and violence at The Falls," the statement read. "If patrons engage in these actions, they will be asked to leave the facility and will not be allowed to return."
The woman's friend reached out to Green about the incident and sent a screenshot of his reply, which included Green noting the city's parks department was "fully aware of the fighting incidents the past few nights."
"The Parks and Rec commission is considering policy changes to restore this city facility to the family-friendly environment that we all expect," Green says in the screenshot.