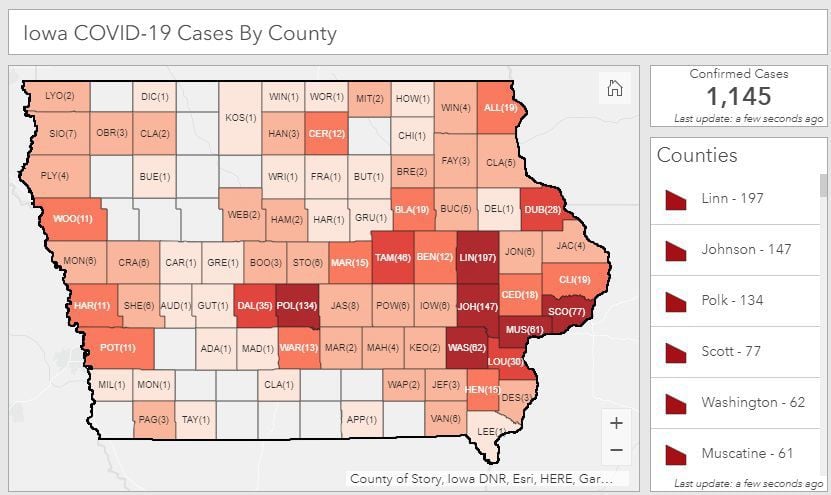 WATERLOO – Black Hawk County reported four new coronavirus cases Wednesday, according to the latest numbers released by the state.
The tally brings the total number of cases in the county to 19.
Tama County also confirmed four new cases for a total of 46. Allamakee County had two additional, a total of 19, and Benton County added one for a total of 12.
Statewide, Iowa added 97 new cases, bringing the total to 1,145 in 79 of 99 counties. There was one new death — an elderly adult in Linn County, bringing the state total to 27.
The Black Hawk County cases included one adult 18-40 years old and three adults 41-60 years old.
The data also shows increased hospitalization in recent days with 122 people now in hospitals, up 17 percent from the day before.
Iowa Department of Public Health Deputy Director Sarah Reisetter said the increase is due to changes in how the state gathers the information. She said Iowa's hospitalization rate of 10% is lower than national trends of 15% to 20%.
Of those who tested positive for the disease, 38 percent have recovered, Gov. Kim Reynolds said.
State assistance
Reynolds said 14,000 small businesses have applied to the state for relief grants totaling $148 million. The first round of checks are going out to 500 businesses, with grants ranging from $5,000 to $25,000.
Reynolds has increased the state assistance program from the initial $4 million allocation to $24 million. She said the program was put in place to help businesses over the short term until funding from the federal government begins flowing. She said she expects Iowa to get a $1.25 billion block grant from the federal government.
Debi Durham, director of the Iowa Economic Development Authority, said many grant recipients are restaurants, bars, breweries and other small businesses hit by the first wave of closures ordered last month to help slow the spread of COVID-19.
Day of prayer
Also Wednesday, the governor signed a proclamation declaring Thursday a "Day of Prayer" in Iowa,
She urged Iowans to "unite in prayer" in light of the COVID-19 pandemic.
"The power of prayer and faith in God is something that has guided so many of us in good times and bad," said Reynolds. "We have all been impacted by COVID-19. Some of us have lost a loved one and others know those who are sick. Whether you are a nurse on the frontlines fighting the pandemic, a grocery store worker, the truck driver making a delivery, or someone laid off at home, this has been a challenging and stressful time. Let us join together and pray for our neighbors, communities and state."
Thursday marks the beginning of the Jewish festival of Passover and also is the Christian holy day of Maundy Thursday which precedes Easter on Sunday.
Concerned about COVID-19?
Sign up now to get the most recent coronavirus headlines and other important local and national news sent to your email inbox daily.