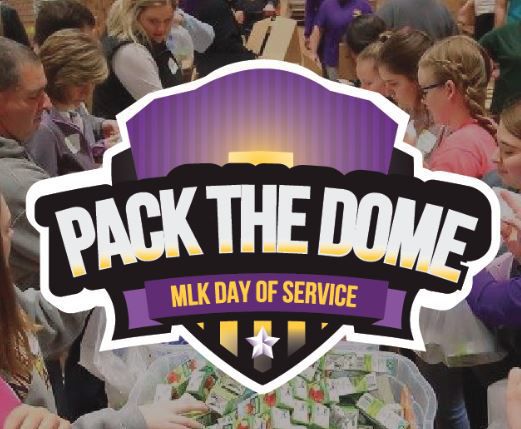 CEDAR FALLS – The Northeast Iowa Food Bank is partnering with several community businesses and organizations to host the "Pack The Dome: Martin Luther King Jr National Day of Service" event at the UNI-Dome on Jan. 20.
This event is expected to be the largest, single-day of volunteering that has ever been organized in the Cedar Valley.
Participants are invited to help package food for the Northeast Iowa Food Bank that will be contributed towards its BackPack Program. The BackPack Program serves 4,100 children, at 145 schools across Northeast Iowa each month. Before school lets out for the weekend, children receive assembled bags of kid-friendly meals and snacks that can fit in their school bags.
This Martin Luther King Jr National Day of Service event has grown each year since its inception, with 750 participants attending the 2019 event. With the expansion in numbers, the food bank required a larger venue. Through a partnership with John Deere, the UNI-Dome was secured as the host site for the Pack The Dome: Martin Luther King Jr National Day of Service.
In addition to Deere, partners include the University of Northern Iowa's Office of Community Engagement, Service and Leadership Council and Panther Pantry, along with the Volunteer Center of the Cedar Valley.
"With more community support and a larger venue, our goal is to assemble 40,000 BackPacks this year," said Barb Prather, executive director of the Northeast Iowa Food Bank. "That's nearly double what we did last year, which is why we are looking for 1,200 volunteers to help us accomplish this."
"In the Cedar Valley, roughly 17% of children are food insecure. The food bank's BackPack program helps in bridging that gap for our communities' children. ... This opportunity to pack the dome is a wonderful way to put John Deere's citizenship vision into action, honor Dr. King, (and) unite people from different walks of life together to build a stronger community supporting children — the future of our community," said Heather Bishop, manager of John Deere Engine Works.
Get local news delivered to your inbox!
Subscribe to our Daily Headlines newsletter.