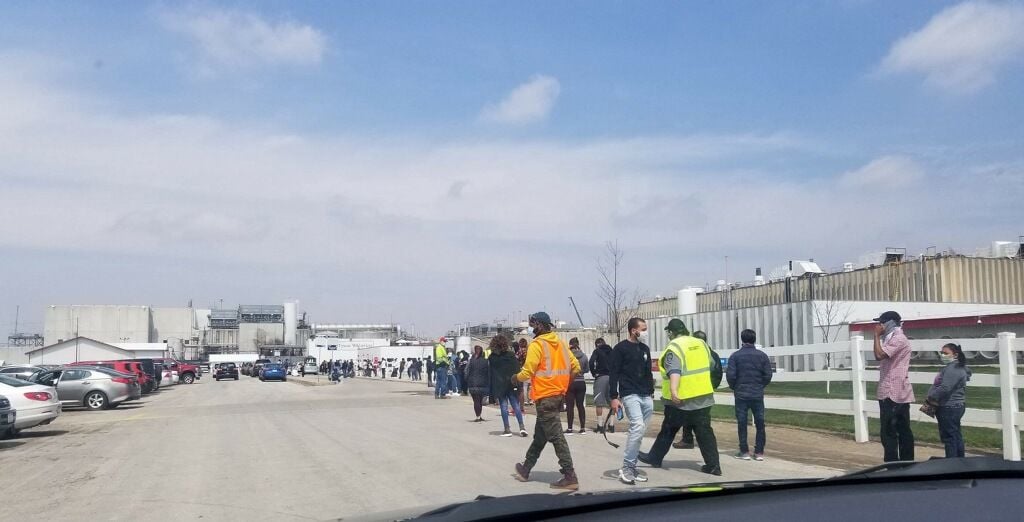 INDEPENDENCE — Like their counterparts at the Tyson pork plant in Waterloo, employees of the Tyson plant in Independence stand shoulder-to-shoulder, eat in crowded lunch rooms, change in crowded locker rooms, and hear rumors about coronavirus cases and even a death from COVID-19.
Unlike the Waterloo plant, workers in Independence aren't really part of the food supply chain the governor and president speak about: Tyson Pet Products makes treats for dogs.
"Dog treats are not essential," said one Independence worker who shared her story anonymously with The Courier.
Workers say they have heard at least one Tyson employee at the Independence plant has died, and as many as eight others are infected. Management has not communicated any positive cases or deaths to workers, they said.
Workers said masks were provided to workers weeks ago, though some worry employees aren't wearing them properly. Dividers have been placed between work stations, but workers described them as clear "flimsy garbage bags." Plastic dividers at lunch tables are ignored by people moving around them to talk to one another.
An employee who stopped going to work recently said many in the Independence plant have joined her, fearing for their safety.
"I'm very concerned about my life and job," the worker said, noting her stepdaughter who works at Tyson in Waterloo has tested positive for coronavirus. "How do you social distance? You can't. What protection do we have other than garbage bags?"
At least some of the plant's 234 workers commute from outside the county, including nearby Black Hawk County, which has recorded more than 1,300 cases and 13 deaths.
"It scares the hell out of me knowing they could be passing it on to other Buchanan County residents," the first worker said.
Another woman whose husband works at the Independence plant said he is worried about going to work but feels he has no choice.
"He knows that we need our income but worries about more cases accumulating," the wife said. "When will they decide to test these workers?"
As of Wednesday, Buchanan County had 18 cases of coronavirus and no recorded deaths, said Tai Burkhart, county health director.
Burkhart said she isn't able to track cases by workplace, and is "not in a position where I can confirm illness, outbreak or death" at Tyson's Independence plant.
"I have been in contact with the state health department and local officials regarding the concerns of this plant, and will continue to work diligently to do what I can to decrease the spread of COVID-19 in this county," Burkhart said.
Tyson spokesperson Liz Croston said the company was "working diligently to protect our team members at facilities across the country," including taking worker temperatures, requiring face coverings, cleaning and sanitizing plants, installing workstation dividers "where possible" and adding space to its break rooms.
"We understand that everyone, including our team members, is anxious during this challenging time," Croston said. "We believe information is the best tool for fighting the virus, and so we're working to keep our team members informed and are also encouraging them to tell us what they're experiencing so we support them in the best possible way."
The company closed its Waterloo plant after what it said was chronic absenteeism among its 2,700 workers, a Black Hawk County coronavirus outbreak, and community pressure to close for deep cleaning and mass testing.
"I personally think they need to shut down like the other two Tysons — test everyone and deep-clean the plant," said the first worker. "There are team members terrified to go to work with thoughts they could bring (coronavirus) home to loved ones."