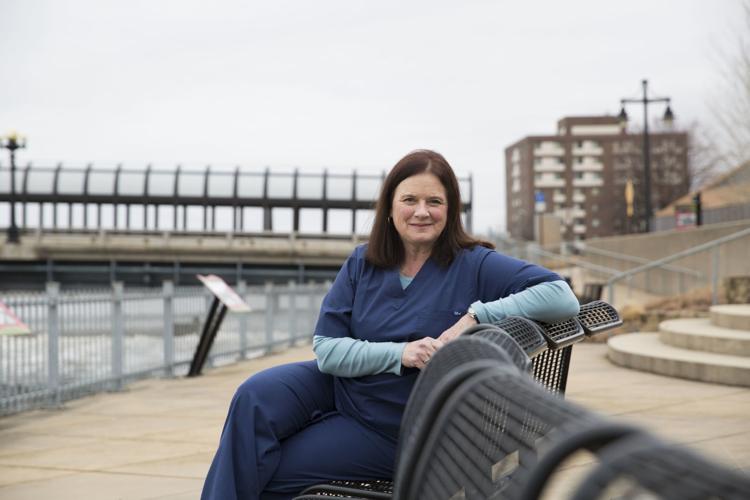 Treese Pilkington just may be the queen of animal crackers.
The pediatric nurse usually has a treat to give children who are feeling afraid or scared visiting the doctor. "All it takes to quiet a raging child are a few animal crackers," she says, smiling.
Pilkington, who has been named one of the Cedar Valley's Top 10 Nurses, has been a pediatric nurse at People's Community Health Clinic for the last 25 years. The registered nurse has given "zillions of shots, wiped away millions of tears and given thousands of kisses on the forehead" – anything to make her pint-sized patients feel loved and their parents reassured.
"I love helping kids feel better. I love their little smiles, the hugs they give me. What I do is so rewarding. This is my mission. God wanted me to be here," Pilkington says. "It's the sense that I'm helping people who really need help. These are underserved people in our community, and I love helping them and caring for them."
Receiving the award and recognition is humbling. "It's quite an honor and very humbling to be part of this group of awesome nurses – my sisters and brothers in nursing, and an awesome career to be in," she explains.
Pilkington's coworkers describe her as "our nurse-angel of hope" who has been "shining her light and making brighter the lives of thousands of children and their families over 25 years," says Kathy Merry, a colleague at People's.
At 16, Pilkington became a pediatric nurse's aide at St. Francis Hospital. After high school graduation, she enrolled at Allen College as a nontraditional student. She was married, and in her second year of nursing school, found out she was pregnant.
You have free articles remaining.
"I worried about how I would handle everything," she recalls, particularly when their son was born with respiratory problems which required numerous trips to University of Iowa Hospitals and Clinics in Iowa City and Mayo Clinic in Rochester, Minn. "It was stressful, but we came through it. My husband, Randy, was my rock," Pilkington says.
Their son, Wesley, is now a pharmacist, and they have a daughter, Abby.
Pilkington graduated in 1987 and became a labor and delivery nurse in obstetrics at Covenant Medical Center. She transferred to Covenant Home Health in 1989, and then to Allen Hospital's pediatric department in 1991. Dr. Sarah Gordon encouraged her to apply at People's Community Health Clinic.
"I found my home here," Pilkington says. "People's is an awesome place where our patients find help from caring and compassionate people. I'm seeing babies of grown children I took care of when they were small. That's amazing. Knowing I've had an impact on their lives is the greatest treasure."
Pilkington is the clinic's party and potluck planner. "It's a stressful job. We bring foods to share and gather, sit, relax and decompress. I've worked Thursday nights for 25 years, and sometimes we need to de-escalate our evenings."
One particular Thursday night, two young, hungry boys zoomed around a small exam room while their mom sat, exhausted. Pilkington quieted the boys by making and feeding them tacos she'd brought for the staff's supper.
"Kids can be tired, hungry and grumpy in the evening. We can be kind and sharing and make people feel better," she says.
The pediatric nurse goes the extra mile for patients. At one time, children received chemotherapy treatments for cancer at the clinic, and Pilkington organized last-day-of-chemo parties for the kids and their families. "These kids had a hard journey, and I dried lots of tears. When chemo was finished, those celebrations are some of my dearest memories."
Pilkington is thinking about retirement in another year or so. She wants her legacy to be one of "kindness. I love my little people. I want to be there for people when they need me, but make it fun, too. It means so much that I've brought sunshine into someone's life."