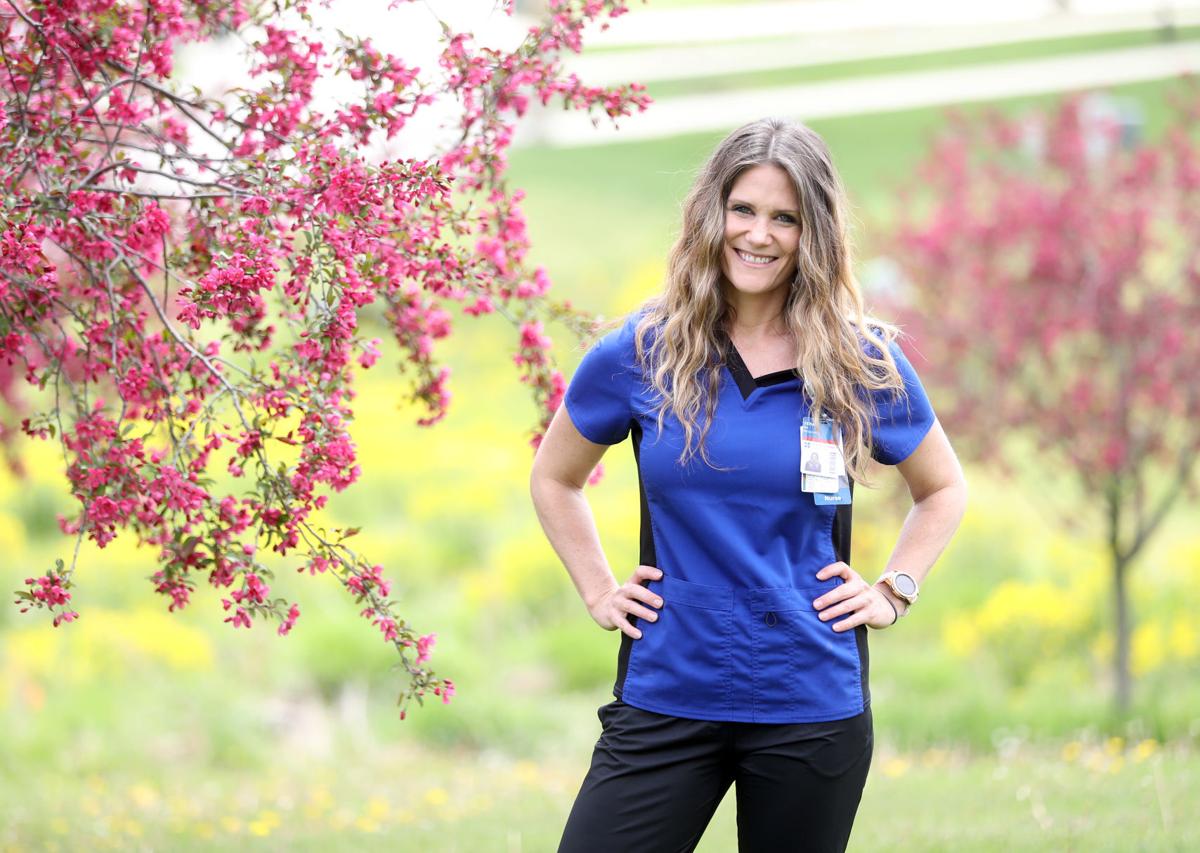 WATERLOO — Tera Sheetz gets to know her patients in a way that most nurses never do.
The pediatric home health nurse for UnityPoint Health-Allen Hospital makes house calls. As a result, families with babies who were born premature or have illnesses that compromise their immune system don't have to risk catching something in a doctor's office or the hospital.
And Sheetz meets patients on their home turf, where she is able to more effectively determine and find solutions to a range of needs for families.
"When you're in the home you develop a deeper connection and a deeper relationship with the family," said Sheetz, who was chosen for The Courier's Top 10 Nurses honor. "You're able to help guide the families into different services that may benefit them. Knowing that I can leave there and make a couple phone calls and make that happen is probably the most rewarding things I've experienced in my nursing career."
The registered nurse has worked in Waterloo since September 2018, when she helped start UnityPoint's pediatric home health program.
"We've had tremendous growth since starting that program," said Sheetz, whose job focuses mostly on the infants. Since starting, the hospital has "hired on three other nurses to help out in that program."
She has "been a nurse since 2003, so almost 18 years." Nursing was on her radar as a possible career while growing up on a farm near Keota.
"I had a lot of family that was in the health care career path," she noted, including nurses and dietitians. Her mom was a pediatric nurse and Sheetz worked as a certified nursing assistant in high school. Several years after graduating, she headed to Indian Hills Community College to complete her nursing education.
"My first job was in the NICU and I stayed there for 16 years," said Sheetz. She worked in the neonatal intensive care unit at the University of Iowa Hospitals and Clinics. Her final two years at the Iowa City hospital were as a certified lactation consultant working with mothers and their ill or pre-term babies on breast feeding and expressing milk.
She was able to "bounce ideas off" a whole team of health care practitioners in order to help support families in those roles.
"In the home health care setting, it's just me," said Sheetz, noting that sometimes means taking on broader roles than she otherwise would. "When you need to make a quick decision you have a lot more autonomy. I think that what keeps me motivated every day is that I'm helping families learn the care of their infants."
Amanda King, who nominated Sheetz, described her as an advocate for patients who is compassionate, caring, selfless and thoughtful. She has worked with King as her daughter's nurse for more than a year.
"There hasn't been a time since our daughter has been under Tera's care that I have felt she's treating our daughter as just a patient; she truly cares about her and sees her as a person and us as parents," King wrote in her nomination. "It didn't take long for us to feel that we could consider Tera more of a friend than just our daughter's nurse."
That's a designation that pleases Sheetz. "I think it's important to have someone they can rely on not just as a nurse but as a friend," she said.
"Since being under Tera's care, our daughter has encountered quite a few additional health problems and Tera has always been by our side to provide additional knowledge and insight," said King. "Tera has helped us realize that it's OK to be upset or grieve each new diagnosis that our daughter encounters and calm us when we feel that things are not going in a great direction."
She continued, "One of the more recent ways that Tera has shown true compassion and thoughfulness was this past fall when our daughter was hospitalized for almost a week. During that time, Tera continued to check in with us to see how our daughter was doing. She even took time away from her family, on her weekend off, and brought a home-cooked meal to me at the hospital."
Sheetz noted that King had said something on Facebook about spending time at the hospital and being in need of food. So, she responded: "I just cooked this great meal for my family. Let me bring some to you."
She thought of gesture as merely an extension of her nursing role with King's daughter.
"It's so rewarding that I just couldn't imagine doing anything else," said Sheetz.
"I think that what keeps me motivated every day is that I'm helping families learn the care of their infants." – Tera Sheetz
"I think that what keeps me motivated every day is that I'm helping families learn the care of their infants."

– Tera Sheetz