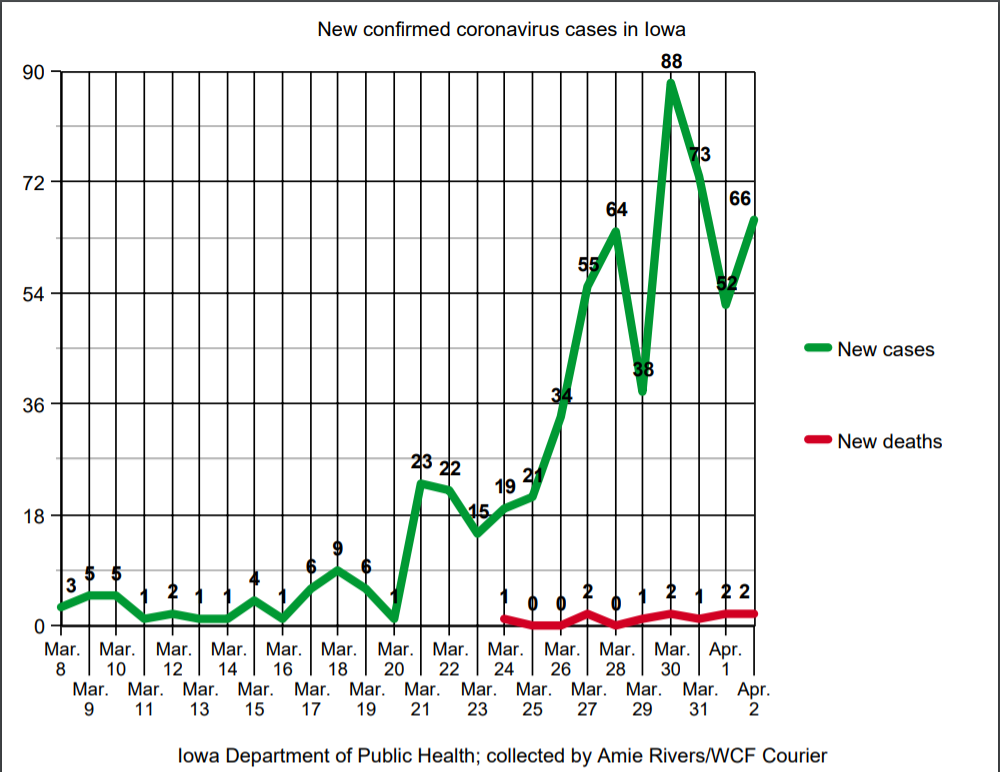 TOLEDO — Tama County has one of the highest rates of identified coronavirus infection in Northeast Iowa, but officials say it's simply because physicians there are testing more residents.
As of Thursday, Tama County had 17 cases of coronavirus, three of which were identified Thursday.
Seventeen cases of coronavirus might not sound like a lot, particularly compared with larger counties. But with a population of a little more than 17,000, that translates to 0.09% of the population in Tama County.
Compare that with neighboring Poweshiek County, with a population of 18,300 but just seven cases, or Iowa County, with five cases and a population of around 16,100 — both with a rate of 0.03%.
Even Linn County, with the highest number of cases in the state, has a confirmed infection rate of just 0.04%, while Johnson County has a rate of 0.05%.
Only Allamakee County, in the far northeast corner of the state, has a higher rate of infection at 0.10%, with eight new positive cases Thursday alone.
"Tribal Council hereby determines and directs that all individuals residing on the Settlement shall shelter in place and shall not leave their homes unless going to and from grocery stores, pharmacies, or the Meskwaki Health Clinic," the emergency declaration reads.
The Meskwaki Nation further disallowed "all social, community, recreational, leisure, and sporting gatherings and events of more than 10 people," and closed the Meskwaki Settlement to outside visitors.
But Tama County Public Health executive director Shannon Zoffka said the high rate may be misleading.
"It does look a little funny when you see Tama County. 'What?'" Zoffka said. "But I don't think there's anything odd going on."
Zoffka knew of no outbreaks at any long-term care facilities, and most of the cases are not related.
Instead, Zoffka said some area physicians conducted tests earlier than other counties, and instead of sending them to the State Hygenic Lab sent them to be tested at private labs, "to get away from the strict criteria" of the Iowa Department of Public Health.
"That's a big part," she said.
The number of cases isn't yet affecting the supply of personal protective equipment, said Tama County Emergency Management coordinator Mindy Benson. She said the county was getting what it needed from the state.
"It's a work in progress, but it's going better than we could have asked for," Benson said.
Like other counties, Tama is experiencing community spread of the virus, and Zoffka said people need to heed the governor's social distancing guidelines and not be fooled into thinking their rural living situation protects them from coronavirus.
"They think it's a big-city problem," she said. "There's attitudes like that."
But the number of cases in the county and the Meskwaki Nation's shelter-in-place order should make Tama County residents think twice.
"Take social distancing seriously, maintain 6 feet of space (and) be mindful of that in the grocery stories. Only go out for essential reasons," she said. "And if somebody doesn't live in your household, you shouldn't be visiting."
Concerned about COVID-19?
Sign up now to get the most recent coronavirus headlines and other important local and national news sent to your email inbox daily.