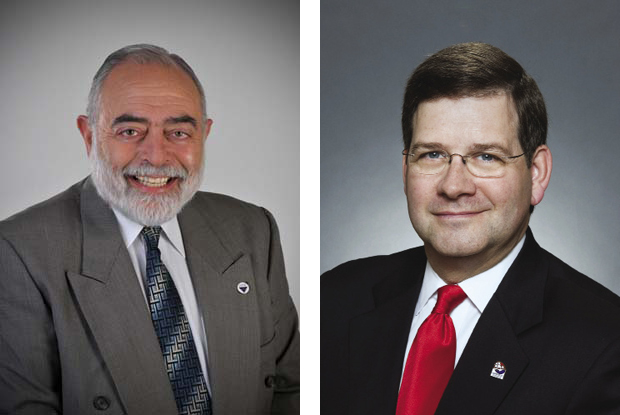 CEDAR FALLS, Iowa --- The two remaining candidates seeking to become the 10th president of the University of Northern Iowa were overwhelmingly supported by faculty members who responded to a recent survey.
The United Faculty-sponsored survey garnered 120 responses from mostly tenure or tenure-track union members, said Dan Power, the union's president.
William Ruud, president of Shippensburg University in Pennsylvania, and Michael Wartell, the former chancellor at Indiana University-Purdue University Fort Wayne, will be interviewed by the Iowa Board of Regents Thursday in West Des Moines. The tenth president is expected to be announced sometime Thursday afternoon.
Avijit Ghosh, a senior adviser to the president at the University of Illinois, withdrew his name from the search Tuesday. According to the survey he was not well-received by the faculty.
Ruud, 62, had good energy and communication skills and was knowledgeable about UNI, according to respondents. Negative comments focused mostly on his lack of vision, his honesty and his managerial perspective, according to the survey results.
Faculty stated they liked Wartell's leadership style, honest responses to questions and his understanding of UNI and academics. His downfall, they said, was his age and his inability to provide a long-term solution for UNI.
Wartell, 66, was forced to step down as chancellor of IPFW because of a Purdue policy that requires administrators to retired after turning 65.
The survey also produced mixed reviews about the search efforts. More than 42 percent of those who responded said there were flaws with the search process and another 23 percent said it was inherently flawed. About one-third of the respondents believed the search was fair.
However, the board co-chairs, Mark Oman and Farzad Moussavi, both applauded the search committee's efforts during their final meeting Wednesday morning.
"I think our committee can feel very good about the two candidates we are sending to the Regents. They are both very strong with different, but good, work experience," Oman said. "There is a difference in their style, but I believe either one could be an effective leader at UNI."