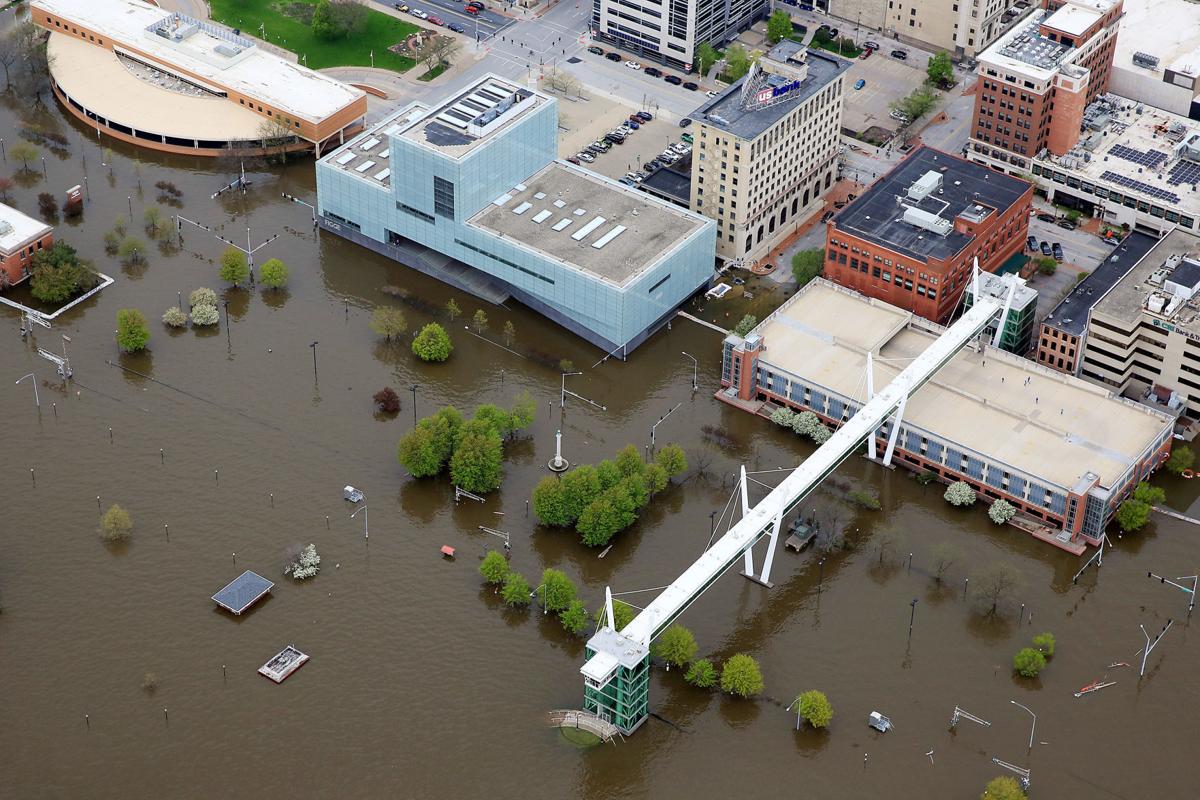 DAVENPORT -- Less than six minutes after the HESCO barrier failed Tuesday, flood water had engulfed Roam Restaurant and Bar in downtown Davenport.
Dramatic security camera video from outside the restaurant, 210 East River Drive, shows people fleeing as they realized Mississippi River floodwaters were rushing in from where the barrier broke at River Drive at Pershing Avenue. Roam owner Dylan Steil posted the video on the restaurant's Facebook page Friday.
Days after the breach, historic flooding continues and the ongoing challenge "remains the amount of time that we've been under water," Dave Donovan, director of the Scott County Emergency Management Agency said Friday.
"I think that what you're finding is that our flood protection, whether it's temporary or permanent, is very soft," he said during a 45-minute media briefing at Davenport Police Department.
"We continue to monitor that. And then I think … any future crests become problematic, even if they don't rise to the level that we got earlier this week, the 22.7 (feet). They approach that with our wet conditions, that's our biggest challenge. We have begun planning for recovery, but until we get some water out of here and can dry out and begin to assess, it's very difficult to move that very far forward."
But he said it is "a little preliminary" to discuss the financial impact of the flood.
"Until the water recedes, it's going to be really difficult to assess, especially in residential structures," he said. "We do have information that we forwarded to the state of Iowa and to FEMA. Those are based on inundation maps and assessed valuations at this point."
Donovan and officials from Davenport, Bettendorf and the National Weather Service offers updates on flood-fighting efforts and future forecasts.
Rich Kinney, Warning Coordination Meteorologist with the National Weather Service in the Quad Cities, said a "pretty active" weather pattern could bring 1 to 4 inches of rain late Sunday into Thursday.
The preliminary record crest on Thursday remained at 22.7 feet, and the U.S. Army Corps of Engineers verified the new record. River levels were at 22.5 feet at 12:30 p.m. Friday, Kinney said, and if rainfall stays between 1-3 inches, the crest likely would stay below that.
"That is our most likely scenario we are looking at now," he said. "If we're talking some of the more extreme rain fall amounts, where we get up more into the 4-inch range, we cannot take the scenario completely off the table right now that we would have an even higher new crest here in the Quad Cities that we experienced recently."
He called that a low probability.
Davenport Finance Director Brandon Wright said the city is monitoring temporary flood barriers in the Village of East Davenport, downtown, and on the west side.
"We don't anticipate any of them having problems," he said. "They continue to act as they should and we're grateful for that."
The water pollution control plant and the dike in the Garden Addition neighborhood also are being monitored, he said.
Iowa National Guard was at Black Hawk and Walnut creeks near Garden Addition. Davenport asked for help to relieve staff working 12-hour shifts, seven days a week for more than a month.
Bettendorf City Administrator Decker Ploehn said they have 4,000 filled sandbags ready for distribution and about seven trucks loaded to deploy them. Some were taken to Buffalo Friday morning, he said.
The city also got six semi loads of additional sand on Friday, Ploehn said, and has 14 sanitary sewer pumps pumping around the clock downtown.
"I think we're removing from the system about 24 million gallons a day in doing that," he said.
The city closed the 28,000-pound gate at Leach Park, closed and sealed the railroad gate at 10th Street, and is manning a temporary dike at 8th Street 24/7.
Harbor Drive is "probably the strongest residential area we're protecting," with about 50 homes, Ploehn said. The city placed about 45,000 sandbags there.
"They call when they're needed," he said. "They're pretty self-sufficient, they've lived on the river a long time."
Donovan said power remains on for most areas of Scott County, but some properties impacted by the flood that are without power for safety reasons.
He reminded people to "be safe, be aware" and that "we're discouraging people from entering the flood water."
If you must, take protective measures, like wearing hip waders and boots and gloves, and practice good hygiene, like washing your hands frequently.
Donovan said people impacted by flooding can call 563-484-3086 for assistance.
Be the first to know
Get local news delivered to your inbox!