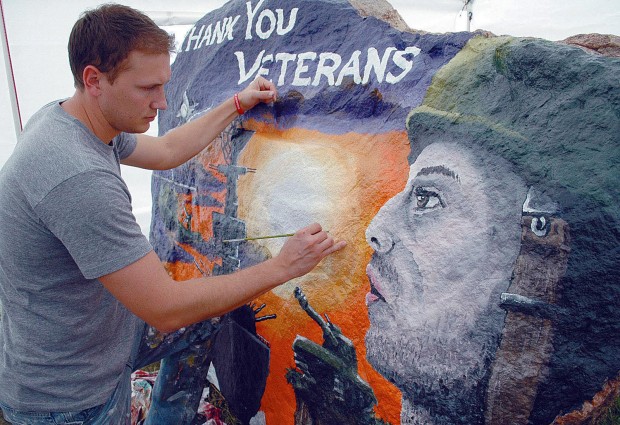 ST. ANSGAR, Iowa --- What started with a large boulder in southwest Iowa 14 years ago has led to the first installment of what will be a new Veterans Memorial in St. Ansgar.
Artist Ray Sorenson of Greenfield painted what is now known as the St. Ansgar "Freedom Rock."
It is located just east of Caseys General Store at the junction of Iowa Highway 9 and U.S. Highway 218.
The seven-ton boulder was moved to St. Ansgar from a field west of Carpenter and painted by Sorenson in front of several spectators recently.
A mural depicts a fighter jet, helicopter, battleship and the face of a soldier. Words are painted on the rock stating, "Thank You Veterans."
The memorial project, which also will include two statues and an honor wall of names of local veterans, is being sponsored by L.R. Falk and the St. Ansgar Sons of the American Legion.
The project is expected to be completed in the coming months and dedicated next spring.
"To some, a rock is a strange canvas to be using, but there is a story behind it," said Sorenson, who has spent a lot of time traveling the Midwest painting boulders and murals with patriotic themes. He works at the state Capitol in Des Moines.
Sorenson said just outside Greenfield where he grew up, there was a 90-ton boulder that was about 12 feet tall. The boulder often was painted with graffiti and had become an eyesore for the local community.
In 1999, when he graduated from high school, Sorsenson decided to paint the massive boulder to look as though it was wrapped in an American flag.
"The local folks really liked it, but the graffiti started coming back, so every Memorial Day I would paint the rock again," said Sorenson.
"I tried to paint different themes and murals each time. It became quite popular, and that's really how all this got started."
As well as selling his murals, paintings and other artwork, Sorenson is on a Freedom Rock tour to paint a boulder in each of Iowa's 99 counties, sponsored by local groups.
In St. Ansgar, it was Lindsey Falk of L.R. Falk and John Koster of the St. Ansgar American Legion.
"I heard about Ray from a friend of mine that has rock quarries in southwest Iowa," said Falk. "This summer I was at the state Capitol with my friend to lobby some issues in our industry, and he introduced me to Ray, who works for a representative there, and that's how this all got started."
Sorsenson told Falk about the idea to put 99 Freedom Rocks across the state. "I told him the St. Ansgar Sons of the American Legion were in the planning stages of a large veterans' memorial park, and that would be a great place to start. We exchanged contact information, and here we are," said Falk.