This story has been updated to include remarks from Iowa Sen. Joni Ernst. 
WATERLOO – A sorting machine removed from the city's post office in June has been returned.
The sorter, capable of processing 35,000 pieces of mail an hour, is back in the building but not yet operational, said Kimberly Karol, president of the American Postal Workers Union in Waterloo.
"I am relieved. My faith in our democratic process and the voice of the people was restored. It was the actions of the public and all of our customers who support the Postal Service. That's what actually got this done and restored," Karol said.
She said plans are to have the machine running sometime over the weekend.
"When they removed the machine they cannibalized it and sent parts to other places," Karol said, noting they are ordering replacement parts.
The move came after sweeping changes to the U.S. Postal System were announced shortly after Postmaster General Louis DeJoy took office in June. He then suspended the changes in August until after the November election.
Changes included eliminating or reducing overtime, removing mail-sorting machines and reducing the amount of trips a carrier can make to retrieve more mail. Critics claim the changes are meant to disrupt an unusually high number of mail-in ballots from voters who are choosing to avoid polling booths during the coronavirus pandemic.
Delivery procedures and overtime restrictions also have been lifted at the Waterloo Post Office.
"The important thing is that mail is always moving. It is just not moving as fast or efficiently as it had prior to the changes this summer. Mail is still safe and secure," Karol said.
A federal judge Sept. 17 temporarily blocked USPS operational changes, the first major decision to come after several lawsuits were filed against the Postal Service. Around 20 Democratic states have filed lawsuits to push back changes they say disrupted the mail delivery system.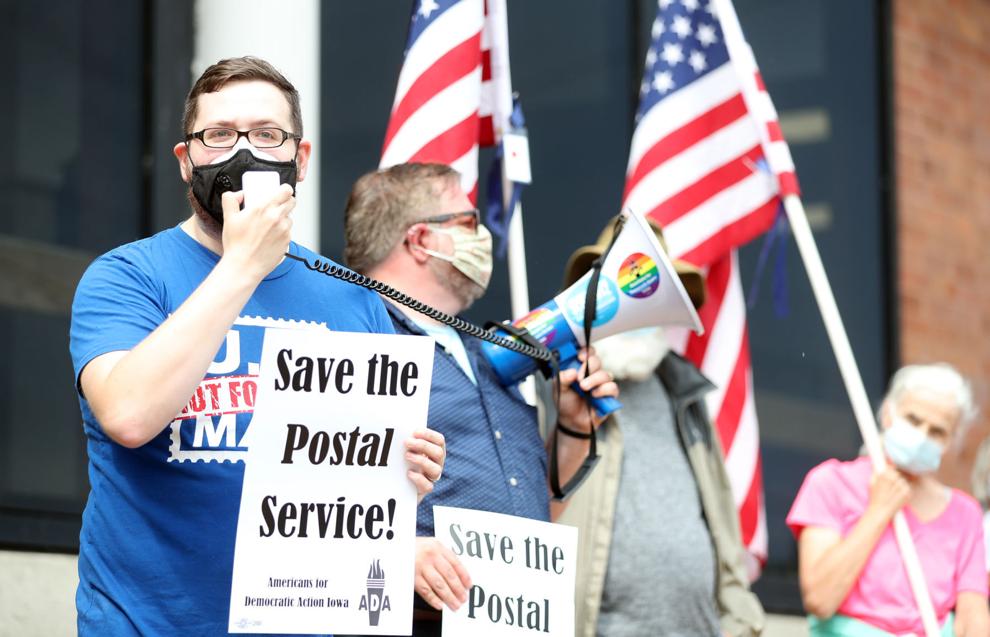 Local residents also were outraged. Dozens of people gathered Aug. 22 at the Waterloo Post Office to protest just days after Karol sounded the alarm about the removal of sorting equipment. She appeared on several national news networks as the first person to speak out about the drastic changes.
"It was overwhelming," Karol said of the local response. "It proved that what we do has value. We're not has-beens. We still make a significant contribution every day to people's lives."
Karol said there were thousands of calls made to Iowa Sens. Chuck Grassley and Joni Ernst.
"We basically shut down the switchboard for a short period of time."
Ernst, who is up for re-election this year, supported relief funding for the USPS under the CARES Act. 
"As a lifelong resident of a rural community in Iowa, Senator Ernst and her family members, like Iowans across the state, rely on the USPS to receive correspondence, medications, and more, and that's why Senator Ernst supports the United States Postal Service and ensuring they have the funding they need to carry out their important role in this election," said Ernst's press secretary Ben Watson. 
Grassley has said the changes were not meant to derail the election but to address an outdated mail system.
"We've been delivering every day for hundreds of years. If our senators were actually doing what their constituents wanted, they would be responding and trying to fix this," Karol said.
Congress allocated $10 billion in funding for the USPS under the CARES Act for losses related to the pandemic, which Karol said is only a Band-Aid to a much larger problem.
"We're hemorrhaging, and we need more than just first aid. We need some serious triage," she said.
Democrats are demanding a $25 billion grant through the HEROES Act, which includes $3.5 billion to expand voting by mail.
DeJoy is set to testify before the Republican-led Senate Homeland Security and Governmental Affairs Committee on Friday.