WATERLOO -- LeaAnn Saul thought nothing of making a reservation at SingleSpeed Brewing Co. on Wednesday to book space for 75 people with the Republicans of Black Hawk County for an election night party Nov. 6.
But when SingleSpeed owner Dave Morgan personally messaged her back denying the group space, citing differences in "core beliefs," Saul was taken aback.
"It was my first choice," Saul said of the brewery and restaurant in downtown Waterloo. "It's a great location, a great venue. Republicans love to go there just like anyone else."
Saul, the treasurer of the group, and Morgan messaged back and forth Wednesday into Thursday, with Saul pushing for specific reasons and Morgan noting having the group's election night party at SingleSpeed "just doesn't feel like the right fit."
Saul forwarded the entire email chain to The Courier on Friday, which Morgan verified was the conversation as it occurred.
"As our core beliefs rest a bit left of what we feel would be appropriate for such an event, we feel it would be best to guide you in a different direction," Morgan wrote Saul on Wednesday afternoon, shortly after she attempted to make the reservation. "Sorry for any inconvenience this may present."
Saul replied she was "totally surprised" and "a lot of Republicans love your brews." She then wrote the tax credits Morgan used to help get SingleSpeed up and running were helped along, in part, by Republicans.
"Very disappointed that people may not be welcome at your brewery if they are leaning to the right," Saul wrote to Morgan on Wednesday evening.
Morgan sent a longer email reply Thursday morning "in hopes of gaining your understanding," he wrote. He noted he and his organization believed in "authenticity," "diversity" and "differences of opinion that lead to educated discussion," and noted he believed beer was a political equalizer.
However, "hosting an official election celebration for a party that currently stands and fights against many of our beliefs, does not ring true to me. It lacks the authenticity that I value about our brand so much.
"Simply put," he added, "it just doesn't feel like the right fit."
You have free articles remaining.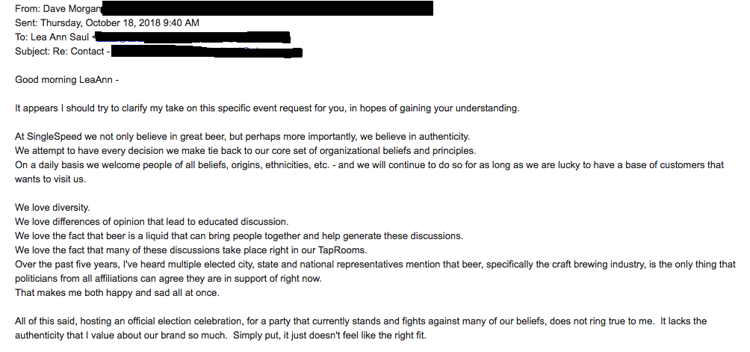 Saul then said she found it odd Morgan allowed events to be hosted there for Republican candidates, including Gov. Kim Reynolds and State Rep. Walt Rogers, in recent months. Morgan replied he felt single candidate events had a smaller visibility than a larger, election-night party.
"We respect his right to refuse -- it was just surprising," Saul said in a phone interview. "Especially since he's had these people there."
Reached Friday, Morgan said he stands behind his emails and his stance on not hosting a 75-person Republican election night party.
"Our thought process on election night is: We don't want our beer hall to be red, we don't want our beer hall to be blue," Morgan said. "This isn't a night where we want everybody to huddle into their red corner and blue corner; why do we have to do that?"
He said SingleSpeed will hold its own, nonpartisan election night party Nov. 6.
"We believe we should have an all-inclusive room that's built for people to have fun, no matter what they believe," Morgan said.
Saul said the Republicans of Black Hawk County will instead hold their election night party at the Clarion Inn in Cedar Falls. She was not, however, encouraging people to boycott SingleSpeed.
"We love entrepreneurs, we love new business. We're just totally shocked by the response, and I felt like the public needed to know," she said. "(Morgan) has the right, in our country, to refuse service -- but then I think people in the area need to know that he refused us."
This article was updated Friday to reflect the Republicans of Black Hawk County was trying to book space at SingleSpeed, not a room, as the party room does not have space for 75 people.