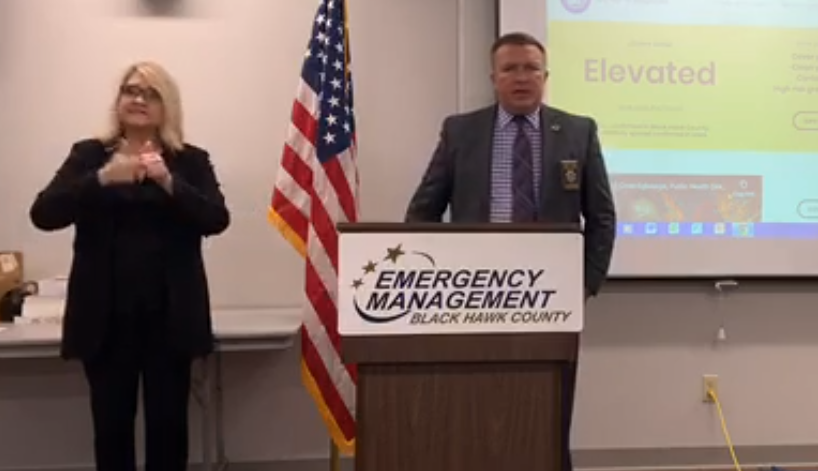 WATERLOO -- The widely publicized, nationwide case of GameStop's initial refusal to close its stores amid the coronavirus pandemic was apparently not the only business in Black Hawk County that was defying the governor's order to close, Black Hawk County Sheriff Tony Thompson said Monday.
While GameStop eventually caved, agreeing to close its retail locations nationwide Sunday after a nationwide outcry, Thompson said he's received "some" complaints about organizations not closing, even after being ordered to do so by Gov. Kim Reynolds. Thompson said those business owners needed to comply or risk arrest.
"Understand that this put us in a very difficult position as law enforcement officers," he said. "We do not, I repeat, we do not want to end up taking people to jail on criminal complaints because of an unwillingness to follow the governor's proclamation."
When pressed on which businesses weren't in compliance, Thompson said he preferred not to "shame someone into compliance," but that those businesses should know "the citizens look very dimly at you not following those proclamations."
"We are Cedar Valley Strong," Thompson said, referencing a local business initiative in place. "But we are only as strong as our weakest link. And if you're going to be our weakest link, then law enforcement is going to take a very dim view of you as well."
Director urges most to forgo testing
Black Hawk County's additional two confirmed cases of coronavirus were both people in contact with the county's original case, said County Health Director Nafissa Cisse Egbuonye.
And while the Iowa Department of Public Health has opened testing to more individuals -- including those with respiratory illness who live in dormitories, long-term health care centers and similar facilities -- Egbuonye urged those without need of hospitalization to not get tested to preserve "critical resources."
"Most mildly ill Iowans do not need to go to their health care provider or be tested to confirm that they have COVID-19," she said at Monday's briefing. "Each test performed uses needed testing supplies and PPE (personal protective equipment) for health care providers."
Anyone who has traveled outside of Iowa recently, taken a cruise or lives with someone with symptoms of COVID-19 needs to stay home for 14 days per the new state guidance, she said. Those with symptoms, even without a test, are also asked to stay home for 7 days after the onset of illness.
"We would not ask you to do this if it's not important," Egbuonye said. "You need to self-isolate so that you can play a role, a key role, in potentially saving lives."
Salvation Army, Operation Threshold, Food Bank all seeing increases
Most community nonprofits helping the neediest Black Hawk County residents are seeing an increased need for their services, even as they are cutting or modifying those services to protect workers and volunteers from coronavirus.
That includes the Salvation Army, Operation Threshold and the Northeast Iowa Food Bank, all of which had representatives at Monday afternoon's COVID-19 briefing.
Martin Thies, a commander with the Salvation Army, noted his organization was limiting the number of people at its shelters, though he declined to say by how many since circumstances varied depending on who can share a room.
He noted takeout meals are being offered at its north Logan Avenue parking lot, but walk-ins are no longer allowed and church services were being streamed online.
At the food bank, Bryan Helleso said the organization is "doing our best" to keep programs like the Backpack Program, Cedar Valley Food Pantry and meals for older adults going.
"Right now, we have very limited volunteers and very limited food," Helleso said. "So we're looking at raising a lot more money."
Helleso noted the Food Bank's on-site pantry saw 800 people in three days last week. He noted after the briefing that 750 clients usually come in during a normal week.
Volunteers are still needed for one of three shifts from 9 a.m. to 3 p.m. daily, but are asked to call first.
Despite only being available by phone or email now, Barb Grant with Operation Threshold said her organization is still helping an increasing amount of people with all programs except weatherization. That includes WIC, federal energy assistance and family assistance.
Those with a need are asked to call Operation Threshold at (319) 291-2065.
"If you've got a need that isn't listed, call and see if we can help," Grant said.
MET Transit still running
With 60% of MET Transit riders relying upon that transportation for groceries or medical appointments, general manager Mark Little said that is the overriding reason buses are still running.
But he cautioned riders need to wash their hands, and plexiglass barriers between drivers and passengers are being installed on buses.
"Something I never thought I would say in my time at MET is -- I want to end this with pleading, again -- do not ride the bus unless you absolutely have to," Little said. "We'd like to operate our services so that the people who need it, it's there for them."
Concerned about COVID-19?
Sign up now to get the most recent coronavirus headlines and other important local and national news sent to your email inbox daily.