WATERLOO — Black Hawk County and counties around it are under a severe thunderstorm watch until 9 p.m. Friday, with a flood watch in effect for the Cedar River -- and we're not done with snow yet, either.
A severe thunderstorm watch was in effect until 9 p.m. Friday for Black Hawk, Grundy, Hardin and Tama counties in northeast Iowa, according to the National Weather Service office in Des Moines.
Strong to severe thunderstorms with large hail and damaging wind were possible Friday after 7 p.m., with wind gusts as high as 40 miles per hour. Between half-an-inch and three-quarters of an inch of rain is possible Friday, according to the NWS.
Additionally, a longer-term hazardous weather outlook was in effect for Black Hawk, Bremer, Butler, Franklin, Grundy and Hardin counties this weekend, with storms Friday night leading into accumulating snow Saturday.
A half-inch of rain is expected Saturday, changing over to snow after 10 p.m. Saturday night, with 1 to 3 inches of snow possible, according to the NWS. Sunday could also bring an additional 1 to 2 inches of snow.
That may lead to slick roads and low visibility, making travel difficult, on Saturday, according to the NWS.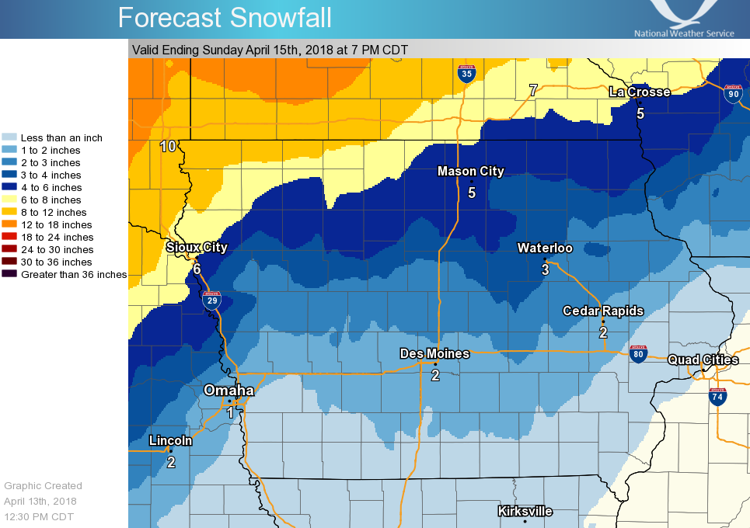 That rain and snow could make the Cedar River rise in Black Hawk County, specifically from Cedar Falls to Waterloo, from now until Wednesday morning, according to the NWS. Minor flooding was forecast, but could become major depending on precipitation from the storm.
The Cedar River was 7 feet below flood stage Friday morning and is expected to crest at 1 foot above flood stage Monday morning before it decreases below flood stage Wednesday morning, according to the NWS. Forecasters cautioned that flooding was dependent on precipitation amounts.
Northeast Iowa's continued wintery woes are all part of a larger storm system expected to dump up to a foot of snow on parts of Minnesota and South Dakota this weekend.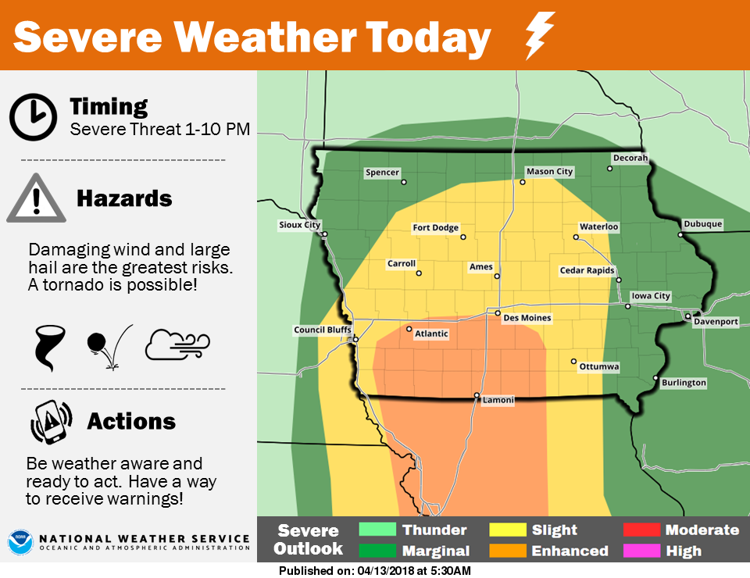 The National Weather Service in Duluth, Minnesota, issued a gale watch Friday evening through late Saturday night for high winds expected on western Lake Superior. Winds could gust up to 52 miles per hour, and waves could swell to 14 feet.
A vast swath of the Upper Midwest and Plains states, stretching from western South Dakota to western Wisconsin and reaching into Nebraska, is under blizzard or winter storm warnings or a winter storm watch. Forecasters say parts of Minnesota could see strong, gusty winds of up to 50 mph, while some areas of Nebraska near the South Dakota border could receive up to 17 inches of snow.
Meteorologist Michelle Margraf at the Twin Cities weather service said the central U.S. is stuck in a cold pattern due to high pressure sitting just off the East Coast.
The Associated Press contributed to this report.