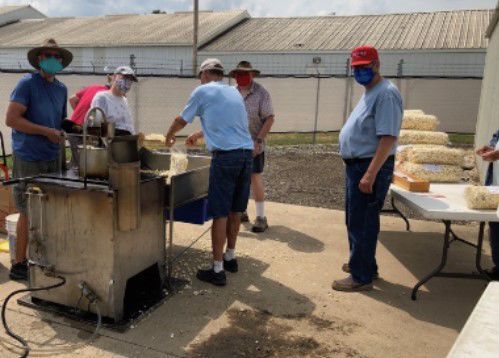 CEDAR FALLS — People have had fewer opportunities to spend their money in the Cedar Valley as numerous community events were canceled during the past year due to COVID-19 concerns.
That has limited fundraising opportunities for service clubs which typically set up booths at festivals selling food or other items. Often, those are an important source of income the clubs donate to a range of community causes.
For the Cedar Falls Rough Risers Kiwanis Club, that meant not popping nearly as much kettle corn as it did in past years.
"We really didn't do a lot for 2020, but it was not because we didn't want to," said Lynn Barnes, club president. "It was because all of the events were closed up." Among those were the Sturgis Falls Celebration, the Fourth Street Cruise in Waterloo and the College Hill Arts Festival.
"The vast majority" of money donated by the club "comes from our kettle corn sales," he said. In addition, "we usually do all the school carnivals for Cedar Falls." What's popped for the carnivals is given to the schools to sell, raising money for their own needs.
The only times the club made the snack this past year was "a couple of poppings for our sponsors," noted Barnes. The Rough Risers did continue receiving financial contributions from local businesses during the past year that sponsor club causes.
During 2019, "we gave about $17,000, almost $18,000, and this (past) year we were only able to give $11,000," said Barnes. "That will give you an idea what this COVID thing has done."
Club members donated money to an effort benefiting People's Clinic workers, giving $1,400 in Hy-Vee gift cards. Working with the Salvation Army, Kiwanis also raised and donated $1,400 plus some household goods to a needy family. Another donation to Cedar Falls Community Schools helped with the purchase of books and other materials needed because of COVID-19.
The club's budget was also revamped to give more money to the Food Bank of Northeast Iowa and several child care centers.
The Cedar Falls Exchange Club couldn't hold its spring and fall craft and vendor shows last year. The club raises money through booth fees paid by vendors who want to sell items at the event as well as through admission and concessions. A food booth at Sturgis Falls is usually another fundraiser for the group.
Dennis Kehoe, immediate past president of the club and currently president of the district that includes Iowa, said that the group found some more pandemic-friendly ways to raise at least some of the money it was losing without those events. One was a silent auction held before Christmas open to the community.
"It did pretty good. We had 20 items to bid on and I think we netted $1,700," he noted, including some cash donations. "So, for a club our size, that's pretty good."
Overall, the club raised about "a third less than in recent past years," said Kehoe. At this point, he expects to hold the vendor show again in the fall and "I'm almost positive we'll do another silent auction" late this year as Christmas is approaching.
The Cedar Valley Jaycees had much less success finding ways to make up their funding in the past year. Mike Webb, president of the group, called it "a bit of an understatement" to say the pandemic has slowed its fundraising efforts. "2020 was a bit of a write-off year," he said.
Downtown outdoor music concert series Live to 9, which is the club's primary fundraiser, couldn't be held last summer.
"We weren't able to have any of those," said Webb. "The reality is, there's no way to keep people from congregating" and ensure safe social distancing.
The Jaycees' Waterloo Open professional golf tournament couldn't be held, either, resulting in lost fundraising through sponsorships. Sponsorships were found for the amateur tournament, which continued as planned.
"I would say we raised 10% of what we would normally raise in a year, and that's probably generous," said Webb. However, "because of limitations on gatherings and stuff like that, we didn't spend much money either."
Many charitable events sponsored by the Jaycees that benefit from the fundraising were modified or cancelled. One event not held last year was the Gift of Giving. It usually involves about 100 children purchasing Christmas gifts for their families during a morning of shopping in December.
Webb said the Jaycees don't expect to be back to the pre-COVID normal this year this year with its events. He believes, though, that the group will have smarter approaches to keeping people distanced and safe for any events it holds.
"Having a year's experience in a pandemic has certainly helped us," said Webb.