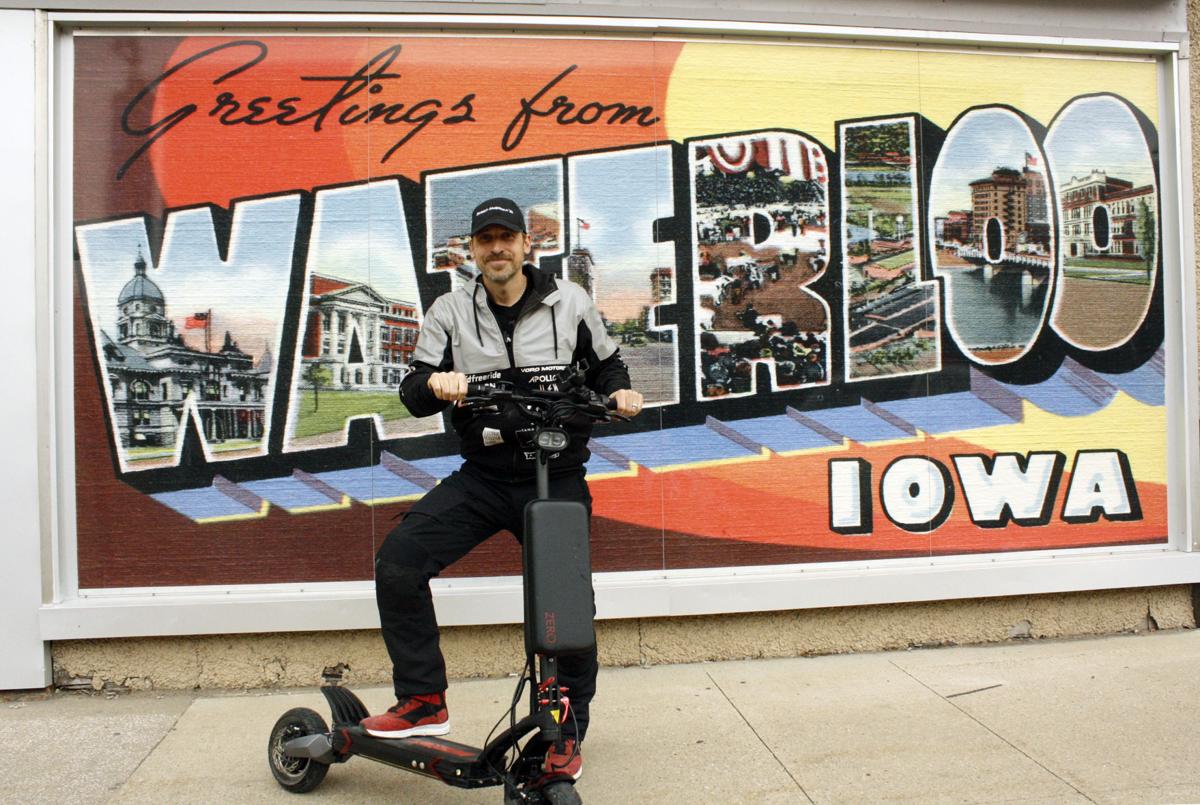 WATERLOO – Alex Simon likely is the first person scooting his way across the U.S.A. on an electric scooter.
He stopped in Waterloo on Wednesday evening on day 12 of his adventure to travel 3,365 miles across on America's back roads from Boston to Newport, Ore. His goal is to spread awareness about the benefits of micromobility.
"Which is essentially replacing cars with smarter alternatives on short distance trips," he said, noting 50% of all car trips are three miles or less.
"So instead of taking a car just to go down the road, maybe we can take something that is less polluting, less noisy and reduces traffic," he said.
Simon has garnered nearly 6,000 followers on his Facebook page Zero to Epic, where he is documenting his travels. He travels about 120 miles per day at an average of 25 miles per hour. He expects the trip to take 30 days.
"I've met so many people along the way. Anyone who hears about scooters is another person who will maybe join in the effort," he said.
Simon said he prepared for the trip with two months of rigorous exercise.
"Some people think standing for seven to eight hours a day is easy, but it's not," he said.
For guidance and road assistance, Simon depends on Bryan Farr, who is hauling a trailer with plenty of supplies for repairs. Simon alternates between nine scooters and a lot of tires, he said.
Farr is president of the Historic Route 20 Association, and this will be the fourth time he has traveled the highway in its entirety. The purpose of the organization is to promote travel along the original 1926 alignment of U.S. Route 20. The route avoids interstate highways and bypasses.
"We wish to bring people back into small-town America, to shop locally and support local businesses to boost economic development in communities that may be bypassed by interstate highways or other more popular routes," he said.
They planned to stay overnight in Cedar Falls before heading to Fort Dodge in the morning.
"I just love the openness, the lack of traffic and the peace and the scenery of Iowa," Simon said.
Simon, a 48-year-old native of Brazil and Las Vegas resident, also is riding for another cause — to honor his late father's dedication to the environment as an agronomist.
"I realized I wasn't doing nearly enough for the planet, so I wanted to do something big and impactful," he said.