IOWA FALLS — Iowans against factory farms made their voices heard Tuesday afternoon at the headquarters of one of the biggest pork producers in the country.
A staff member turned away more than 100 protesters who asked to speak with Jeff Hansen, owner of Iowa Select Farms, at its Iowa Falls office.
Iowa Select Farms is the fifth largest pork producer in the country, with 800 farms in 50 counties in Iowa.
"Some people need to be reminded today that we all own the water, and water is life," said Julie Duncan of Hardin County.
Members of Iowa Citizens for Community Improvement, a statewide group, organized the "Day of Action in North Central Iowa" to ramp up pressure on Iowa Select Farms and the factory farm industry to put a stop to more concentrated animal feeding operations, known as CAFOs, being built in Iowa.
https://www.facebook.com/iowacci/videos/10155803394949751/
"There's 25 million hogs in Iowa, and you could drive across the state and not see one of them," Duncan said.
Community members and leaders from nearly a dozen Iowa counties, as well as folks traveling from other states, met at Pine Lakes State Park in Eldora before buses hauled the group to Iowa Falls.
The group was quick to note they are not against farming; they prefer more family farms as opposed to the large-scale factory farms that have, what they call, loose regulations on hazardous materials going into the water, soil and air.
"It's about accountability, responsibility and an undeniable need for sustainable family farming. It's a regional and nationwide fight now, and we must fight together," Duncan said.
Jess Mazour, farm and environment organizer with Iowa CCI, said the group has sent more than 700 emails to Hansen and phone calls to Iowa Select Farms asking for a meeting to discuss how the operations are impacting residents.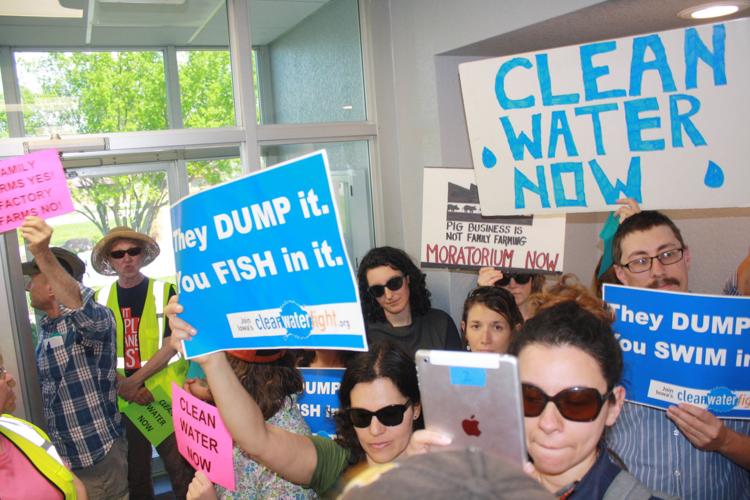 Mark Edwards, who retired as a tourist coordinator from the Department of Natural Resources in 2010 after 30 years of service, stood with the protesters Tuesday.
"I hate to see what's happened to Pine Lake," he said of the lake in Eldora, noting the public beach is closed because of water quality issues.
"We've put millions of dollars of public money into that state park, and to have it not be usable by the public is pretty scary stuff," he said.
Edwards attributes the pollution to an excess of nitrogen in the water, which he said comes from manure produced by large amounts of hogs.
"We have lots of water quality issues in Iowa, it's one of the worst in the nation," he said.
Emma Schmit grew up in Rockwell City and said her town is not the same place it used to be, with more than 150 factory farms in Calhoun County and more popping up each month.
"Our lake is facing constant pollution issues and rancid smells emanating from all directions. More and more, my community feels like one giant factory farm," she said.
"Factory farms in Calhoun County are usually corporate-owned, meaning big corporations like Iowa Select get the profits while we get the pollution. We are here today to say enough is enough. We're the ones that have to put up with the contamination, the water quality pollution and diseases."
Attempts to reach Jeff Hansen were unsuccessful.