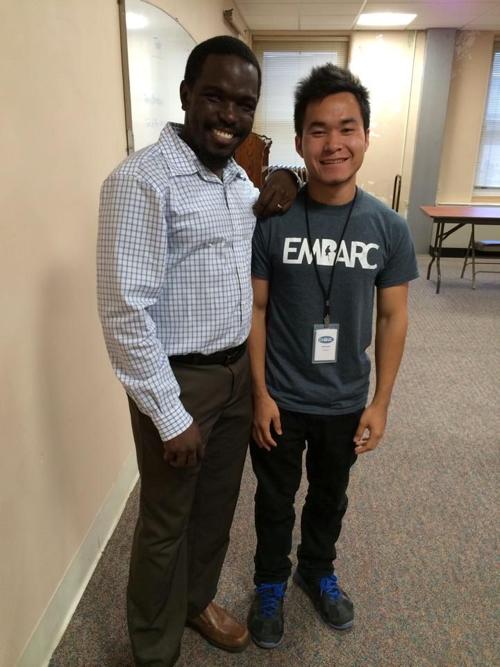 WATERLOO — There are more than 2,000 refugees from Burma in Waterloo, and most who are old enough work at Tyson Fresh Meats.
The reason? Tyson is one of the few major employers that hires non-English-speaking recent refugees.
But it's fair to say many new arrivals are interested in a variety of jobs. There's a program to help these people, and now it's being expanded.
RefugeeRISE AmeriCorps (Rebuild, Integrate, Serve, Empower) launched late last year through the Iowa Commission on Volunteer Service. It's administered by EMBARC, which has offices in Waterloo as well as Marshalltown and Des Moines.
RefugeeRISE partners new arrivals with other AmeriCorps workers, and that pair then is hired by local businesses and nonprofits — as well as at EMBARC.
One of those pairs includes Laldin Liani, who came to Waterloo five years ago from a Burmese refugee camp. She works with Mallory Petsche — both are co-coordinators of EMBARC's mentorship program.
"When we got (to the U.S.), it was very difficult to find a job," Liani said. "We didn't speak English, there was no caseworker — that's why most of the people joined Tyson. But they don't know how to find another job."
Liani can speak to other Burmese refugees — a valuable skill at EMBARC — while Petsche helps Liani improve her English skills and other skills like using email and Google Drive.
"A computer I've never seen in Burma," Liani said. "And now I can use it easily."
That job readiness will help Liani down the road — she eventually wants to either be a certified interpreter for her community or get her nursing certification and work in a nursing home.
"RefugeeRISE is specifically designed to support job readiness," said Alicia Soppe, program manager at EMBARC's Waterloo office. "Our emphasis is on addressing workforce shortages."
EMBARC's lobbyist at the state level is the Iowa Refugee Alliance, which represents more than 100 organizations like EMBARC.
That organization backed a bill asking for $300,000 from the state to expand the RefugeeRISE program. If the state didn't promise the money, the federal AmeriCorps wouldn't kick in $650,000 in matching dollars.
Soppe didn't expect it to pass in the divided Legislature. But it did.
"We fought really hard," she said.
Once it's allocated this fall, that money will go toward 30 full-time RefugeeRISE positions throughout the state.
EMBARC will help distribute the money to get pairs of full-time workers to businesses and nonprofits. And they're cheap: The $20,000 it would normally cost an organization to hire the AmeriCorps pair full-time for a year is being subsidized -- Meghan Smith, program director in Des Moines, said it's expected to be just $3,000-$5,000 per individual.
"They go right into the business. They have direct service hours and training hours," said Chris Apling, who also works in the RefugeeRISE program.
Plus, recent arrivals speak a variety of languages, ostensibly helping organizations reach populations they might not otherwise.
"They're working together, learning from each other," Soppe said. "They're teaming up to combine their strengths."
And the partnerships make Waterloo feel more like home to Liani.
"I love them," Liani said of EMBARC. "I feel like they're family."
Organizations interested in hiring a RefugeeRISE pair can contact program director Meghan Smith in Des Moines at (641) 752-8658 ext. 308, or at meghan@embarciowa.org.
This story has been updated to adjust the spacing in the name of RefugeeRISE and clarify the amount businesses will pay for each individual.