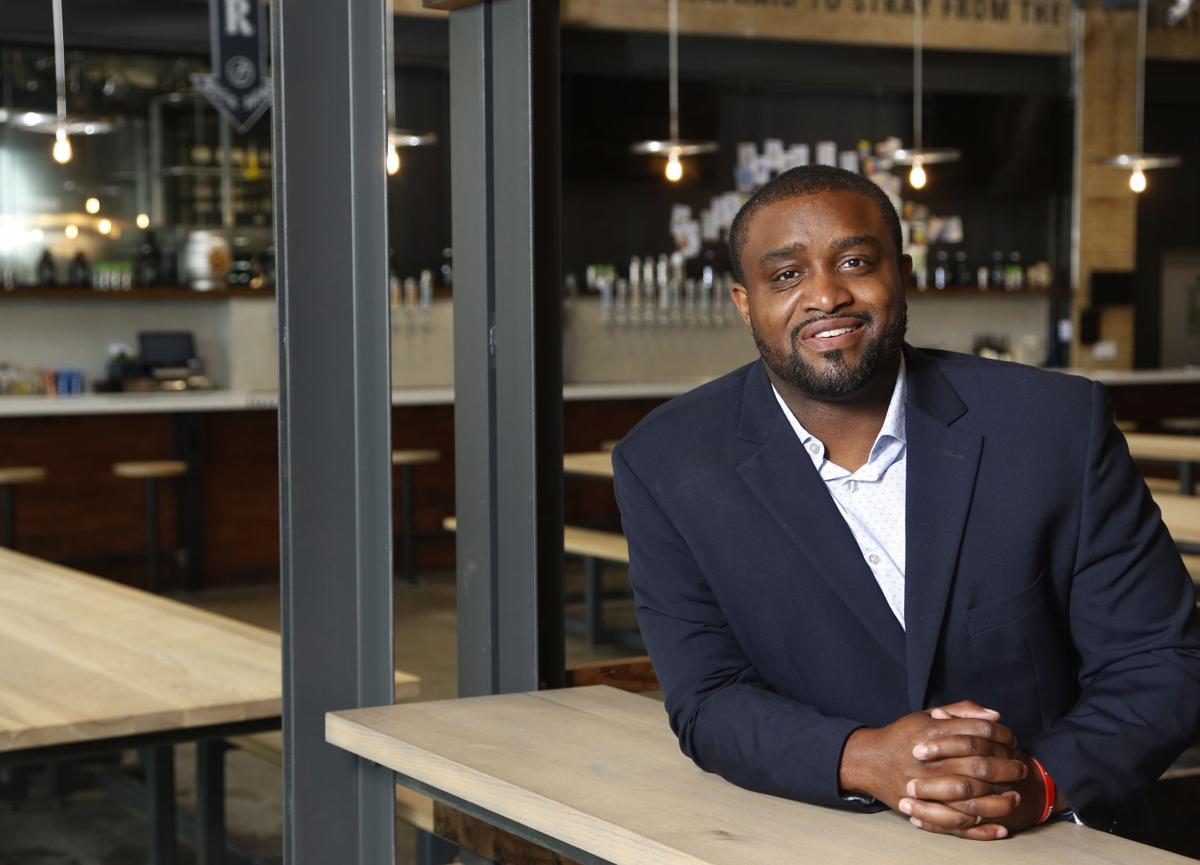 Second in a series of stories on this year's 20 Under 40 winners.
WATERLOO — Some would say Quovadis Marshall's introduction to religion at age 17 came by chance.
Living in an apartment in Denver and trying to find focus in his life — which to that point had included finding trouble as part of a Waterloo gang, being shot at and becoming a father at a young age — Marshall said a brief prayer and asked for a sign.
The following morning, there was a knock on the door. It was a pastor who had come for monthly Bible study with the prior tenants of the apartment. The pastor wasn't aware they had moved out, but the Bible lesson went on with Marshall and his girlfriend.
"We would call that serendipity, happenstance or coincidence. The Christian theological term for that is providence," Marshall said.
Since then, Marshall's faith has been tested, and he went astray before returning to the path.
Today the 37-year-old is the leader of Hope City Church, which draws about 400 worshipers on a Sunday.
"It took a lot of time. A lot of bumps in the road, a lot of detours. But I believe detours exist to lead you toward your ultimate destination. We don't confuse detours with dead ends," said Marshall, known to most as Pastor Q.
Raised by a single mother, Marshall said religion wasn't a large part of his upbringing. His mother lived the Christian ethos, going out of her way to help others, but church wasn't a regular occurrence, Marshall said.
Marshall eventually wound up in group homes starting at age 10 and earned his GED at the Eldora State Training School, according to the Rev. Cathy Young, who nominated him for the 20 Under 40 recognition.
Despite his conversion at age 17, Marshall found trouble two years later when he held up Mr. G's convenience store. The place is no longer in business, but the building on Walnut Street is a block away from Hope City Church, and Marshall passes it every day.
The clerk triggered an alarm, and police detained Marshall and recovered the loot, which amounted to less than $50. Jurors found him guilty of a lesser charge, but it still meant up to 10 years in prison with seven years before he was eligible for parole.
While behind bars, Marshall began to take stock of his life and began reading about religion at the prison library. He eventually became involved with Prison Fellowship, a nonprofit founded in 1976 by Richard Nixon henchman Charles Colson, who served federal time for obstruction of justice.
After prison, Marshall found construction jobs and in 2011 moved to Kansas City with his wife, Angela, for missionary work. He continued his work with Prison Fellowship and became the group's director of spiritual development and then the director of the organization's restorative church movement, working on policy and advocacy.
He said he always wanted to start a church in his hometown, beginning with his conversion at age 17, and he began making solid plans after his mother, who returned to church in her later years, died in 2013.
"We started out meeting in a living room, and then we moved to a garage, and then we moved to a basement, all in about three months. And we outgrew each space," Marshall said.
Hope City spent about 15 months in another building before finally moving to 118 High St., which used to house First Lutheran Church, hosting its first service in the new location on Christmas Eve. In August, the churches formally transferred ownership of the building.
"It's a great group of people. … We've got millionaires and homeless people all in the same row," Marshall said of his congregation. "We like to say we are a church in the city, of the city and for the city. … We believe people's tomorrows can be better than their yesterdays."
Coming Wednesday: Adam Bolander
Get local news delivered to your inbox!
Subscribe to our Daily Headlines newsletter.