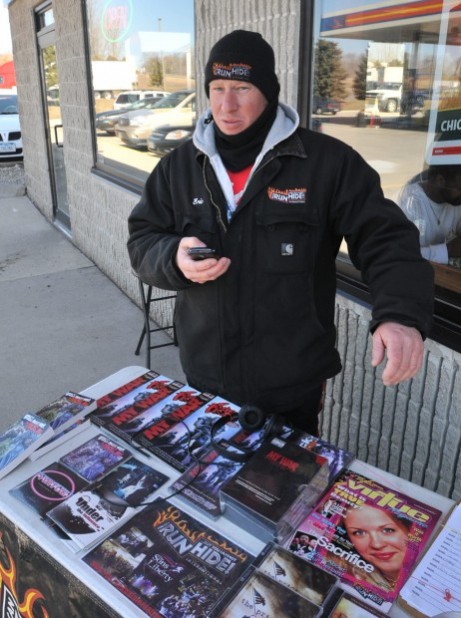 DUNKERTON, Iowa --- A group invited into Dunkerton High School to bolster tolerance instead drove wedges between classmates, according to students.
Now, leaders of Junkyard Prophet --- a hard-rocking band and part of the You Can Run But You Cannot Hide Ministry --- claim they will schedule a return visit this week.
They want to defend their message, which they claim has been misrepresented since Thursday's school assembly.
Bradlee Dean, founder and executive director of the controversial ministry, said Friday the group intends to send a representative to Dunkerton this week. That person will show images taken during the recent performance.
"All of it's on film. That's what the people of Dunkerton are going to be presented with sooner or later," Dean said.
A place and time has not been announced. Jake McMillian, the organization's chief operations officer, said Saturday the group is having difficulty finding a site.
"That town is extremely small. The main venue, I guess the only venue, is booked up," he said.
That would be the Dunkerton Community Hall. Its board of directors voted Friday to not allow McMillian's group access. And the school won't either, according to Superintendent Jim Stanton.
"It won't be here," he said.
The group was supposed to offer an assembly Thursday focused on anti-violence, anti-drug, anti-bullying themes. At least that's what administrators and teachers said they expected.
"That's the message we wanted delivered," Stanton said.
But after dividing the junior and senior high student body into boys and girls --- and leading faculty members away in a third direction --- the group launched a different agenda, according to witnesses.
"They were really trying to push their religion down our throats," said Laura Steffen, 18, a senior.
The presentations included images of aborted fetuses and AIDS patients suffering the effects of the disease, according to students. Those who tried to leave, including teachers, were shouted down, mocked and intimidated, according to witnesses.
Steve Phelan, an English teacher, said the leader in his group chastised the faculty for being disrespectful.
"Then he probably spent five or 10 minutes shouting at us about what we should believe," Phelan said.
Four members of the faculty walked out. Phelan did not.
"I was upset, but I stayed to fight," he said.
Phelan, a veteran of the Vietnam War, found much in the breakout session objectionable. One theme in particular rubbed him the wrong way.
"I thought they were using patriotism to push their other ideas, and I did not appreciate that as a veteran," Phelan said.
Reaction in the community began before the presentation ended Thursday morning. Students sent texts and called their parents. Some pulled their children from school for the remainder of the day.
Brandi and Randi Smith, twin sisters and seniors, noticed at least a few students were absent Friday as well. The mood, they said, also was uncomfortable at times.
"The whole school's like way tense. No one's getting along any more," Brandi, 18, said.
A student circulated a petition Thursday asking administrators to ban such presentations in the future --- specifically Junkyard Prophet. A similar effort developed Friday, but that document, also passed among the student body, reportedly wanted the school's gay community to quit complaining.
Brandi and Randi Smith describe themselves as "very Christian" and said they agree with some of Junkyard Prophet's message. They did not, however, like the venue.
"I don't think that kind of message should have been given in a school," Randi said.
The girls do not blame administrators for inviting Junkyard Prophet.
"I feel like the school shouldn't be blamed," Brandi said. "It's the group's fault for false representing themselves."
Dean defended the group's message, which he said has remained unchanged over the years.
He blamed opponents promoting a "homosexual agenda" with distorting his organization's views.
Stanton said the district will ask for its money back, between $1,500 and $2,000.
School administrators and teachers who saw the group years ago say they witnessed a different --- and less emotionally charged --- performance. Some even wrote testimonials that remain on the ministry's website despite endorsing a product Junkyard Prophet is apparently no longer selling.
Dave Roby, a native of Sumner, is high school principal in the Twin Cedars School District in Bussey, a community southeast of Des Moines.
Roby saw a You Can Run But You Cannot Hide production eight to 10 years ago and specifically remembers its front man, Bradlee Dean.
"The whole message that they were doing ... here was, 'Try to do the right thing,'" Roby said.
"I told them before this all took place, 'This is a school situation. You can only go so far with certain things,' and they seemed to understand," he added.
Twin Cedars students and faculty were pleased with the group's performance, Roby said.
He wrote them a recommendation.
But Roby said would not have allowed the group to show images of aborted fetuses
"I can guarantee they didn't do that," he said.
John Larson, a guidance counselor with the Mount Ayr School District, reports a similar experience. He saw the group six or seven years ago. A colleague's testimonial, written by Darrel Bartling, who is no longer with the district, remains on the organization's website.
"I don't think we were shocked by anything that was said or that really caught us off guard," Larson said.
Dean on Friday defended using dated endorsements on the group's website.
"They wrote them, didn't they?" he said.
Dunkerton residents Saturday were organizing opposition to Junkyard Prophet's proposed return.
Bev Smock, treasurer of the community hall's board of directors, fielded McMillian's multiple requests to rent the facility on Main Street. She described McMillian, who also goes by Jacob MacAulay, as polite but persistent.
"Most of the board members have kids up at the school, and they were all quite upset," Smock said. "We voted to not let them use the hall."
According to Smock, McMillian apparently attempted to find a sympathetic Dunkerton resident to rent the hall. But the board of directors said that won't be allowed either.
McMillian on Saturday complained about the board's refusal.
"That sounds pretty dangerous to blackball a group, don't you think?" McMillian said.
Smock said she asked about the group's purpose in coming back. According to Smock, McMillian said the media has not portrayed his group's message or what went on in the school accurately, and Junkyard Prophet would like to set the record straight.
McMillian also asked Fire Chief D.J. Manahl for access to the city's fire department. He refused, saying Homeland Security concerns make that impossible.
One of Manahl's sons attended the group's performance, and the family complained to school officials. Manahl wants to block another appearance.
"I know that they've done enough damage in this town, and as a parent I feel like they are not welcome in this town," he said.