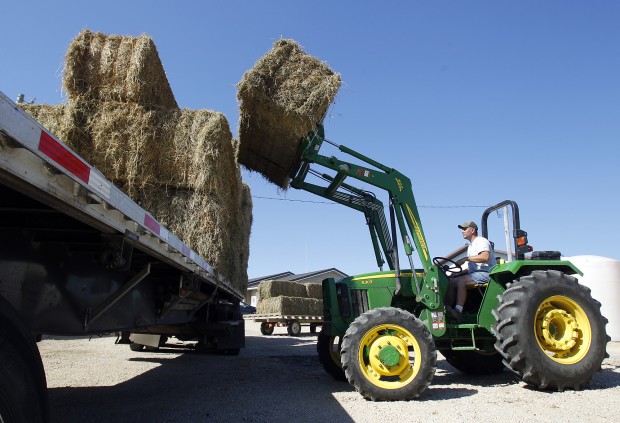 WEST UNION --- Kindness is pouring into Fayette County, sparked by concern for Audrey Gibbs and her family. The Rev. David Grant would like to pass it along at week's end.
Farmers and members of the Northeast Iowa Synod of the Evangelical Lutheran Church in America recently collected hay for ranchers in Texas struggling under drought conditions.
Delivery, though, has proved difficult with what locals dubbed Operation Haylift.
"We have the hay, but we couldn't find the trucks to get it down there," Grant said.
Eight to 12 trucks are needed to transport round bales.
Grant is Gibbs' pastor, and members of his congregation were instrumental in luring ABC's "Extreme Makeover: Home Edition" to West Union. He now hopes the goodwill generated by the project might produce some 18-wheelers and folks willing to pay the kindness forward.
"Wouldn't it be exciting if at the end of 'Extreme Makeover' we had Ty Pennington say, 'Move those trucks,'" Grant said.
Drivers and owners would not have to foot the entire bill, however.
"There are some funds to help pay expenses," Grant said.
The tie-in is a natural with the show, he added, which is all about communities pulling together.
"All it takes is a spark sometimes," he said.
For information about Operation Haylift and how to get involved, call Harold McMillin at (563) 880-5052 or Harold Peterson at (563) 599-1153.
Select the right and left arrows to shuffle through entries on the timeline:
Get local news delivered to your inbox!
Subscribe to our Daily Headlines newsletter.