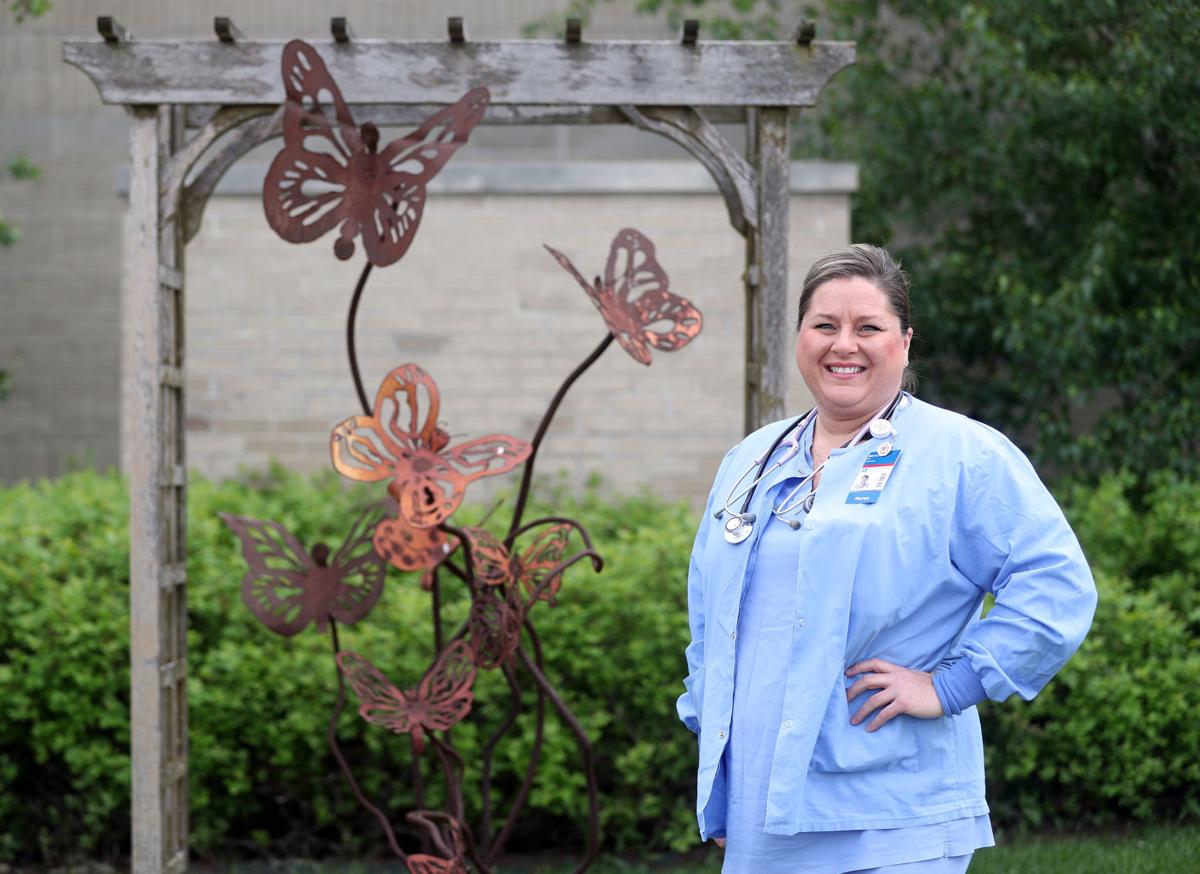 WATERLOO – The birth of a baby brings a wide range of emotions, from anxiety to elation and all things in between. For 24 years, nurse Betsy Smith has helped usher families through that process.
"You're helping a woman and a family do something that is to some extent hard to comprehend. You're getting them through one of the most amazing moments in their life, helping them create a family and continue on this journey that we all long to have," she said. "It's very fulfilling. There's nothing better than when that family gets to meet their baby."
Smith is a registered nurse in UnityPoint Health-Allen Hospital's labor and delivery unit. And she's one of the best, say those who nominated her for the Cedar Valley Top 10 Nurses award.
"Betsy is one of best nurses I've ever met," said Trisha Bartz. "She worked hard to get where she is, and anyone who has ever (been her patient) loves her and can't say enough good things about her. She's caring, genuine, compassionate, hardworking and an all-around wonderful human being."
Nominator Vickie Trent agrees.
"The people who are blessed by Betsy's efforts, professional knowledge and energy include a century-wide spectrum from the tiny babies she helps to deliver at the hospital, to her family and friends, to the Waterloo community in which she lives, to her own family members," including a grandmother who turned 100 years old in May.
Smith said she's humbled by the Top 10 Nurse honor, noting it's "surreal."
"You do what you do and you don't think anything of it. To be recognized for doing something you love is very humbling. There really are no words. It's cool to think people really do appreciate what you do."
Smith quickly discovered during nursing school that she wanted to be a labor and delivery nurse. She completed a clinical rotation in obstetrics and said "it was like a light" switched on.
"I loved the miracle of birth. It was so cool. I couldn't get enough of it. I truly loved it. It must have showed because Allen (Hospital) asked if I would consider being an OB nurse."
In addition to helping deliver babies, Smith offers guidance on caring for a newborn. She has recorded instructional videos for new parents showing how to bathe and swaddle their tiny new addition, as well as safe sleeping positions. This year, Smith has also been a support system when mothers couldn't have family close by because of the coronavirus pandemic.
"I am always delighted when I hear so many positive comments in the community about how Betsy assisted families so beautifully during the birthing process," Trent said. "She has a special knack for calming mothers during labor, directing dads during the calm as well as the hubbub time of the delivery process, and introducing brothers and sisters during their nervous anticipation of a new baby in the family."
At home, Smith is the family glue. She's known in the community as "a super hockey mom," Trent noted, and frequently visits her centenarian grandmother.
The past year has been especially challenging for the Smith family after daughter Anna was diagnosed with Moya Moya disease, a rare and progressive disorder.
"It produces life-altering situations. Anna's happens to be strokes," Smith said.
Anna underwent brain surgery and extensive rehabilitation, with Smith, relying on her instincts as a mother and a nurse, leading the charge every step of the way. She said she's grateful for the outpouring of support from her colleagues during such a trying time.
"I am a person that wants good care for everybody. That's what we do here at Allen. When I was faced with my own child's needs, I found myself throughout the entire process surrounded by good people I truly believe I am who I am because of who I work alongside. You are as good as the people surround you and lifting you up."
Smith advises new nurses to seek out their passion.
"You have to take your gifts and find out what is so special about them. You have something that makes you want to do good for others. Make sure patients are feeling cared for and loved. Make sure you're caring for them as if they were your own."
"I loved the miracle of birth. I couldn't get enough of it. It must have showed because Allen (Hospital) asked if I would consider being an OB nurse." – Betsy Smith
"I loved the miracle of birth. I couldn't get enough of it. It must have showed because Allen (Hospital) asked if I would consider being an OB nurse."

– Betsy Smith