WATERLOO – A time-saving, social-distancing option for buying local produce has launched in the Cedar Valley.
The College Hill Farmers Market in Cedar Falls and the Waterloo Urban Farmers Market are offering an online order platform called Curbside Market. The service is a collaboration of the University of Northern Iowa's Local Food Program, Healthy Harvest of North Iowa and North Iowa Fresh LLC.
And the timing couldn't be better as the country witnessed a disruption in the national food system during this year's coronavirus pandemic.
"We have a lot of great producers here and farmers who are still producing the same amounts," said Jodie Huegerich, local food program manager at the UNI Center for Energy and Environmental Education.
Huegerich said more people are supporting local foods since the spread of COVID-19, "especially after seeing many empty shelves at the grocery store."
"COVID has really changed a lot of things. People are paying more attention to where their food comes from and how many people have handled the food," she said.
Through Curbside Market, customers can shop a growing selection of farmers market products from the convenience of their home. The customer simply shops online one to three days prior to market, and orders are packed on market day for curbside pickup.
In the Cedar Valley, the Curbside Market program will be available for shoppers at College Hill Farmers Market and Waterloo Urban Farmers Market. Clear Lake Farmers Market and the North Iowa Farmers Market in Mason City also have implemented the program.
Products include fresh produce, baked goods, jam, chapstick, face masks, popcorn, books, energy bites, granola, plants, and homemade greeting cards, with more items being added each week.
The program launched this year after receiving a USDA grant through the national Farmers Market Promotion Program.
The grant was written in June of last year, before anyone knew of the looming shutdown due to COVID-19. The focus was to make shopping for local foods more convenient as many large chain grocery stores began offering online shopping.
Both the Waterloo and College Hill market saw a dip in customers as the season began this year followed by a sharp increase. Huegerich expects numbers to stay high as the peak season for Iowa begins.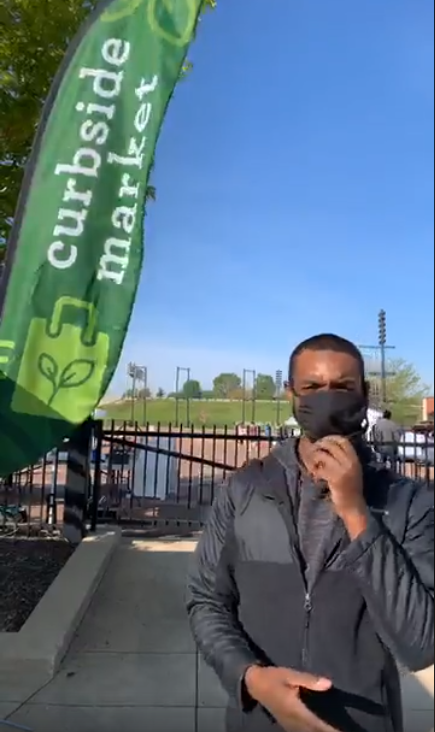 "Just about any vegetable that can be grown in Iowa is ready," she said.
DaQuan Campbell, manager of the Waterloo Urban Farmers Market and producer at WE Arose Gardens, said he's happy to offer more options for purchasing local food.
"We wanted it to be more of an extension of the market, not necessarily to take away from the market," he said.
The Waterloo market at 460 Jefferson St. has taken several precautions to mitigate the spread of COVID-19. Vendors are required to wear masks, and customers are stronger urged to wear masks, he said. Handwashing stations are set up throughout the market, and vendors are placed six feet apart with buffer tables in front to encourage social distancing. Signs encourage customers to point at vegetables they'd like instead of touching the produce.
"It's been our goal to maintain safe market operations for not only 2020, but beyond as well," Campbell said.
Five vendors from the College Hill Farmers Market in Cedar Falls have their items for sale online, and seven from the Waterloo Urban Farmers Market.
"I think people underestimate the importance of the economic development from farmers markets, and being able to keep the dollars spent at the farmers markets right here in the community," she said.
A texting service also is offered with up to three messages per week, when the cart is open for shopping, when it is closing and a reminder to pick up products at the market and what time.
During the month of August, there will be a promotion. Use "Curbside2020" for $5 off a $20 order or more.
PHOTOS: The Falls opens for the season
Get local news delivered to your inbox!
Subscribe to our Daily Headlines newsletter.