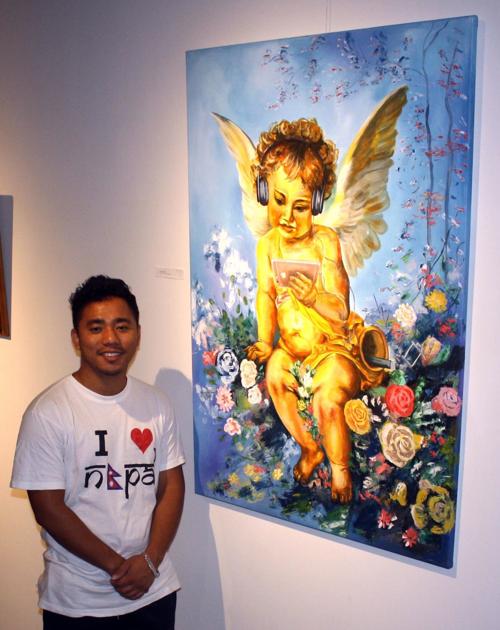 WATERLOO – Khadga Tamang has a flare for creating beauty out of life's ugly moments.
After surviving 19 years in a refugee camp in Nepal, he landed in Waterloo, where his paintings depicting the struggle of life and his shocking discoveries of U.S. culture are on display at the gallery space at COR, 220 E. Fourth St.
Tamang's parents were among one-sixth of Bhutan's people who were exiled from their country during an ethnic cleansing in the early 1990s. They settled in an U.N. refugee camp in eastern Nepal when the Bhutan kingdom introduced a new law removing citizenship and civil rights for those of Nepali origin. Several thousands of Southern Bhutanese were imprisoned and more than 2,000 tortured, according to Amnesty International. Thousands fled to India and Nepal.
"It was mostly frustration because there was no hope for a good life, and it was a struggle to get basic needs," said Tamang.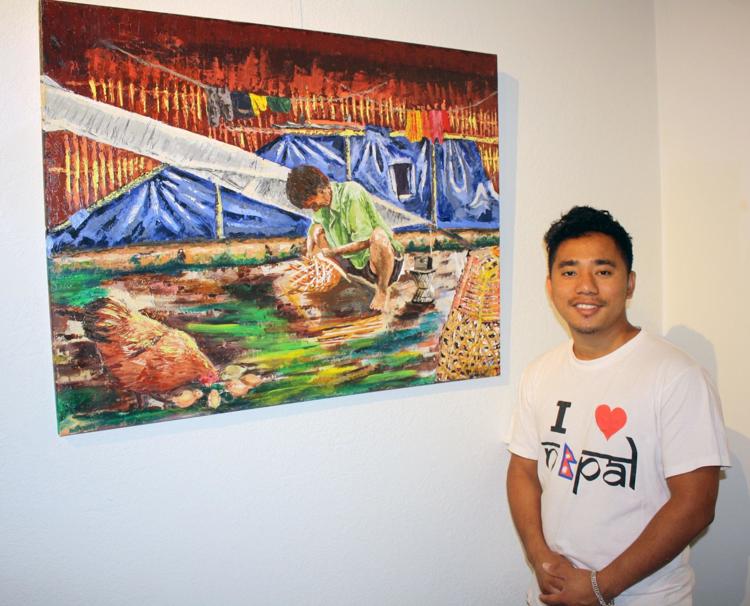 By the end of 1992, there were more than 80,000 people living in United Nations High Commissioner for Refugees' camps in eastern Nepal. Since 2008 a resettlement process has seen the majority of those living in the camps resettled in the U.S., Canada, Australia, New Zealand and Europe. Tamang's family landed in Akron, Ohio, when Tamang was 19 years old. He was able to attend two years of high school there before attending Hawkeye Community College in Waterloo.
"I could not have imagined that one day I would be in the United States. I want to thank the government of the United States for giving me hope and a reason for living," he said.
This year, at age 25, Tamang received his associate's degree in fine arts from Hawkeye Community College in Waterloo.
He held a solo art exhibition at the college in November 2018 during International Education Week and received three awards at the 20th annual student art show.
Now he is working toward a bachelor of fine arts degree with a painting emphasis at the University of Northern Iowa in Cedar Falls.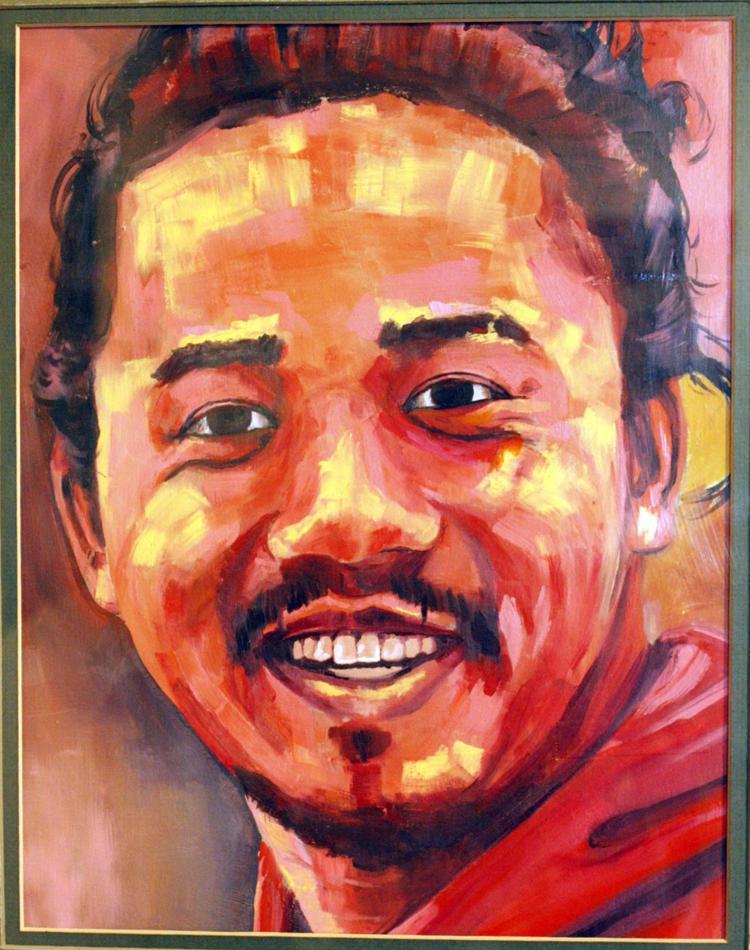 "It has been a pleasure to be here in Iowa because my dreams are coming true in this place. In Nepal, I never thought I would be studying at a university, but after being in Iowa, I am able to go to universities and learn more about the art world," he said.
His first 19 years of life lacked most of the necessities for survival.
"Some agencies like UNHCR and the World Food Programme helped us with our basic needs, but that was not enough for the family. It was very tough to spend the cold winters in summer clothes. We had to survive with low-nutrient food. Most of us went to bed with empty stomachs," he said.
But he also had time to wander from the camp into nature where he would sit and draw objects that caught his eye. He did not have colors or paints, so he drew in notebooks.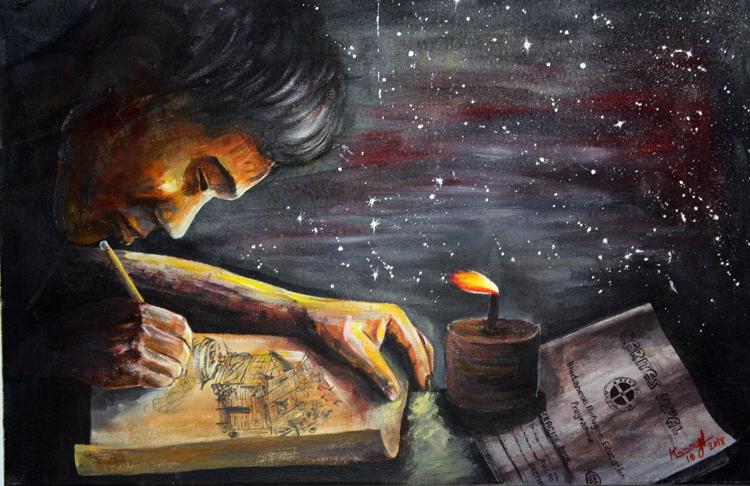 "Most of my drawings were about being a refugee — the frustration, the hopelessness, and not having a goal in life," he said.
Cindy Taft, an art gallery coordinator with COR at 220 East, was referred to Tamang after a Hawkeye instructor highly recommended him.
"I think he is a fantastic young man with a fantastic talent. I really think he's going to go far now that he has the opportunity of living here in the U.S. and really be able to let people know who he is through his art. I think his art says it all," she said.
An obvious theme in Tamang's recent paintings is technology and children.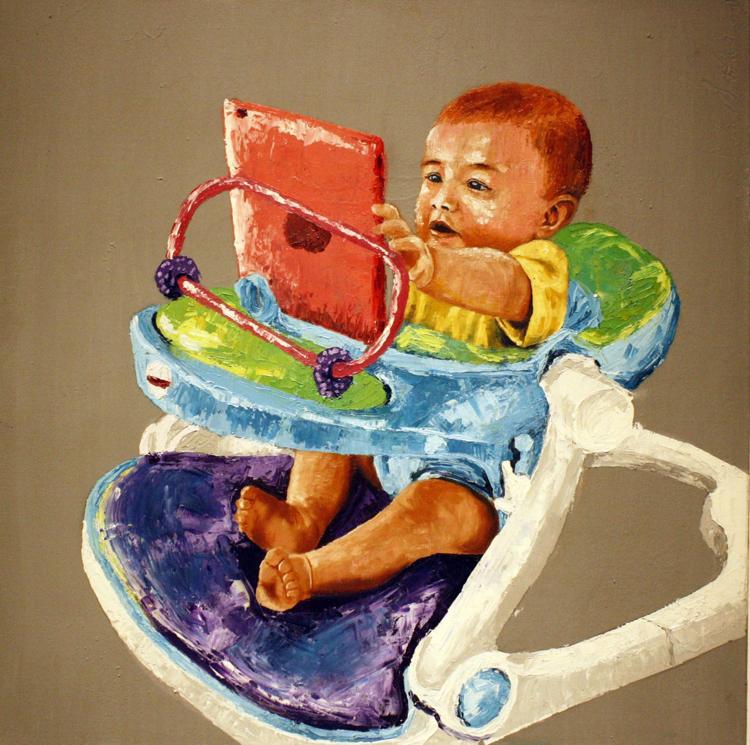 He began using a cellphone in 2014 in the U.S. and said he was addicted within five years. A Facebook post from a friend about a baby already playing with a smartphone sparked Tamang's curiosity and creativity.
"In this technological and social media world, most parents do not give a lot of time to their children. As a result, children do not give parents time when the parents get older," he said. "I feel parents need to spend more time with their children so children will be able to bond with love."
Tamang's pieces will be up at COR at 220 East until a closing ceremony on Oct. 25.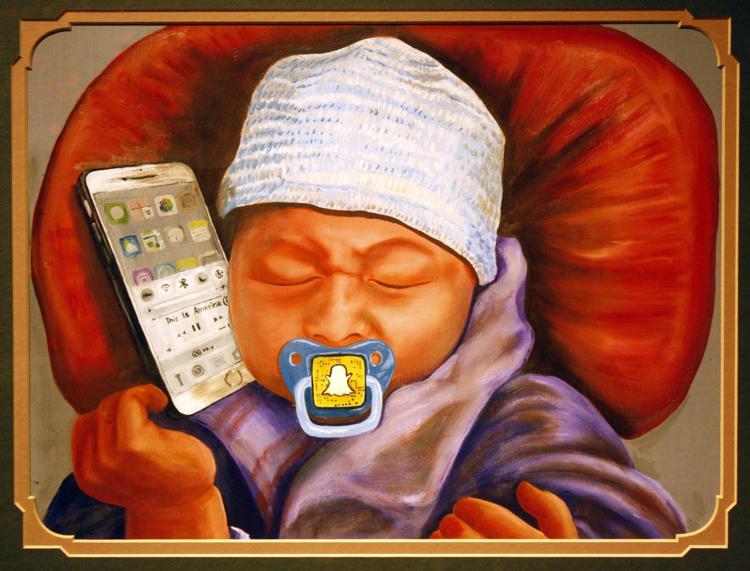 Get local news delivered to your inbox!
Subscribe to our Daily Headlines newsletter.