LA PORTE CITY — This summer was supposed to be a big one for 16-year-old Jake Wilson.
The autistic teen was scheduled to compete in the state Special Olympics meet in Des Moines. It would have been Jake's first time spending the night away from his parents, staying in a dorm with chaperones and other athletes.
"He was very excited to go it. … He was very, very proud," said his mother, Megan Neiswonger.
She hadn't told him about the overnight part. He would have made constant inquiries about the plan up until the day of the trip, she said.
But instead of watching Jake compete in the long jump and softball throw, his parents have been watching Wolf Creek, the place Jake said he was going the night he disappeared.
La PORTE CITY -- A search for an autistic teen who disappeared in La Porte City continued Su…
On April 7, Jake returned home from getting ice cream at the local shop and asked to walk to the creek about two blocks away, saying he'd be right back. He hasn't been seen in the nearly two months since.
"We are in the numb stage. We still have hope," Neiswonger said Tuesday.
Both Neiswonger and her husband — Jake's stepfather, Jeremy — have returned to work, but they still take part in the search.
In recent weeks, Jeremy helped as a spotter for an excavator that worked its way down the creek. The machine's claw picked up snarls of trees and limbs from the dark water, and the stepfather checked to see if anything of significance fell out. He also prodded the water's depth to make sure the excavator doesn't roll into a deep spot and swamp the cab.
As of Wednesday, the excavator continued in the creek and was closing in on the Brandon Road bridge.
"There was a lot of traffic this weekend on the creek and on the Cedar (River). We actually went on the Cedar ourselves Saturday, and then the weekend before we actually kayaked it from La Porte City all the way down to McFarlane (Park)," she said.
LA PORTE CITY — A military helicopter was used Wednesday in the ongoing search for a missing…
Each day, the La Porte City police chief contacts the family to update them on progress in the search, even if there aren't any developments.
Later this week, Jake's case will be highlighted by the National Center for Missing and Exploited Children, Neiswonger said.
The Special Olympics trip and a planned outing at Camp Courageous in July would have been two milestones for Jake following a few years of progress for the teen, who has an intellectual disorder.
Last summer, Jake got his first bike, a blue three-wheeled affair the family found online because he wasn't able to balance on two wheels.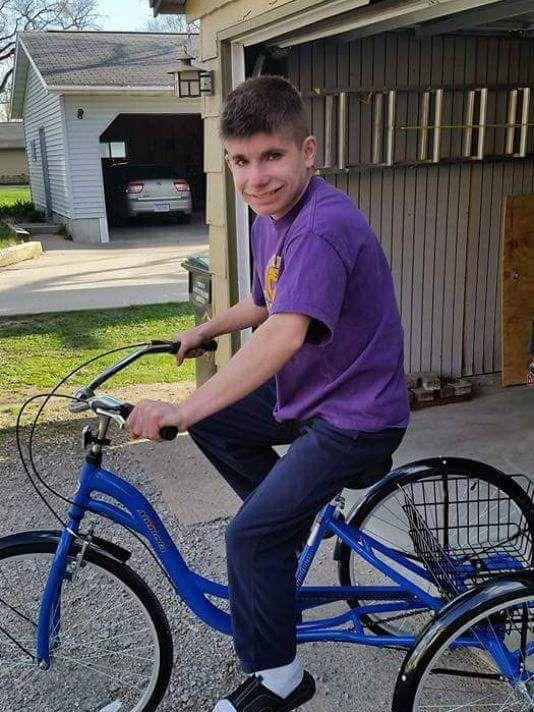 Last year, the family moved Jake to Cedar Falls High School because they felt the school could better accommodate his educational plan. He quickly made two new friends, took part in his first local Special Olympics competition and performed in the school's choir.
Neiswonger saw signs Jake was becoming more independent as the months rolled past. One of his tasks at school involved folding and distributing towels to classrooms, and he was able to make the rounds without his helper.
"In cooking class, he was able to measure out the ingredients perfectly. He was learning to cook on his own, and that was something that he always had to have guidance when he was doing it at home," Neiswonger said.
He wanted to get a job at the Tiger's Den, the school's snack bar. But before that, he had to brush up on his math.
"That was one of his goals, so we could get him prepared for reality," she said.
Jake would be a junior in the fall, and beyond high school his future would likely involve residing at an assisted living facility and holding a job. His education was developing the skills he would need to take care of himself.
Neiswonger said that was the thinking behind Jake's last trip, when he left for the creek.
"He is autistic, but he is high functioning. He can do everything as a 16-year-old, but with limitations and guidance," she said. "He was starting to get to the point where he was more independent. Letting him go on his own for a little bit was not doing harm, because that showed him, 'We are giving you the trust.'"
On Tuesday, Neiswonger returned to Cedar Falls High to clean out Jake's locker.
As Jake's disappearance enters a third month, and as summer gets into full swing, Neiswonger said she feels safe in her neighborhood, and she doesn't want Jake's disappearance to cause parents to keep their children from getting outside and enjoying the summer.
"I think so many people in town now, they still let their kids run around just like before. But some of them are more cautious now," Neiswonger said. "We don't want Jake to be a reason. It's a great community. We don't feel threatened at all."
Jake is about 5 feet, 6 inches tall and weighs about 135 pounds with hazel eyes and dark blonde hair. He was wearing a brown zip-up jacket, dark sweatpants and cowboy boots when he went missing.
Anyone with information on Jake's whereabouts is asked to call Black Hawk County Dispatch at (319) 291-2515 or their local authorities.