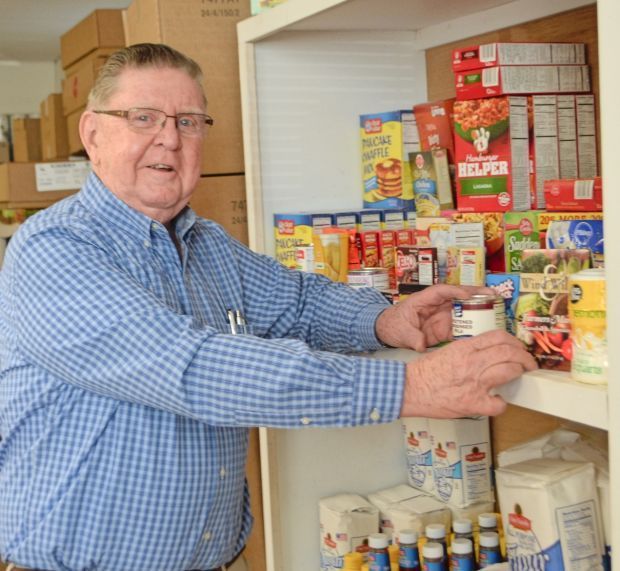 OSAGE | A newspaper article in 1985 provided an update on the newly established Mitchell County Food Bank.
"Since its opening, 152 individuals have been served. The organizers of the program hope to help many more."
It was an understatement: Thirty years later, 1 million meals have gone out the door.
"Who would have thought I would still be here?" Director Leo Chisholm said. "It's hard to believe."
Chisholm founded the food bank with the late LaVerne Herman of Osage. The two friends were both insurance agents for fraternal organizations.
They "happened to be talking at the post office, and I said, 'You know, what happens to people who have no food before they're able to get food stamps? You know, it takes four to six weeks,'" Chisholm recalled.
Neither could answer the question and feared people were going hungry.
Chisholm and Herman established a bridge over bad times.
Sixty concerned citizens came to the first meeting at the former Osage Farmers Bank offices. Chisholm and Herman contacted representatives from every town in the county and every church. A board formed with Emil Kuebler as president, and the first location opened at the Mitchell County Memorial Hospital.
"We were pretty green. We did not have a clue as to what we were doing," Chisholm said.
The food bank remains an emergency shelf. Patrons can utilize the shelves three times in a six-month period.
Thirteen pairs of volunteers take turns on Tuesday and Thursday when the food bank is open.
You have free articles remaining.
"We just cannot do it without them," Chisholm said.
The food bank moved five times over its history before settling in 2008 in the County Services building on Pleasant Street.
In the early going, the group got a $5,000 grant from Aid Association for Lutherans -- today called Thrivent Financial -- to purchase food. Churches also held soup suppers to raise funds.
Today, a whole segment of the Mitchell County population conducts drives for the food bank. Everyone, from farmers to school children, participates in collecting food or donating cash and "all the different organizations, my goodness, so many," Chisholm said.
"It has been an outpouring of people" providing help, he added. "Thanks to them, we have been able to be a vital part of the community."
Last year, the food bank provided enough food for 2,740 individuals and more than 82,000 meals.
For many years, the annual number of individuals served never topped 1,000. In 2014, though, 2,740 individuals were served.
When individuals visit, they receive enough for 30 meals.
"People have always stepped up. But I do wonder: What is going to happen 10, 15 years from now? What is it going to be like then?" Chisholm said.
Still, other things haven't changed much. The food bank has never wavered from its mission; the names of all patrons have been kept confidential; its volunteers have always made the program work; and Mitchell County has always been generous.
Chisholm has been a major cheerleader for the food bank and has remained its director all that time. He was recognized in 2013 when he was inducted into the Iowa Volunteer Hall of Fame in part for his work in the food bank, but also for his leadership in the Mitchell County Memorial Foundation and Mitchell County Relay for Life.
Still, he shows no sign of slowing down.
"This is a labor of love."