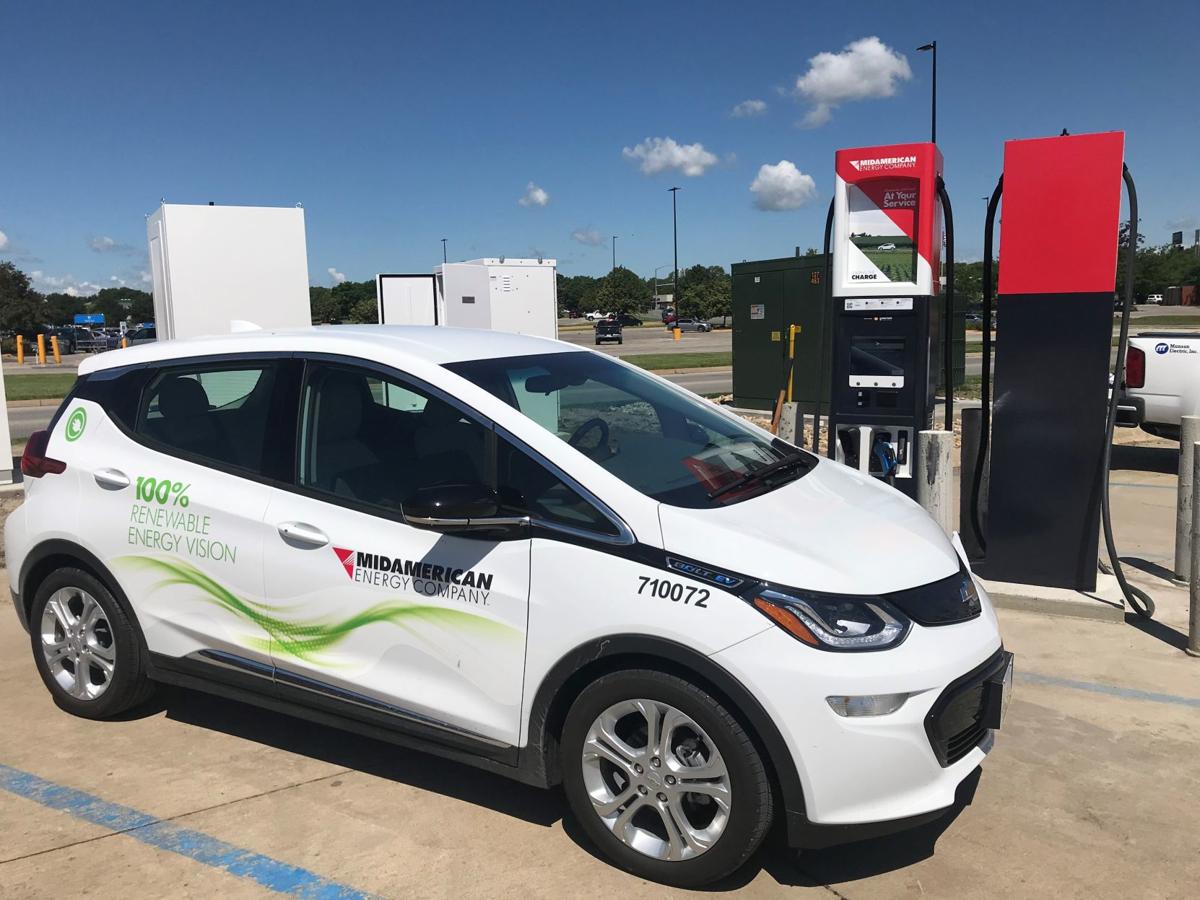 DES MOINES — Officials with MidAmerican Energy said Thursday they are seeking to "significantly expand" the company's network of electric vehicle direct-current fast-charging sites the utility is developing in Iowa.
MidAmerican is targeting the Des Moines metro area, but company officials said they also are seeking host sites for EV charging facilities in other Iowa locations.
Those include Iowa City as well as Adel, Ankeny, Bettendorf, Charles City, Colfax, Correctionville, Council Bluffs, Cumming, Davenport, Grimes, Johnston, Latimer, Le Claire, Le Mars, Missouri Valley, Norwalk, Pleasant Hill, Polk City, Sioux City, St. Charles, Urbandale, Waukee and West Des Moines.
MidAmerican Energy in June intoduced its first ultra-fast charger in Iowa at the Hy-Vee at 1422 Flammang Drive in Waterloo.
The company aims to increase its developing EV fast-charging network from 18 sites by the end of the year and hopes to be at 50 by the end of 2022, according to a MidAmerican news release.
MidAmerican will pursue agreements with 32 additional site hosts in targeted cities, with more than half in the Des Moines area.
The company is accepting applications from businesses and community entities in those cities and will select at least one host in each city.
In some cities, such as Des Moines, MidAmerican could partner with several hosts, according to the company.
Site hosts set their own usage fees, consistent with state laws and regulations.
The company plans to add seven "50 kW DC fast-charging stations and 25 150 kW DC ultra-fast charging stations," with two chargers per station, according to the release.
Fast chargers generally can provide an electric vehicle with an 80 percent charge in less than 40 minutes. Ultra-fast chargers can provide the same charge in half the time, depending on certain factors.