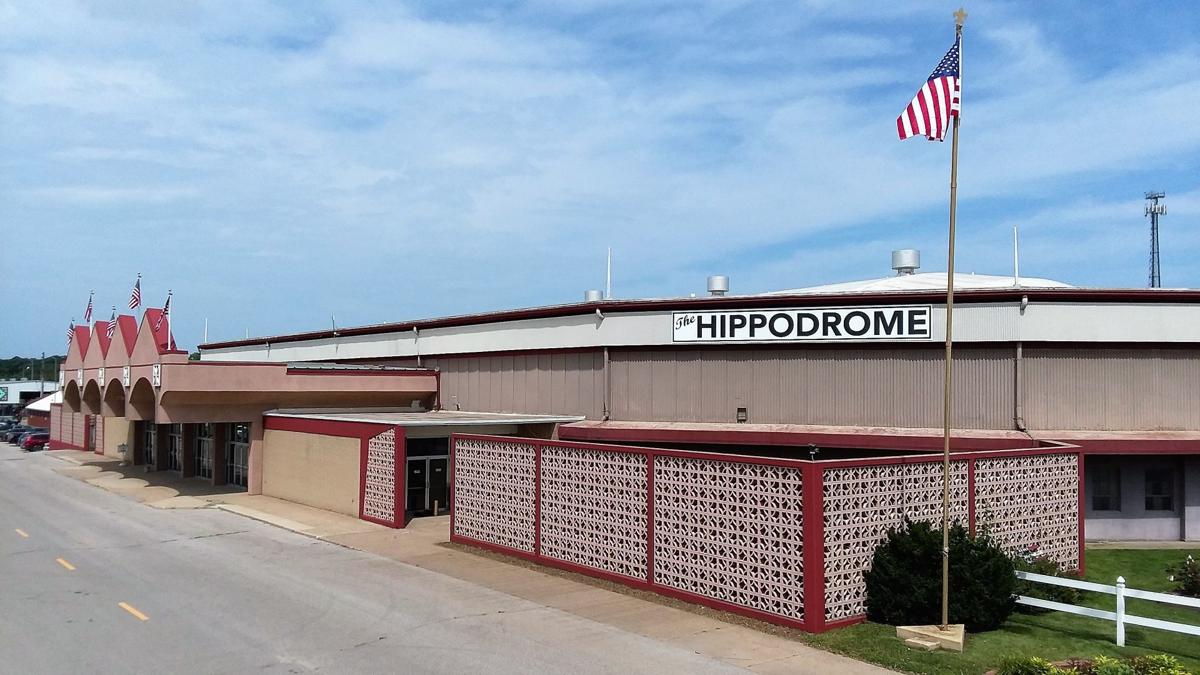 WATERLOO — The National Cattle Congress is turning back the clock by renaming a century-old landmark.
McElroy Auditorium will henceforth be known as The Hippodrome, which was the original name for the 7,000-seat auditorium on the NCC's Ansborough Avenue fairgrounds.
"We're just trying to bring it back to the old roots," said NCC manager Jim Koch.
Feedback has been positive since new signs were installed on the building last week, Koch said. Older residents appreciate the nostalgia while younger folks are wondering what the heck a hippodrome is.
The Hippodrome was built in 1919 but underwent a major $105,000 expansion in 1936. It was renamed after philanthropic Waterloo broadcaster R.J. McElroy following his death in 1965. The city of Waterloo sold it to NCC in 1974.
"We're not going out to offend anybody," Koch said about the name change. "We're just bringing it back to its historical name."
The McElroy Trust does not fund the auditorium. The name had reflected McElroy's work as chairman of the Waterloo Auditorium board of trustees, which oversaw enhancements to the building.
NCC is busy updating its brochures, website and event contracts to reflect the new moniker.
Over the years, The Hippodrome has hosted a wide variety of events, including monster trucks, motor sports, rodeos, horse shows, concerts, circuses, trade shows and conventions. It was home to the Waterloo Black Hawks hockey team from 1962 until Young Arena opened in 1995.
The building is currently in the Iowa Rock and Roll Hall of Fame and has hosted performances from acts such as Glenn Miller and his Orchestra, Buddy Holly, Johnny Cash, KISS, Aerosmith, The Beach Boys, Garth Brooks, Miranda Lambert, Blake Shelton, Destiny's Child, Jason Aldean, Roy Clark and Rob Zombie.
Koch said the NCC is working to upgrade the lighting system in the auditorium but has no immediate plans for other improvements to the building.
WATERLOO — It's been nearly 33 years since the governor joined a crowd of city leaders to ce…
NCC officials are excited to be focusing exclusively on the fairgrounds and the upcoming September fair.
The organization reached an agreement with the Sac and Fox Tribe of the Mississippi in Iowa, or Meskwakis, in April that halted foreclosure action on the NCC property and resulted in developer Harold Youngblut buying and tearing down the NCC's former Waterloo Greyhound Park.
"That's something off our back now and we were glad to see that happen," Koch said. "We can concentrate on this now."
A hippodrome, according to Miriam-Webster dictionary, is an oval stadium for horse and chariot races in ancient Greece or an arena for equestrian performances.
Get local news delivered to your inbox!
Subscribe to our Daily Headlines newsletter.