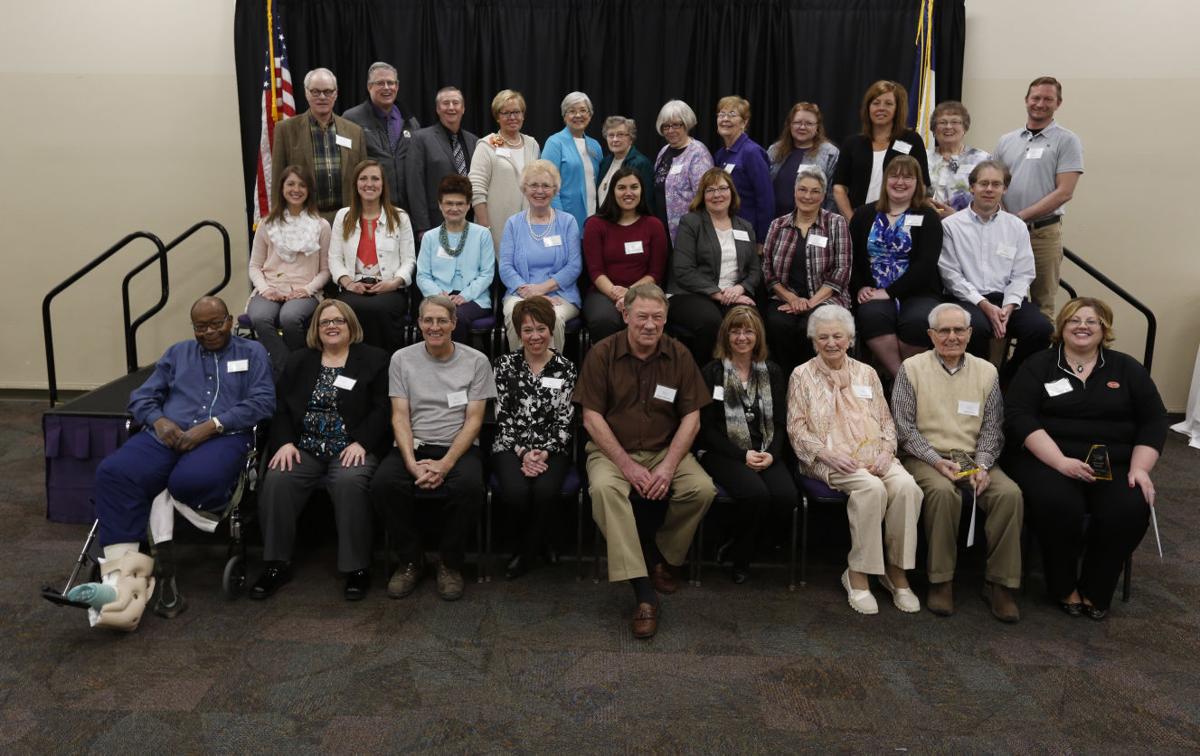 WATERLOO — The 38th annual Mayors' Volunteer Awards were presented by the Volunteer Center of Cedar Valley on April 12 at the Five Sullivan Brothers Convention Center.
The awards program, which recognizes outstanding volunteers in the Cedar Valley, included a luncheon with 150 attendees.
Twenty-eight nominees received certificates from Mayor Jim Brown of Cedar Falls, Mayor Doug Faas of Evansdale and Mayor Pro Tem Ron Welper of Waterloo and the Greater Cedar Valley Alliance and Chamber Ambassadors.
The 2016 nominees were Ryan Backes, nominated by Boys and Girls Clubs of the Cedar Valley; Ronnie Bankston, nominated by Waterloo Community Schools; Allison Bright, nominated by Big Brothers Big Sisters of Northeast Iowa; Hazel Brown, nominated by Allen Hospital; Steve Carignan and Mary Taylor, nominated by Cedar Falls Tourism and Visitors Bureau; Astrid Columbus, nominated by Wheaton Franciscan Healthcare; Reed Craft, nominated by National Cattle Congress board and the Salvation Army board; Edward DePaepe, nominated by Big Brothers Big Sisters of Northeast Iowa; Loretta Doepke and Charlotte Nielsen, nominated by ISU Extension and Outreach – Black Hawk County; Michael Douglas, nominated by Care Initiatives Hospice; Karen Ernst, nominated by Boys and Girls Clubs of the Cedar Valley; Grace Fennelly, nominated by Allen Hospital; Christina Hackbart, nominated by Boys and Girls Clubs of the Cedar Valley; Phil Jamieson, nominated by Department of Human Services; Keepsake Quilters Guild, nominated by Cedar Valley Hospice; Tiffanie Miller, nominated by Craig Miller; Roger and Vicki Neessen, nominated by Western Home Communities; Linnea Nicol, nominated by Waterloo Community Playhouse; Shawn and Michelle Pezley, nominated by ISU Extension and Outreach – Black Hawk County; Vi Reetz, nominated by Wheaton Franciscan Healthcare; Vicki Schueler, nominated by North Star Community Services; Brianne Stewart, nominated by Waterloo Community Schools; Gwen Timmerman, nominated by Donna Timmerman; Jerry Walter, nominated by LifeServe Blood Center; Jim Ward, nominated by Northeast Iowa Food Bank.
The Mayors and Chamber Ambassadors selected 12 Mayors' Volunteer Award winners. This year's winners:
Volunteer Award:
Ernst is a professor at Hawkeye Community College who has dedicated her free time for the past two years to the Boys and Girls Clubs of the Cedar Valley. She spends time once a week bringing Science Club for small groups of club members to enjoy.
She also helps with special events including the annual Mentoring Bowling Night.
Schueler is a dedicated volunteer who has supported North Star since 1993.
She is the current chair of the planning and marketing committee, has been a member of the board since 2010 and has been a member of the fundraising team since 2004. She has made countless phone calls and visits to potential donors.
The Neessens work tirelessly to help the residents of the Western Home Communities.
Roger first began volunteering by putting his craftsman skills to work to build a trellis for their community garden. Soon after he began assisting with activities like grilling for barbecues, serving at special events and tagging along on resident shopping trips.
Vicki joined Roger at special events and outings as well as putting in her own time. She has helped with countless group activities as well as serving individual residents with special needs. They also volunteer with their church, the animal rescue and NewAldaya Lifescapes.
Timmerman is the mother of three adopted children and is a current foster parent. A large part of her work is done through Iowa Foster and Adoptive Parent Association as the Peer Liaison for foster parents.
In addition, she is active on three boards in the Cedar Valley, including Junior Achievement as a classroom volunteer, the American Red Cross as the vice chair and the YWCA as the head of the mission committee. She is a team caption on the Tyson Relay for Life team, runs Tyson's fundraisers for the events, puts together the tent activities and helps with numerous other activities.
DePaepe has been a mentor at the Big Brothers Big Sisters for the last three years.
He has been working with the same student, Jack, and has had a very positive impact on him. He has helped Jack academically and socially, supporting him at his band concerts and coordinating with his mom for outings together.
Bankston is a professor at the University of Northern Iowa and volunteers on a weekly basis at Cunningham Elementary School as a mentor, where he brings out the best in his fifth-grade charge each week.
Bankston has mentored five different boys through the Big Brothers Big Sisters program over the years.
For the past 16 years he has taught a preschool Sunday school class at Cedar Falls' First United Methodist Church also has served on several boards at UNI as well as working with Make-A-Wish foundation, the Northeast Iowa Food Bank and the Community Meals.
Ward is a vital part of the Northeast Iowa Food Bank. He has served as a volunteer driver since 2009 and has volunteered more than 7,300 hours driving the trucks.
He has been a part of every program there — picking up donated retail items, delivering food to agencies, dropping off backpacks to children in the Cedar Valley and picking up food from the local farmer's market.
Ward also volunteers with his church and delivers Meals on Wheels.
Outstanding Emerging Volunteer Award:
Bright and her Little Sister Emily have been matched at Big Brothers Big Sisters since February 2014. Bright volunteers more than 10 hours each month with Emily.
Fennelly is a senior at UNI and has been an active Allen Hospital volunteer since 2014. She assists where needed in the Emergency Department, Patient Escorting, the Information Desk, and training new volunteers.
She also has volunteered with Project Renewal and Cafe on Vine while in high school.
Lifetime Achievement Volunteer Award:
Brown is a dedicated volunteer, spending her time at Allen Hospital for the last 34 years and giving more than 25,000 hours of service.
She was one of the first volunteers in the Surgical Intensive Care Unit. She devoted many hours providing comfort and care to the families of patients having open heart surgery. She also spends her time in the Diabetes Center, Golden Care and serves as a leader in the Allen Auxiliary as president of the board.
Shortly after retiring, Reetz began volunteering with Wheaton Franciscan at Covenant Medical Center.
As a member of Grace Baptist Church, she helps lean regularly, makes banners, and helps host gospel group, as well as volunteering her time at Riverview Conference Center for the last eight years and also with the Waterloo Exchangettes.
Craft has been an outstanding member of the advisory board for the Salvation Army of Waterloo/Cedar Falls since 1982. For 34 years he has provided support to the Army through his expertise in construction, woodworking, aiding the Army with countless projects and continues today working with the Army's thrift store.
Craft also is involved with the Cedar Valley Woodworkers Club where he is noted for his expert craftsmanship in woodworking. Those skills are used to create and donate wooden toys, wooden clocks and even wheelchair ramps for fundraisers.
He also has been a part of the National Cattle Congress, the historical society, the former UNI Museum, the Waterloo Kiwanis Club, the First United Methodist Church and other local nonprofits.