WATERLOO — Maddie Poppe already knew, of course, she had advanced in the singing competition show "American Idol" before everyone else found out.
But as she spoke with the hosts of local podcast "Undiagnosed Podcast" at Jason's Place on East Fifth Street in downtown Waterloo a couple of hours before the show would air, Poppe had to hold her tongue.
"I can't tell you how far I made it," she told the hosts when they asked about the first episode of so-called Hollywood Week, when singers who make it past their first televised audition get to congregate in Hollywood for more grueling auditions.
Now, the world knows she's moving on.
CLARKSVILLE — Maddie Poppe has done it again.
Poppe, a Clarksville native, is Iowa's face on the popular show, now in its 16th season and running since March 11 on Sundays and Mondays on ABC.
She was back in town this week for events and interviews, where she sounded polished about her time on "Idol." But when "Undiagnosed" hosts asked her a question from their Facebook Live audience about whether she'd perform a RAGBRAI event she used to do, she was adamant she'd always remember where she came from.
"I'm never too famous to play at Pork Belly Camp," she said.
The 20-year-old's first "Idol" appearance was March 11, when she sang "Rainbow Connection" from "The Muppet Movie" while accompanying herself on guitar. Judges Katy Perry, Lionel Richie and Luke Bryan gave her three yes votes, propelling her to the next round in Hollywood.
Monday was Poppe's second appearance singing on the show. She sang a cover of "Dreams" by Brandi Carlile during the show's "Lines of 10." She'll next appear in the "Group Round," which airs Sunday.
Though she's doing well now, Poppe previously auditioned on a different singing competition show, "The Voice," in 2015, and did not get a chair turn from any of the four judges. She was not able to choose her song, which was "Dog Days are Over" by Florence and the Machine.
"I was a terrible singer at that song — it was not good," she said. "I'm not making excuses, I just wasn't ready."
She grew despondent after "The Voice," thinking she missed her opportunity. Looking back now, she's glad she went through those trials.
"I've changed so much in three years that I'm glad it didn't work out (on 'The Voice')," Poppe said.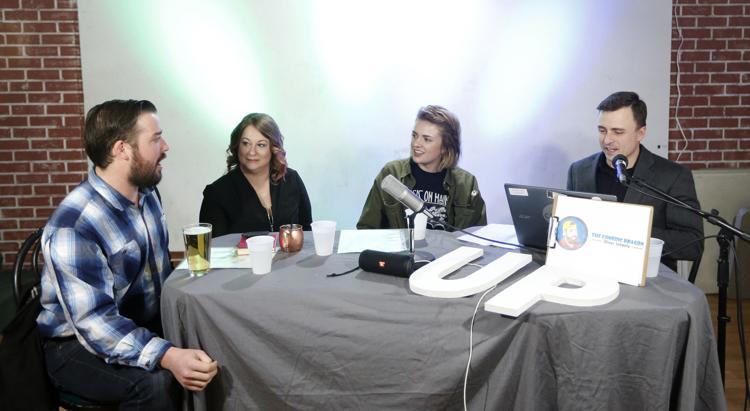 On "Idol," Poppe said, producers have let her sing the songs she wants, as well as dress and do her hair the way she wants. She feels more of a freedom in that.
"This is why I think they make super successful careers out of people — what you see is what you get," she said.
And she's found solace in knowing Katy Perry, an "Idol" judge, has faced her own struggles and managed to become a pop star.
"She struggled a lot and got dropped from three labels before she made it — and musicians need to hear that," Poppe said. "I don't love hearing people's struggles, but it's inspiring — 'Oh, she failed 100 times, I've failed 100 times.'"
Poppe's album, "Songs from the Basement," is a seven-song set available digitally on iTunes, Spotify and can be ordered in CD version on her website, maddiepoppe.com. The next episode of "American Idol" airs at 7 p.m. Sunday on ABC.