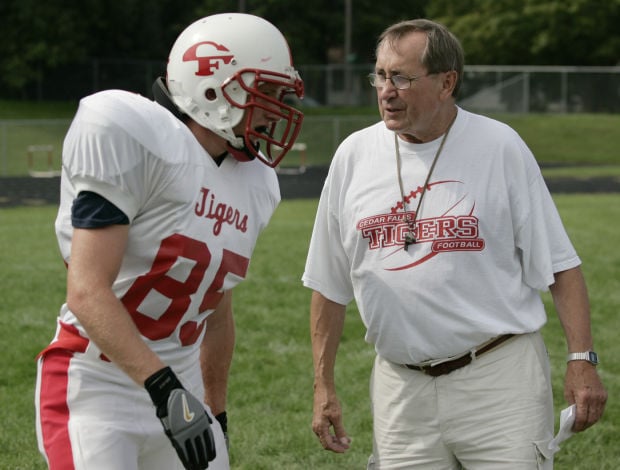 CEDAR FALLS | Pat Mitchell never coached alone.
He led Cedar Falls' football program for nearly a half-century, yet he was no solitary, distant figure. Mitchell gathered around him his assistants, families, the community, his friends, his best players and the ones who hardly took the field.
Denny Lenth, a longtime assistant coach on Mitchell's staff at Cedar Falls, said, "The one thing he did that was important was he made everybody feel a part of it -- part ownership all the way from him to the water boy."
His record set him apart; his personality made him one among many during his 75 years of life. His legacy is there for the ages.
Mitchell, the head football coach at Cedar Falls for 47 years, died Wednesday following an extended battle with cancer.
Said Brad Remmert, who played for Mitchell and then coached alongside him until taking over the Tigers in 2014: "It's a sad day for the entire Tiger football family. We lost a great person -- not only a good coach. The way he was with people, that's how he touched many lives."
Many of those people who knew him as a teacher and a head coach posted tributes to Mitchell via social media when word of his declining health became public last week. Those tributes continued to come after his death at the Mayo Clinic in Rochester, Minn.
"He was such an amazing man and mentor to so many students/friends/parents," said Amy Nanke on Mitchell's Facebook page. "Thank you for all you did to make all of us better."
Nanke and others praised a man who knew how to win football games. Over a career that spanned five decades at Cedar Falls, Mitchell compiled a record of 344-148-2, good for fourth place on the Iowa high school career list. That mark included a state championship in 1986 and four runner-up finishes in 25 playoff appearances.
"He was what you think a coach should be, and an educator" said Bud Legg, the information director for the Iowa High School Athletic Association.
But the praise went beyond numbers and statistics. It was directed toward a man who knew how to win over people, who took pleasure in the joy of others, who touched players and students when he taught at Cedar Falls High School.
"I think he's the greatest Tiger cheerleader there's ever been," said Jeremiah Longnecker, who was the quarterback on Cedar Falls' 1986 state football championship team. "Nobody was more interested in what your team was doing or your players. You can talk to coach after coach. All of them say the same thing. He was the first person to send a note when your team did well."
Remmert said Mitchell went out of his way to help anyone who needed it, not just the star players.
"He treated all the kids the same," he said. "It didn't matter if you were a superstar or a kid who didn't get many varsity reps. That's what was neat about him. The kids came out to play for him, too. He took care of a lot of them behind the scenes, just helping them. He'd find a way to help them, and they appreciated that."
So did the fans. Rivals noticed. And coaches at the highest level of the profession noticed how Mitchell touched them all.
"I had the pleasure of meeting Coach Mitchell very soon after I first joined the Iowa staff," said Hawkeye head football coach Kirk Ferentz in a statement. "And it was evident from the first time we met that he was a unique and outstanding person."
Said Paul Rhoads, the head coach at Iowa State: "Pat Mitchell was a tower of strength in the coaching profession for over 40 years. He was tremendously successful as his record indicates, but more importantly the impact he had on so many young people will be his lasting legacy."
Ken Winkler, the executive director of the Iowa Football Coaches Association, recalled meeting Mitchell at a clinic in the early 1970s. Mitchell noticed Winkler was going to lunch alone and suggested he join him.
"We spent some time talking football through that," said Winkler. "He was really genuine and cared about people. He didn't know who I was; he could have gone and eaten with some friends, but he walked up to me and made me feel very comfortable."
On the football field, Mitchell always found a comfort zone.
He played at Osage High School growing up. Upon graduation in 1957, Mitchell became a three-year letterwinner at the State College of Iowa, now the University of Northern Iowa. He played both ways as a tight end and defensive lineman, later earning a spot in UNI's Athletics Hall of Fame.
Following stops in Bakersfield, Calif., and Kenosha, Wis., Mitchell returned to Iowa. On Feb. 13, 1967, the Cedar Falls Board of Education appointed Mitchell as the Tigers' new head football coach, succeeding Ed Lyons.
"I was 27 years old," said Mitchell in an interview last August. "I was excited. I thought everything was positive and would go very well. I thought I had the best offense and defense and kicking game. Then you get in a pile and the bullets bang off you and you find out you didn't know as much as you thought you did."
But Mitchell learned quickly, studying what worked for other coaches and adapting it for his own program. Time and again, he stressed fundamentals. By the end of his career, a favorite mantra was "Pad under pad and get close to the football."
Mitchell believed in letting his assistant coaches coach. He had veto power, but he gave his staff room to work.
"He always let us do our thing," said Longnecker. "He knew that was a way to get us to give our all."
It all paid off. Cedar Falls posted a 7-2 mark in 1969, Mitchell's third season as a head coach. That began a string of 23 winning seasons in 24 years.
In 1986, his Tigers won their only state championship under Mitchell, relying on a tough running back named Davis Bean and a strong, basic defense. In the finals, a Chris Nuss field goal lifted the Tigers to a 15-14 win over Linn-Mar in the 4A finals.
"That playoff run was really something," Mitchell said. "Once we got into the thing, that team really came together."
The coach, though, made sure the entire football family enjoyed the run to a title.
"Guys like that really revel in the success for everyone else," said Longnecker. "Mitch didn't shy from the cameras or reporters. He liked that part of it. But he loved more the coaching and playing part of it, particularly in Cedar Falls. Bringing that kind of joy to this city, I think, meant everything in the world to him."
Over the years, Mitchell's Tigers never claimed another title, although they came close several times. Along the way, he welcomed Remmert as a co-head coach, and Cedar Falls kept winning.
In 2009, Mitchell won his 300th game as a head coach when the Tigers beat Waterloo West. He received a football signed by all his players, then tried to pass off the night as no big deal.
"Three-oh-one," said Mitchell after win No. 300. "The only thing that's important is the next one."
His players knew, though. Austin Long, a senior receiver on that 2009 team, said: "It's just a great thing to be able to play for that 300th victory. We played our hardest. We were down at halftime, but we knew what we had to do, and we got that 300th win for Coach Mitch."
Finally, in November 2013, the Tigers lost a second-round 4A playoff game to Pleasant Valley. It turned out to be Mitchell's last night as a head coach. His body hit hard by prostate cancer, he retired in July 2014.
So ended a career on the field. Mitchell was also a educator, teaching business, driver's education and physical education before retiring.
Pat Mitchell was always more than a head coach. And he never coached alone. Still, he was one of a kind, and his kind may never walk the sidelines anywhere.
"He meant so much to the community and the kids at the high school," said Gary Koenen, the director of athletics at Cedar Falls. "It's pretty hard to coach at the same school for 47 years. I can't see that happening again -- that and the amount of success and the impact he's had on so many people."