WATERLOO -- What a difference one week makes.
The last week of 2017 saw Iowa join most other states in experiencing what the Centers for Disease Control calls "widespread" influenza virus, up from "regional" for the week before. Only in a few northeastern states and Hawaii was flu not yet widespread.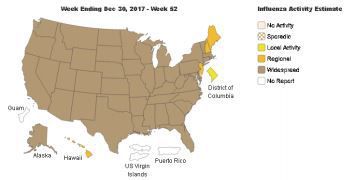 Iowa also was bumped up to "moderate" flu activity from "minimal" the week before.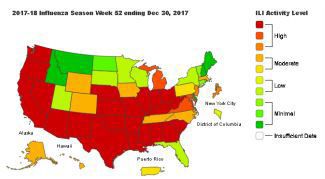 The report for Week 52 is the latest available from the CDC.
"Widespread" is defined as laboratory-identified positive influenza tests occurring in at least half the regions of a state, according to the CDC.
In Iowa, 25 percent of patients tested for the flu had positive tests, up from 22 percent the week before, according to the Iowa Department of Public Health.
There were six long-term care outbreaks in the state as of that week, according to the IDPH, and six flu deaths have been confirmed -- up from two deaths the previous week. School absence data was not available for the week ending Dec. 30 due to school being out of session.
The CDC noted in its report that the last week of 2017 saw influenza activity "sharply" increase in the U.S., with the most common type of flu being influenza A(H3). That's also the most common type Iowa is seeing, with 62 cases of A(H3), 11 influenza B and one influenza A(H1N1), according to the IDPH.