CEDAR FALLS — Nearly 500 people came out Saturday morning for a ribbon-cutting ceremony at Iowa's first inclusive playground.
A Place to Play Park at the corner of Algonquin and Ashworth streets in Cedar Falls was designed to provide children and families of all physical, mental and social abilities and ages an opportunity to play together.
Several parents noted uneven surfaces, steps, wood chips and rocks common at traditional parks are an impediment to those who have a hard time getting around.
At A Play to Play, a zip line features an adaptive option on the left and a typical seat on the right. A large, adaptive "Oodle" swing sits alongside other adaptive and regular swings. A slide is set up on a hill so if kids lose their balance and fall off, they just roll onto the padded ground.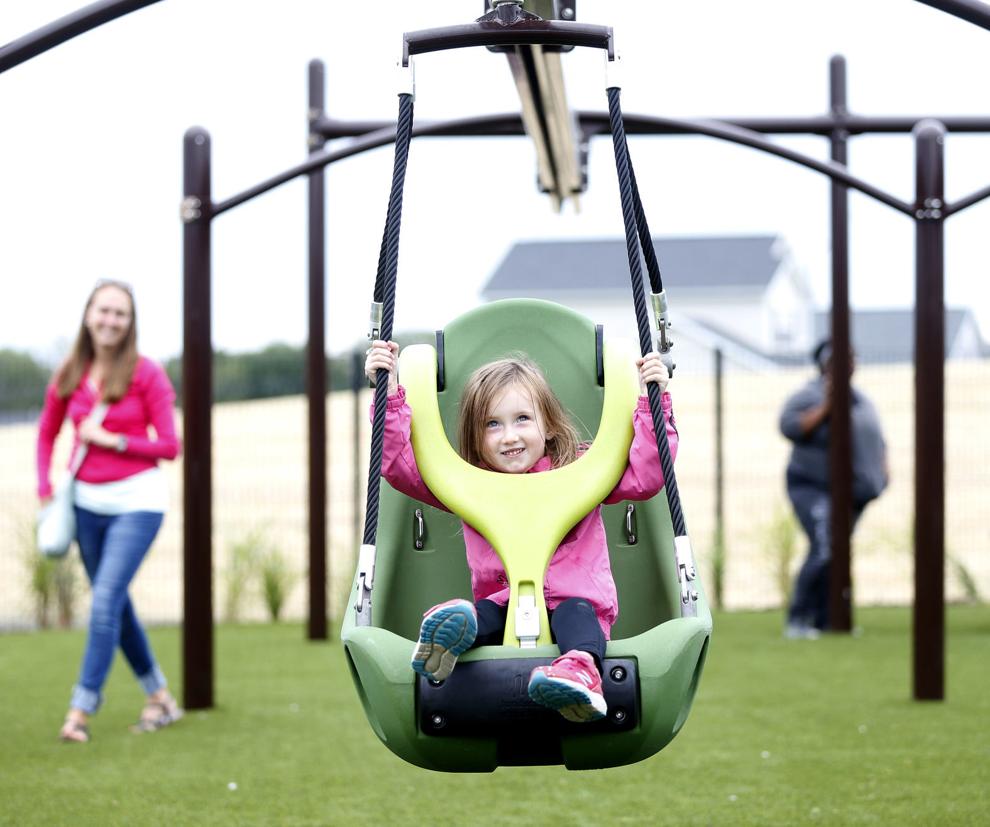 "I'm not on pins and needles like I am at normal parks," Amanda Weichers said.
The Cedar Falls Public Works and Parks Division and friends of the project worked with Ritland+Kuiper Landscape Architects in Waterloo to design the park after extensive research.
"They're fairly new, even in the nation," said project architect Mark Kuiper of adaptive playgrounds. "There's not many out there. It's sort of a new movement in design."
The park also features a sensory garden, a quiet area for those who may be overwhelmed and a fence on the perimeter for children who are prone to wandering. There is accessible parking and a fully accessible bathroom.
A communication board built and donated by Talk to Me Technologies in Cedar Falls allows nonverbal children to point to a picture that signifies what they want or need.
Weichers' son is nonverbal and used the board to let his mother know he wanted to play basketball.
"Here he can play with his peers that don't have those difficulties. The fact that they can all be playing together and there's no barriers, how cool is that?" she said.
Weichers and Sarah Corkery spearheaded the project. Five years ago they were inspired after seeing an inclusive park, Harper's Playground, in Portland, Ore., featured on "The Today Show."
Corkery and Weichers are both Cedar Valley mothers with children with and without disabilities.
"Taking them both to the same playground was not feasible. It just didn't work because what was safe for one was not safe for the other," Corkery said. "We wanted to build a playground where everyone could play together with no limitations."
Corkery contacted the organizer of the Oregon park — who said he was fielding more than 100 calls a day after the television report— for advice on designing the park.
Weichers' nonprofit, Beau's Beautiful Blessings, led the fundraising campaign. She launched the nonprofit in 2010 to help Iowa children with brain injuries, brain abnormalities and/or epilepsy buy items they couldn't otherwise afford. Her son, Beau, who has a seizure disorder and was born with a rare brain abnormality.
Corkery is on the board of Beau's Beautiful Blessings. Her son, Jude, is legally blind and had seizures as a young child.
"Taking Jude to playgrounds was a very scary experience," she said. "I envisioned a place where I could take all my children and have a fun experience without worrying about safety."
They quickly realized they needed $1 million for the park. Over a four-year period, they raised the money with help from a $250,000 grant from the Black Hawk County Gaming Association, the city of Cedar Falls, the McElroy Foundation, the Guernsey Foundation, VGM Foundation, Viking Pump, the 100 Plus Women event, grants, fundraisers and other donations.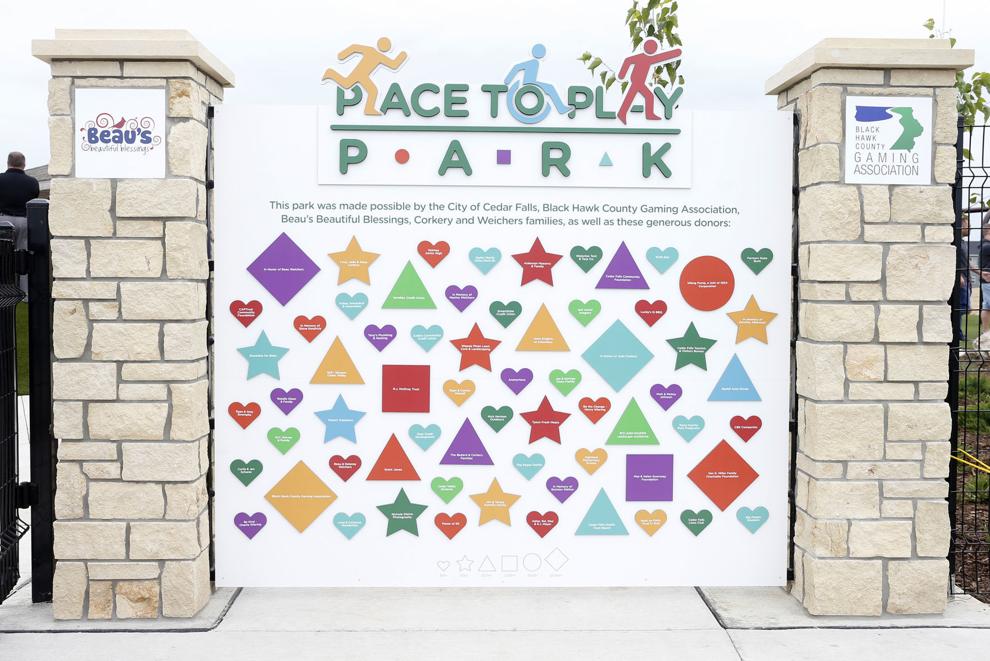 They made a video to explain why typical playground equipment is a challenge.
"One person wrote a $20,000 check and one person wrote an $80,000 check just from watching the video," Corkery said.
Children also played a big part, raising $13,000 selling hand-made bracelets and holding birthday parties where donations were collected instead of gifts.
"Those kids got so pumped up about it. In their mind, it was easy, and we were going to do it, so you kind of feed off their energy," Weichers said.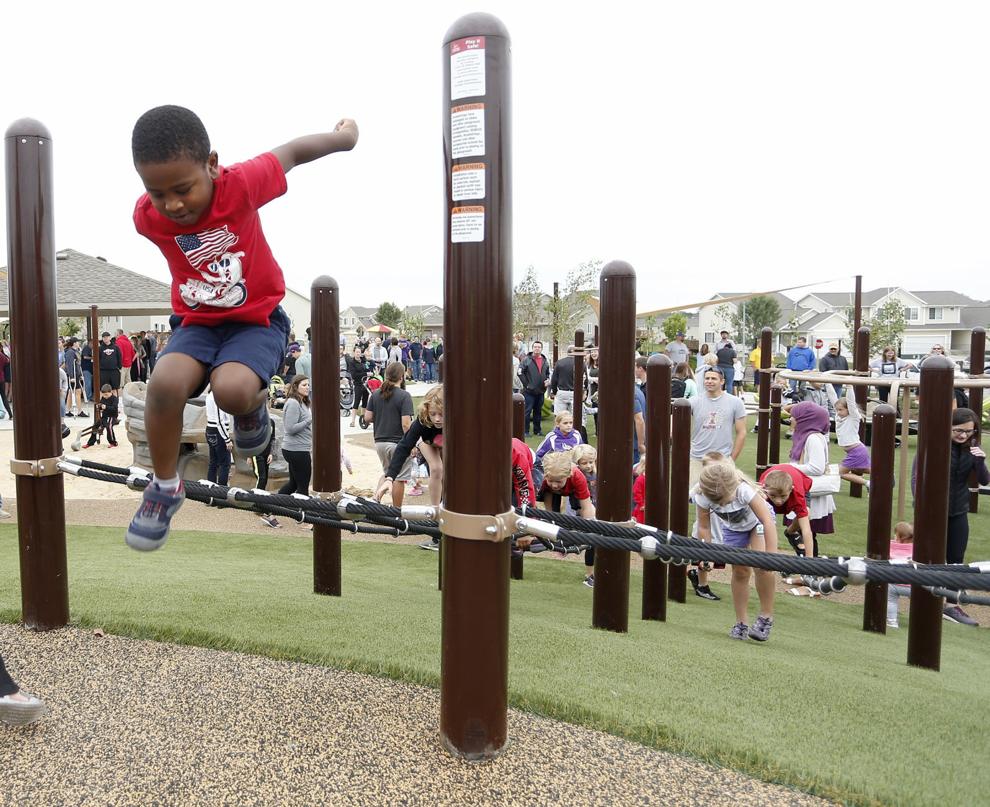 A number of contractors also stepped up to help, intentionally bidding low to save money, including Peters Construction in Waterloo. Matt Ackerson of Ackerson Masonry in Cedar Falls donated his time to pour the concrete and added stonework.
Holmes Junior High student Natalie Olsen, who uses a wheelchair, had her mother drive her past the park three times last month just to get a peek at it.
"I was so excited," she said. "I kept asking, 'When's it open? When's it open?'"
Her favorite features are the swings and the zip line. "And the fact I can get up to the playground. I can actually get in it," she said. "I absolutely love it. Everything is accessible, and I can come here with my friends. "
Many parks have wood chips or gravel, "And I just can't go in it. So I'm having to sit and watch other kids play, and that's just not fun," Natalie said.
A promotional video shows Natalie crawling on the ground at a traditional park. The wood chips were rough and uncomfortable on her knees.
At Place to Play, grandparents also can play with their grandkids without worrying about going up and down stairs, she said.
"I can't remember a time we've been at a park where I've been able to just let her go and play without worrying," said Natalie's mother, Annie Olsen, "We have two little boys too who like to go off and run and play, and it's hard to be in so many places at once. But here all three of them can just go and do their thing. This place is pretty incredible."
Weichers and Corkery want adaptive parks to be the rule rather than the exception.
"This is just want we wanted. You look out and see kids with disabilities playing alongside with kids without disabilities," Corkery said. "It's just how it should be."