LA PORTE CITY — When Tim Hurley heard on the news that officials in the search for a missing La Porte City teen were seeking donations, he knew what had to be done.
"There isn't a lot that separates us other than miles or blocks — how far is it from my house to your house, how far is it from my city to your city — in the Cedar Valley," said Hurley, president of the Black Hawk County Gaming Association, which distributes grants from gaming revenue. "What's most in common is that we care for one another and we care about one another, and I think that's the emotion that hit everybody."
On Monday, Hurley and other Gaming Association board members handed La Porte City firefighters a $10,000 check to be used for heavy equipment to remove large log jams in Wolf Creek, where 16-year-old Jake Wilson told relative he was going on the night he disappeared on the night of April 7.
"This will go a long way," said Ron Hager, president of the La Porte City Fire Association.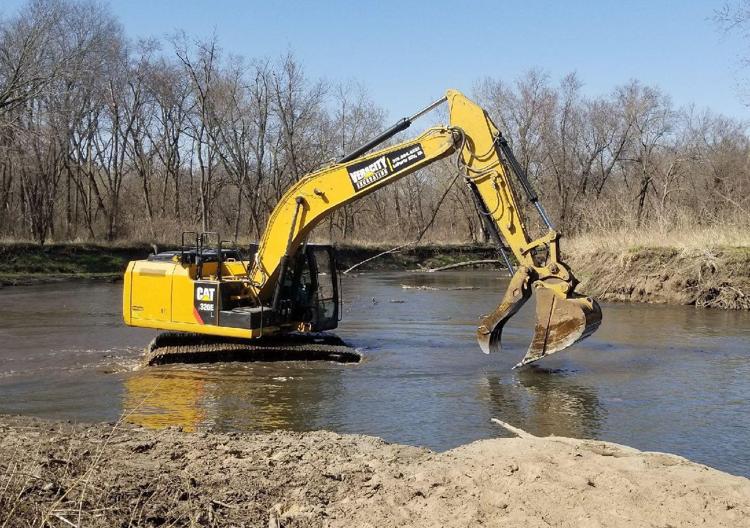 La Porte City Police Chief Chris Brecher said operations involving the excavator could start as early as today. The equipment — operated by Veracity Excavation — will use a claw-like hand in place of the bucket to lift tree debris from the water, he said.
"Instead of just dragging the trees out, you can actually pick them up. It's a little more surgical than just scraping everything out," he said.
The fire department is still accepting donations to go toward the search, and funds can be mailed to the La Porte City Fire Association, 202 Main St., La Porte City, IA 50651. Donors are asked to include "Jake Wilson Search" in the memo line.
Brecher said any additional donations above the costs of the excavator will be used in other aspects of the search, for instance to repair and replace equipment that was brought in from other departments, or for future costs associated with the search.
"If there are funds remaining, we have a lot of equipment from other agencies that we borrowed that we want to make sure it's returned to them in the same, if not better, quality than it was when they donated it," Brecher said.