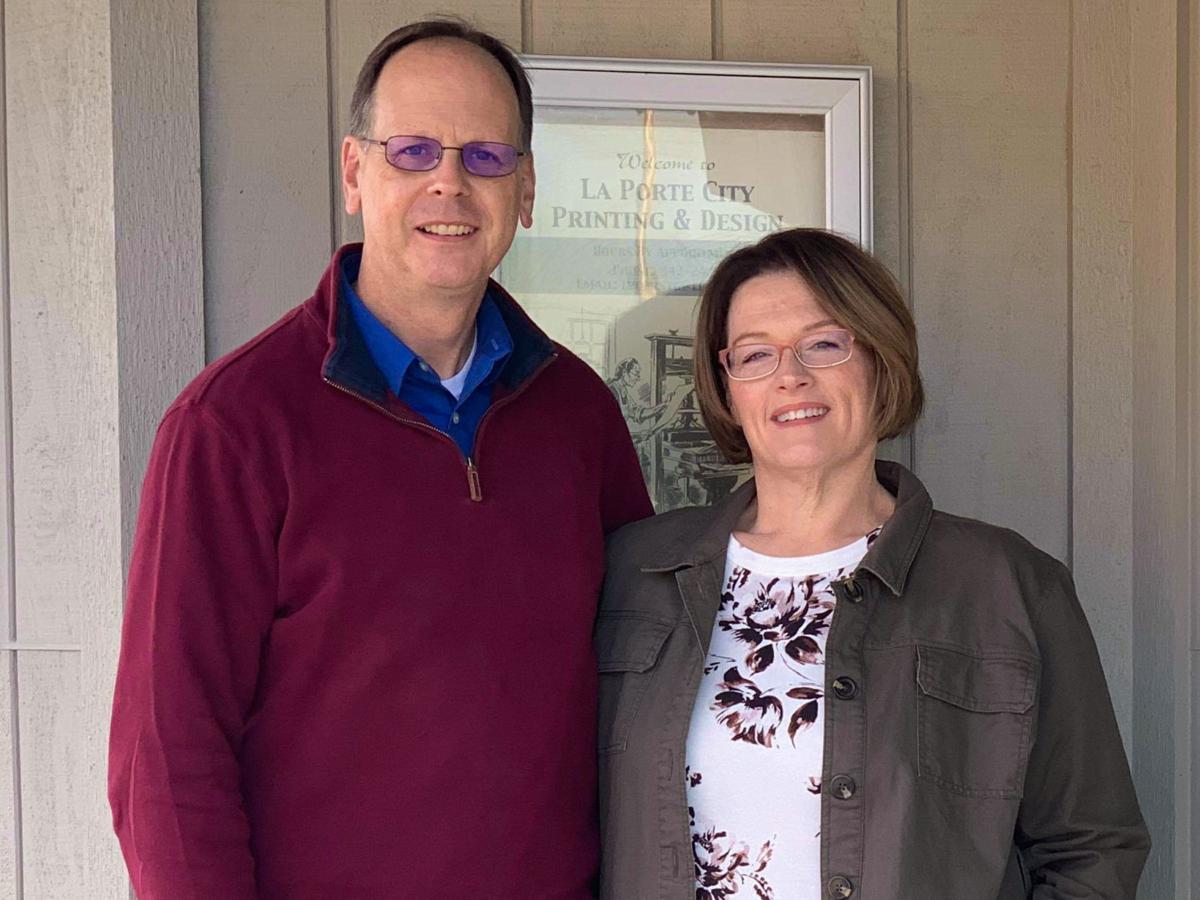 LA PORTE CITY – It's the end of an era.
A family-owned La Porte City publication that has been chronicling the town's history for more than 100 years has closed its doors.
The Progress Review, first published Sept. 30, 1893, was put to bed for the last time Sept. 30, 2020.
Mike and Jane Whittlesey of La Porte City purchased the paper in 2002 from Robert and Doris Wagner, who ran the paper for 30 years. Jane Whittlesey, who is also the town's city clerk, took care of the financial side while Mike Whittlesey operated as publisher, editor and reporter.
"We very much enjoyed all 18 years of being part of the Progress Review's history," Mike Whittlesey said.
They also own La Porte City Printing and Design, which is still open for commercial printing.
Whittlesey, now on the opposite end of an interview, fondly recalled memories of covering the town's highs and lows with a news pad and pen.
He remembered celebrating with the town as he documented Union High School's football team winning its first state championship in 2011. He also mourned with the community as the search for a local teenager with autism ended in tragedy in 2018.
Whittlesy describes the search for Jake Wilson as a "dark cloud."
"As the local newspaper we felt a deep obligation to treat that story with a little more care and respect for the difficulty the communities were going through. It wasn't a race to get that scoop. Our approach was different. That family is part of our community, part of our greater family," he said.
While employees came and went, one employee stood the test of time. Mary Bauer, who still works with the couple, was the first person they hired. She did "a little bit of everything," including photography, layout and writing.
"If there was a sporting event in town, you could count on Mary being there taking some pretty awesome photos," Whittlesey said.
Whittlesy cherishes the opportunities to learn about and make connections with his community.
The couple successfully brought the historic newspaper to the digital age by creating its first website and mobile app.
"It really comes down to telling people's stories," he said. "If you can communicate a story in a way where people can really walk away knowing someone better or understanding something better — that, to me, is journalism at its finest."
Jolene Kronschnabel, director of Hawkins Memorial Library in La Porte City, said the local paper and the library have been a team for years.
"We will really miss the way the Progress Review preserved the history of the community," she said.
Kronschnabel wrote a column on the library for the past eight years. She also worked with Whittlesey on digitizing back issues of the Progress Review. The images can be viewed free of charge on the library's website, laportecity.lib.ia.us.
"It's such a loss of history, and you really realize that when you can go to the digitized versions and look it all up. Any time there was a celebration in town it was recorded."
And perhaps the paper's biggest star was a four-legged furry friend named Freckles.
"If you asked the cat, she would have said she allowed us to buy the paper," Whittlesey said.
Freckles' mischievous behavior and cynical personality were captured each week on the Freckles Fun Page. The entertainment section was geared toward children and included puzzles each week.
"Every week she would have something snarky to say — usually about not getting enough fat-free fish snacks," he said. "For a time there she was probably the best known cat in town."
Freckles died in 2013, but her legacy lives on – from The Progress Review's Adopt-A-Pet section to Whittlesey's next endeavor.
After 18 years, Whittlesey is not ready to put down the pen.
Whittlesey is working on writing children's books. His main source of inspiration? Freckles the news cat, of course. The series will help kids learn about the newspaper industry while taking on adventures with Freckles.
The Whittleseys and Bauer also will stay busy as the official camera crew of the Cedar Valley Honor Flight. They've provided more than 2,000 DVDs to area veterans and raised thousands of dollars donated back to the organization.
"My dad was an Air Force veteran and Jane's dad served in the U.S. Navy, so these trips have a very personal connection for us," he said.