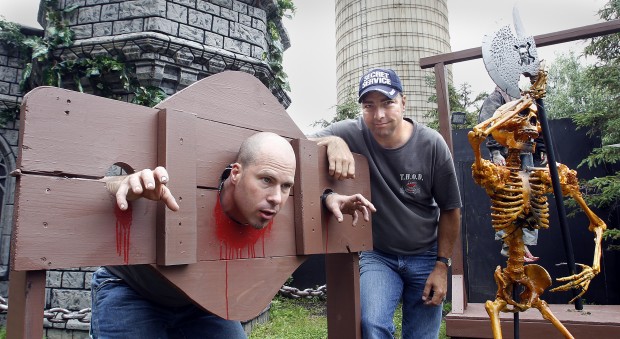 WATERLOO, Iowa --- Last summer, it was all about getting in one last "hurrah" before the old haunt was torn down and rebuilt.
This summer, it's about getting to go through a brand-new experience before anyone else does in October.
The Heart of Darkness is once again hosting its "Summer of Fear," opening the doors to their long-running haunt for just one weekend before shuttering it again until the fall.
"We wanted to give them a whole good slice of what we do every year," said Kevin Schults, owner of the 10-year-old Waterloo attraction.
Last year, the "Summer of Fear" brought in only about 250 people --- a financial disaster, given the costs of running it.
But Schults keeps the faith, even pumping more money, new areas and updated themes into the haunted house.
"I love this stuff, and I'm taking a risk," he said.
The new haunt's major new feature is an "Army of Darkness"-esque skeleton castle, which is the first feature people glimpse when they come to buy tickets and wait in line.
The line is the other main change.
"When I was a teenager, going to haunted houses, that's what I hated --- the wait," Schults said.
Now, patrons can pass the time taking their picture in a photo booth, eating mini doughnuts and popcorn at the Missing Hole donut vendor on site and listening to A Black Tie Entertainment spin records on a stage while they wait.
Once their number appears on screen, they and their party go into the prison cell-like holding area before they're released onto the castle grounds, where they enter the 35-minute long attraction that includes Dead Eye Castle, Slaughter Cabin, Scarecrow's Haunted Barn, Dead Walker's Cemetery, the Clown Asylum, Scream in the Dark, Phantom Bus and Grizzly Chainsaw Massacre.
Schults' workers won't go in the Phantom Bus at night --- "We believe it's actually haunted," he said --- and the Chainsaw Massacre is exactly what it sounds like.
Twenty-five to 30 actors scare customers throughout the haunt, and around 12 people work security.
If it goes well this year, Schults wants to keep it going. His dream is to eventually expand the Heart of Darkness into a year-round haunt.
"You come here to get scared, man," said J.C. Chaney, who helps with the Heart of Darkness. "We'll scare the crap outta you."
Get local news delivered to your inbox!
Subscribe to our Daily Headlines newsletter.