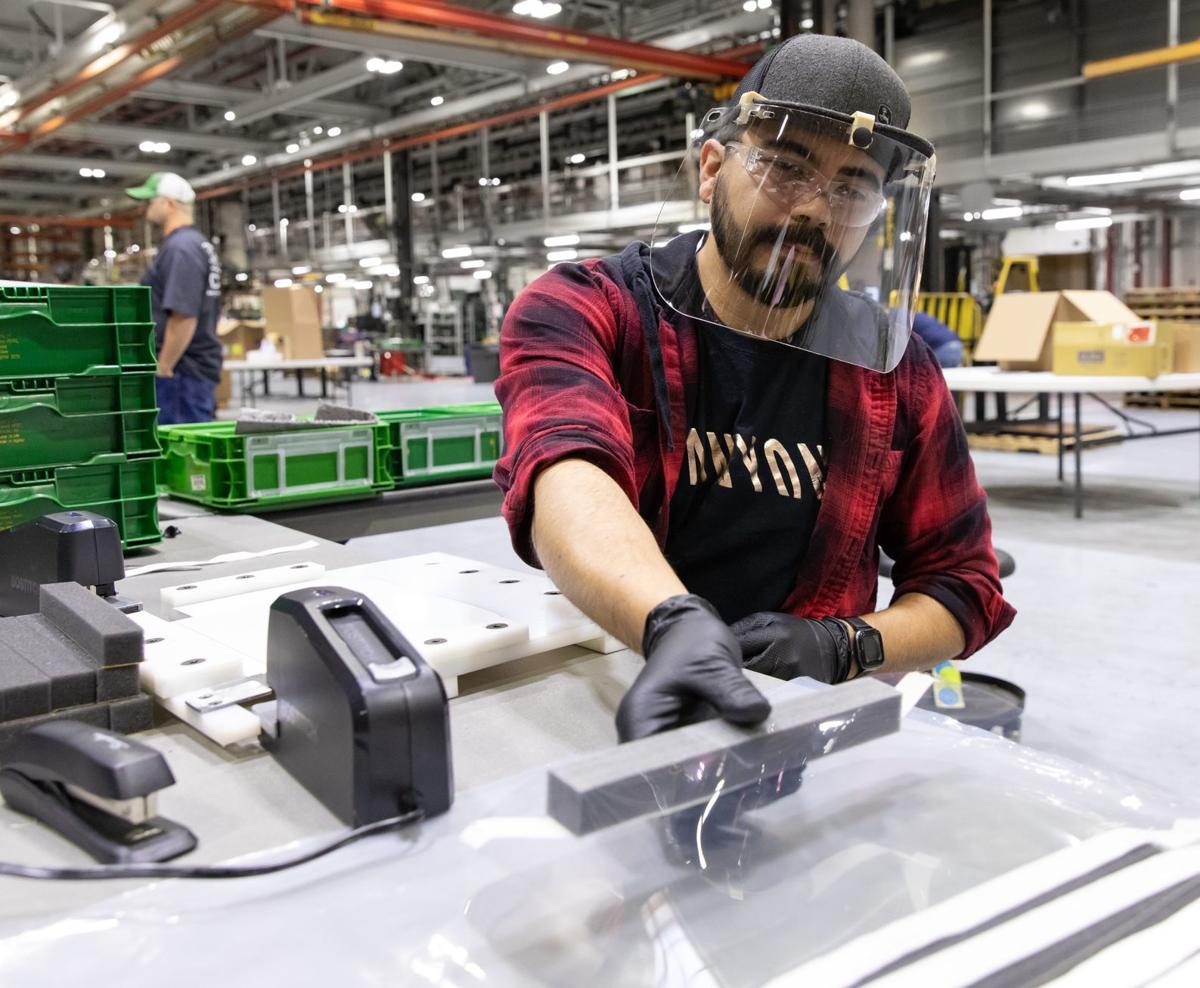 MOLINE, Ill. — Deere & Co. has started making 225,000 protective face shields to be distributed to health-care workers battling the COVID-19 pandemic.
Company officials announced Thursday that production of 25,000 face shields began Wednesday at the John Deere Seeding Group in Moline, Ill., while materials and supplies have been ordered to make 200,000 more.
The first batch of personal protective equipment will be delivered to 16 U.S. Deere factories in eight states, including those in Waterloo and Cedar Falls, as well as the company's U.S. Deere-Hitachi factory for local distribution.
Officials at the local plants will be responsible for distributing the face shields to local health-care workers in their communities.
"We knew that we needed to do more to help these true heroes in the fight against this virus, the front-line health care workers," said David Ottavianelli, Deere director of strategic projects and labor relations.
"Our employees wanted to do more for the local communities and we could not be prouder for their actions," he added. "They are the real stars."
The effort is a collaboration with the United Auto Workers, Iowa Department of Homeland Security, Illinois Manufacturers' Association and others, the company said.
Ottavianelli praised his supply management employees who established relationships with new suppliers to secure the necessary material for the face shields.
Brad Russmann, factory manager at John Deere Seeding, said the company relied on the capabilities of maintenance and production employees across the plants to start up the face shield project "in a matter of days" rather than weeks.
Russmann said Deere has robust safety measure in place at both John Deere Seeding and other plants to keep workers safe from coronavirus.
"Our number one priority is and will remain the safety and well-being of our employees," he said.
John May, Deere chief executive officer, said in a news release the company, its workers, and partners have "worked tirelessly to ensure we could lend our support and protect our health-care workers during this crisis."
"By working closely with the communities where our employees live and work, we can help support the needs we've identified close to home and, as the project expands, address additional, urgent needs across the country," May added.
Concerned about COVID-19?
Sign up now to get the most recent coronavirus headlines and other important local and national news sent to your email inbox daily.