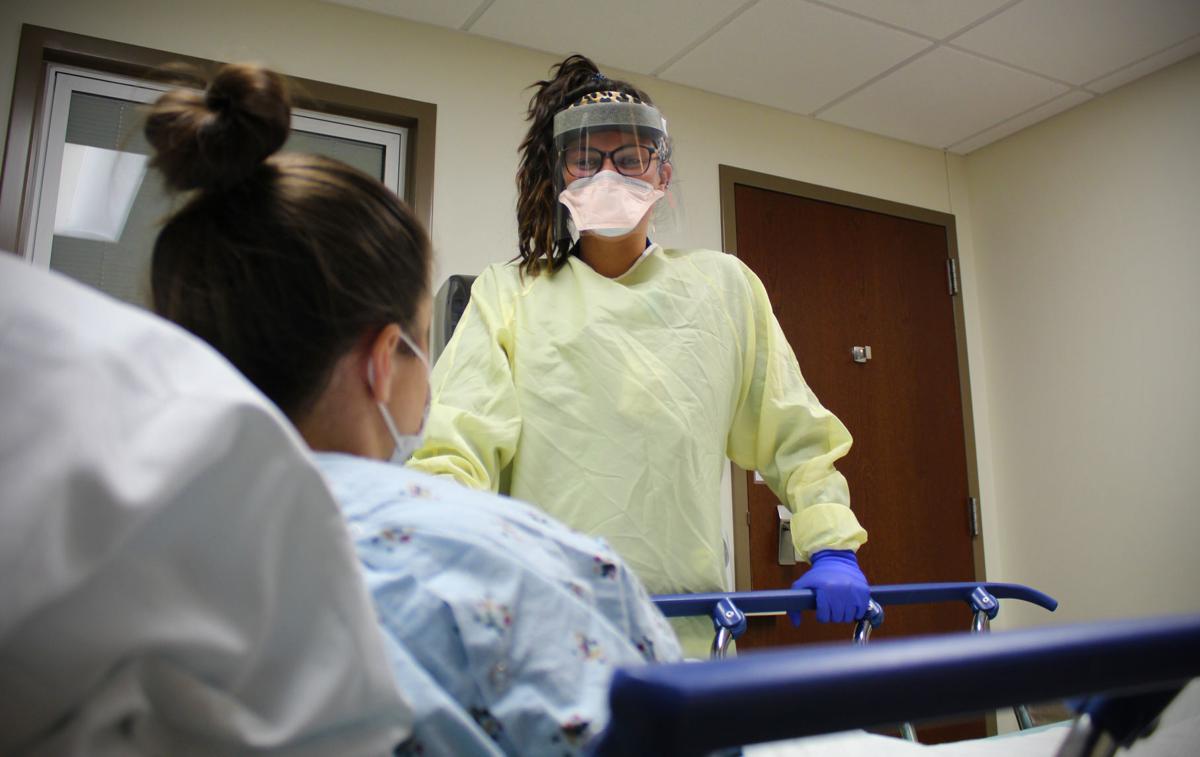 DES MOINES — The pleas from Iowa hospital and public health officials are clear:
Everyone must do their part to slow the spread of COVID-19 — which is spreading through the state like wildfire — or hospitals will soon be overrun by patients and health care workers will be overwhelmed.
"It is starting to get dire," said Dr. Matthew Sojka, chief medical officer for Mercy- One-Northeast Iowa in Waterloo.
The advice remains the same: Avoid gatherings. Stay home whenever possible. Wear a mask. Wash your hands frequently. Don't touch your face.
COVID-19 is tearing through Iowa at rates never before seen during the pandemic, which first hit here in late March. The two-week average for new deaths is at its highest point, and the two-week average of new cases has tripled in two months.
Experts say the latest surge is being driven primarily by individuals interacting with each other, including gatherings of family and friends, and by people gathering in public places like bars and restaurants without practicing social distancing.
Cases exploding
The unprecedented spike is hitting hospitals hard. The two-week average of COVID-19 hospitalizations is double the previous high in mid-May. And the two-week average of COVID-19 hospital admissions is more than triple its previous high.
On Wednesday, the Iowa Department of Public Health confirmed 4,764 new COVID-19 cases in the past 24 hours and 26 additional deaths for a statewide death toll of 1,898. The DPH said hospitals admitted 230 new COVID-19 patients in the past 24 hours compared with 166 Tuesday. That blew past the previous high mark of 181; the state had not seen as many as 100 new admissions in a 24-hour span until just more than two weeks ago.
Iowa DPH reported 1,190 hospitalizations, of which 210 patients are in intensive care. On Tuesday the state reported 4,425 new cases and 27 new deaths, with 1,135 patients hospitalized.
The number and percentage of available hospital beds statewide has been shrinking. Some hospitals have hit their capacity for COVID-19 patients, and others are warning even if they still have beds available, they may not have enough healthy workers to cover those beds.
"My people, these health care workers throughout our state, they're exceptional. And at this point they're exhausted. They're exhausted mentally. They're exhausted physically. They've been battling this disease for eight grueling months," Dr. David Williams, chief financial officer for UnityPoint Health, said late last week during a news conference with Gov. Kim Reynolds at the Capitol. "And now's the time, I ask for Iowa, this is the time as a state, as a community, you have to take care of my (health care) family. We've been spending eight months taking care of you, taking care of your family, taking care of your friends. My plea is that everybody watching today: take care of my family. It's time to take care of the health care workers."
New restrictions
On Tuesday, Gov. Kim Reynolds implemented new emergency restrictions on social, community, leisure and recreational events.
At gatherings of 10 people or more, there must be 6 feet of social distancing between groups. Groups are limited to eight people, unless members are from the same family.
If an indoor event exceeds 25 people — or an outdoor event exceeds 100 people — all over age 2 must wear a mask.
Groups in bars or restaurants are similarly limited to eight people (except for family members, which can be more) and all patrons must be seated at tables at all times except for restroom use or other limited reasons.
The proclamation also restricts attendance at youth athletic events to two spectators per student-athlete. She also called on Iowans to postpone family gatherings and vacations as the state heads into the Thanksgiving holiday season .
The proclamation will be in effect for 30 days. Reynolds did not impose a statewide mask mandate.
Hospitals across the state are seeing record numbers of COVID-19 patients.
In Waterloo, officials at UnityPoint Health-Allen Hospital reported that facility is at capacity, and MercyOne reported it was near capacity.
In the Quad-Cities, COVID-19 patients at UnityPoint Health-Trinity have doubled from 25 to 48, including 19 in intensive care, according to president and CEO Robert Erickson. Of those who have been hospitalized in the Trinity system, the death rate has been roughly 10%, Erickson said.
Genesis Health in the Quad-Cities had 105 COVID-19 patients Tuesday, and is planning for that number to increase to 150 or more, a spokesman said.
On October 22, the Metro Area Health Care Coalition — a group of health systems in the Council Bluffs and Omaha area — reported 176 total COVID-19 patients, with 64 in intensive care. On Sunday, the most recent figure available, COVID-19 hospitalizations had more than doubled to 365, with 107 patients in intensive care.
MercyOne North Iowa in Mason City experienced a new record number of COVID-19 patients over the weekend, according to the hospital's data.
Because the current spike is being driven by individuals — not workplace or long-term care facility outbreaks like previous spikes — officials all Iowans must help control COVID-19's spread in order to avoid overwhelming the state's health care system.
"We are a critical point in our state's fight against COVID-19. It's going to take every Iowan doing their part to get this virus under control," Dr. Hijinio Carrion, chief medical officer for MercyOne Central Iowa, said during the news conference with Gov. Reynolds. "I'm asking you as an emergency physician, as a father, and as a husband: Please protect your families, our community, and our health care workers."