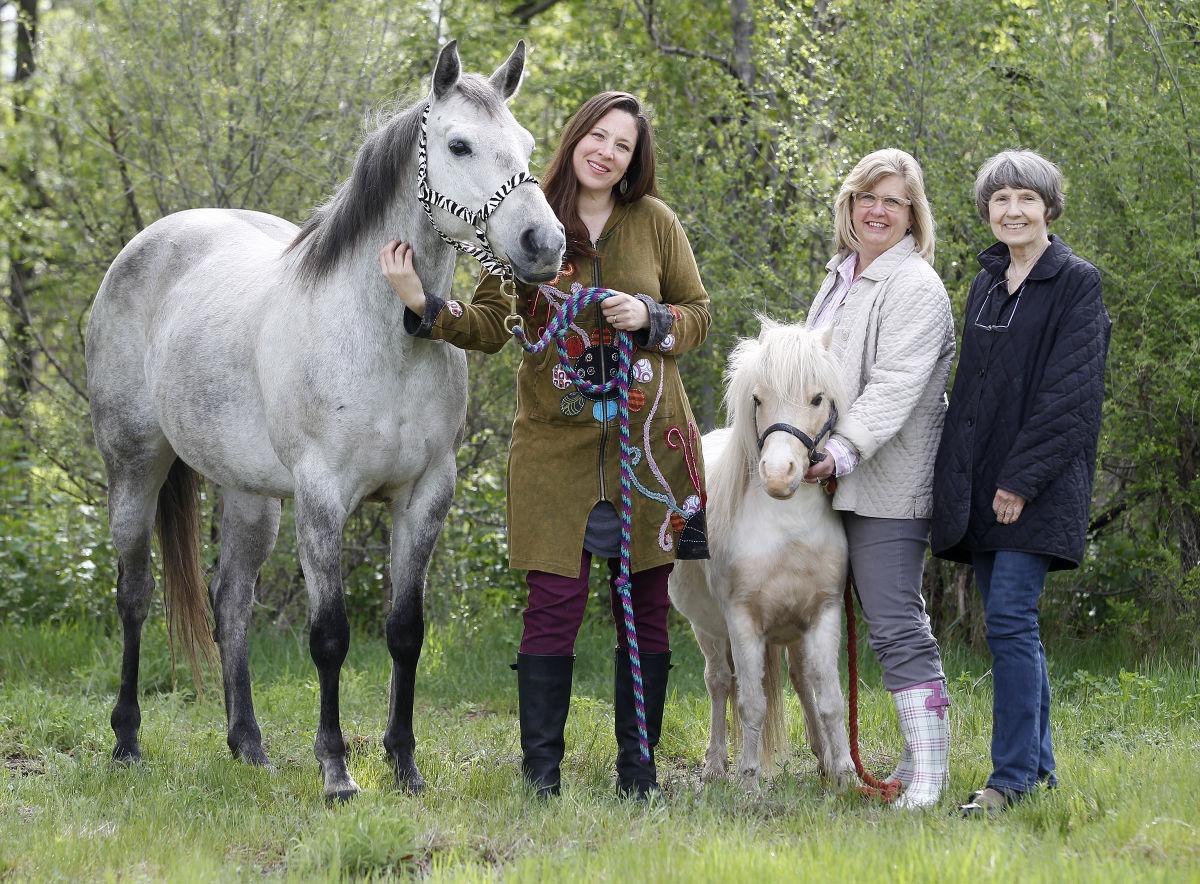 WATERLOO – A trio of gentle horses graze in the pasture. Sunlight glints through trees on the 10-acre property at 1420 W. Donald St., in the heart of Waterloo. It is a warm, serene setting, just the sort of place where healing can begin.
Hope Tree took root last November. This spring, the new mental health counseling service has branched out and begun serving clients of all ages, as well as families. It is the brainchild and passion of founder Sarah Kiani, who is joined by Kristie Wood, assistant director, and Linda Nebbe, supervisor.
"We have the space to give clients the choice of being indoors or outdoors in nature, sitting under a tree or in the pasture, petting the horses. It's a nonthreatening environment to talk," said Kiani, who created Hope Tree to realize her dream of providing a safe place for healing, growth and change.
In addition to animal and nature therapeutics, services include play therapy, grief counseling, life transition issues, women's issues, drama-based therapy, substance abuse, post-traumatic stress disorder counseling, pain, anxiety and depression issues and trauma-informed care.
Kiani and Wood are both graduates from the master's program in clinical mental health at the University of Northern Iowa. Both women were nontraditional students who had other careers before returning to school.
Wood is a national certified counselor with experience in a range of issues, including relationships, family conflict, anxiety, depression and substance abuse. She also incorporates plants and nature into her work as a means of providing support and guidance.
"You can do so much with plants to stimulate conversation. They're good ice breakers. Besides being able to go outdoors for counseling sessions if a client desires, I keep plants in my office. Research has shown people smile more when they're around plants," Wood said.
In addition to counseling, Kiani has 22 years of experience in theater and youth development and is director and founder of Tir na nog Children's Theatre. In addition to animal therapy, she specializes in grief, loss, trauma, women's issues and working with children.
Nebbe was their instructor at UNI. A licensed wildlife rehabilitator and animal-assisted therapist, Nebbe was an assistant professor in the UNI counseling program until her retirement in 2014.
Kiani explained "there's a two-year black hole for clinical mental health graduates. It's a hard place to be, especially for nontraditional students, and hard to find a job without having completed those two years. You have to do two more years of practice with supervision."
Opening Hope Tree solved the first problem, while Nebbe was lured out of retirement as supervisor. "It helps me keep my foot in the door, and I'm right there with the philosophy and community-based nature of Hope Tree," Nebbe said.
Kiani praised Nebbe as "a gift from God. We're grateful for her rich depth of experience. We were all drawn to each other for a reason and a common purpose."
Get local news delivered to your inbox!
Subscribe to our Daily Headlines newsletter.