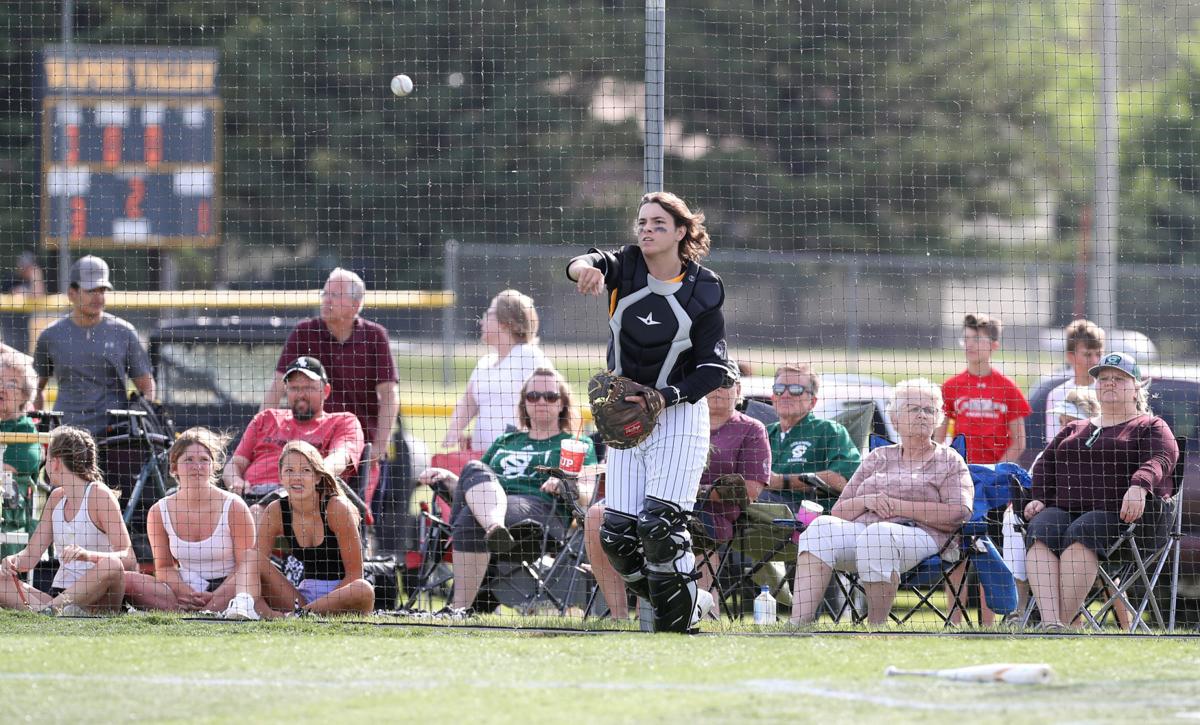 DES MOINES — Coaches and high school athletes playing baseball and softball across Iowa are doing their best to prevent the spread of the coronavirus, state athletic association officials say.
Fans attending those games, on the other hand, are not always as cooperative about practicing social distancing.
Iowa is believed to be the first state to resume high school athletics.
The baseball and softball seasons began with practices June 1 and games June 15.
A week into the season, at least a half-dozen baseball and softball teams have experienced disruptions due to players or coaches contracting the coronavirus, state association officials confirm.
None of the five cases involving baseball teams have been traced back to games or practices, said Jared Chizek with the Iowa High School Athletics Association.
Fan failures
Chizek said while coaches, players and umpires are doing their best to adhere to safety protocols established by the state public health department, fans are not always as cooperative.
"The biggest concern that we're hearing from athletic directors and school administrators is there's a lot of interest right now in baseball across the state. It's the first live entertainment since state basketball," said Chizek, who attended several games across the state in the past week. "There's a lot of excitement. But it's also troublesome for some of our athletic administrators and school administrators as they continue to stress social distancing at these games."
Chizek said some school officials have expressed concern fans are not social distancing. Spectators are sitting close to one another, either in the bleachers or in lawn chairs.
Guidelines
According to guidance provided by the state, schools must:
Limit the use of bleachers.
Encourage fans to bring their own chairs or stand.
Practice social distancing between different households and accept personal responsibility for public health guidelines.
Other guidelines include closing concession stands, sanitizing equipment frequently and spacing out players as much as possible to minimize risk.
But it's difficult to police fan activity.
"As one athletic director who reached out said, with nothing else going on, how do you stop two people who are good friends from sitting next to each other," Chizek said.
State guidance is silent on fans wearing face masks. The Centers for Disease Control and Prevention recommends wearing a face covering in public settings where social distancing measures are difficult to maintain.
Some health experts say the risk of the virus spreading outdoors is lower. But there is still a risk, especially for fans who gather together closely at games, an Iowa expert said.
"Clearly it's safer outside, but if you're in somebody's face, you're in somebody's face," said Dr. Louis Katz, chief medical officer for the Mississippi Valley Regional Blood Center and a board-certified infectious diseases specialist. "So I don't think it's a good idea."
Katz recommends people remain at least six feet apart, or if they plan to be closer to other people to wear a mask.
"Most of the risk is to the fans that don't social distance," Katz said. "The fans have to be paying attention (to social distancing practices), and a lot of them aren't, and I think it's dangerous."
Tough call
Jean Berger, executive director of the Iowa Girls High School Athletic Union, said the decision to allow summer baseball and softball was "polarizing." Many parents and others had strong feelings — both for and against — about whether the games should take place this summer.
She said only three districts decided not to field a softball team, and those that are playing indicated a willingness to take whatever precautionary steps were necessary.
"The people who wanted to play, they were going to do whatever they thought they needed to play," Berger said. "They were willing to do whatever."
Different methods
School districts have been following state guidance differently.
Some have completely roped off bleachers. Some have a limited number of tickets. Others admit fans and leave it up to them to be responsible.
One thing that has remained consistent, however, is the lack of masks among spectators.
"I can't speak to why people are not wearing them other than that's their personal choice," Mason City High School Principal Dan Long said. "What I do know is that any of our workers that we have at games are wearing the masks, but outside of that, it doesn't matter if you're the home team or the away team. You just see people making their own personal choice at this point of whether or not they choose to wear the mask."
Newman Catholic makes an announcement advising fans to adhere to social distancing and leaves it up to them to make their own decisions regarding the use of bleachers.
"We're asking adults to just be responsible," said Alex Bohl, Newman baseball head coach and athletic director. "They should know what's right, what's acceptable. They should be able to follow those guidelines without having somebody up in the bleachers calling people out. I just don't feel that should be necessary."
Suspended
Teams across the state have had to suspend their seasons after players tested positive for COVID-19. In Northeast Iowa, Aplington-Parkersburg suspended its baseball season for two weeks. Waterloo West softball postponed its last two games. Iowa Falls-Alden baseball is also on a two-week delay. Gehlen Catholic in LeMars and Dubuque Walhert have also experienced disruptions.
It is a growing concern for coaches.
"If you look at it, with 1A postseason starting on July 11, if somebody comes in contact or tests positive after June 27, the season is over with," Bohl said. "We have to be responsible adults if we want our season to last."
Gunnar Davis of the Globe Gazette in Mason City contributed to this article.
Concerned about COVID-19?
Sign up now to get the most recent coronavirus headlines and other important local and national news sent to your email inbox daily.