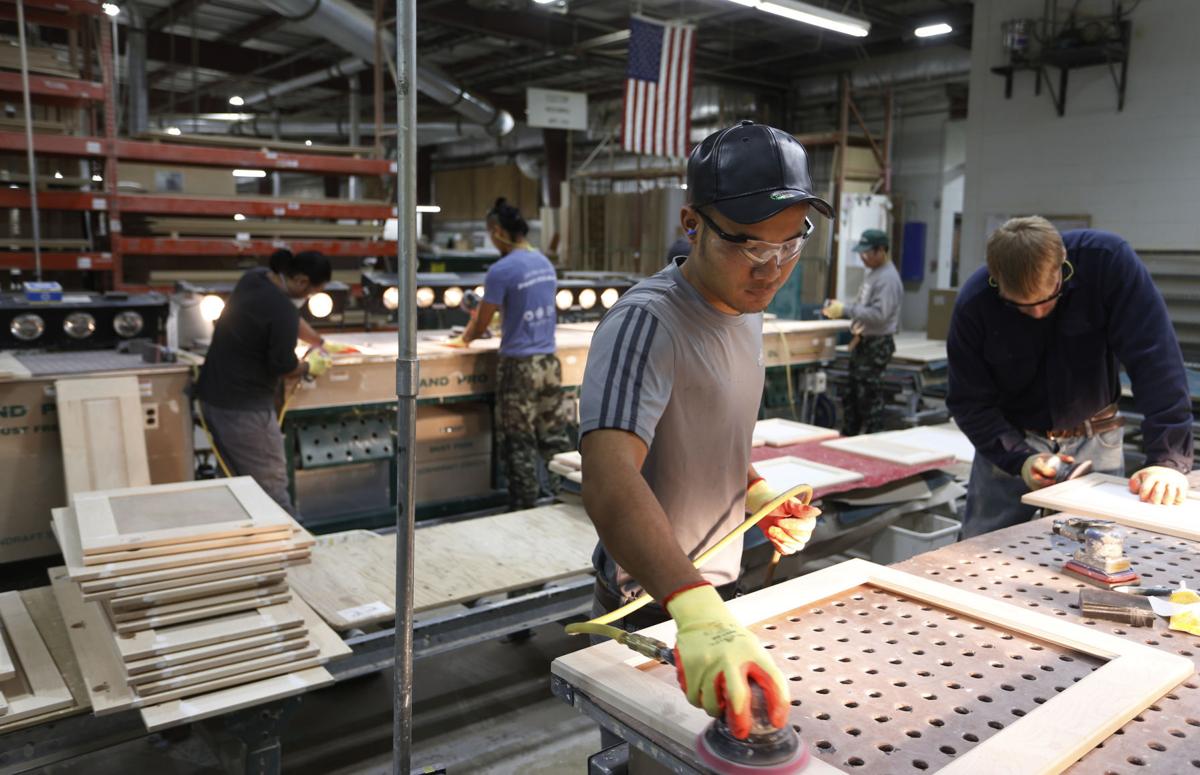 WATERLOO — A group of labor and community organizations is sounding the alarm over what they believe are unsafe practices at a Waterloo employer during the ongoing COVID-19 pandemic.
The Iowa Council for Worker Safety hand-delivered a letter to Joe Piscitello of Omega Cabinetry in Waterloo last week, according to Jesse Case, the secretary/treasurer of Teamsters Local #238, which is not affiliated with Omega.
The group, which began promoting itself on social media in July of this year, calls itself "a coalition of labor, faith-based and community organizations that are striving to keep Iowa workers safe during the pandemic." It accused Omega in the letter of not following "accepted" COVID standards from the Centers for Disease Control and Prevention.
The standards being violated, according to Case, include not sanitizing work stations five times per day, allowing workers to not wear face masks appropriately, not conducting temperature checks properly and "front line supervisors not taking it seriously," he said in an email to The Courier.
"Our concern is the size of the employer and the atmosphere that is created when supervisors send signals that basic CDC recommendations are not important," Case said.
An Omega spokesperson said the company had been "following or exceeding CDC guidelines during the COVID-19 crisis," including "increasing physical distancing protocols," enforcing a face covering policy, temperature checks and increased cleaning.
"We are committed to providing our associates with an environment where they feel comfortable and safe," the company said in an email to The Courier on Tuesday morning. "If at any point our associates don't see protocols being followed, we encourage them to reach out to human resources."
In the letter, the council accused the company of being "too lax" in its coronavirus measures, asking Omega "to help keep your employees, their families and our communities as safe as possible during these trying times."
"As you know, an establishment the size of yours can easily become a super spreader of COVID," the letter read. "The effects of the health and safety policies of a large-sized employer, along with the enforcement of those policies, have consequences far beyond the facility bounds during a pandemic."
The letter comes on the heels of similar issues at Tyson Fresh Meats in Waterloo, which fired supervisors amid a lawsuit accusing the company of failing to protect its workers from COVID-19 infection and death.
Case said the Iowa Council for Worker Safety said it has also sent letters to Tyson plants in Columbus Junction and Storm Lake. He said the council formed at the beginning of the pandemic to provide an outlet for those without union representation in the face of what they consider to be lax oversight by the state Occupational Safety and Health Administration.
"With the current political situation in Iowa, OSHA is absent in Iowa's workplaces," Case said. "Workers who aren't represented by a union have nowhere to turn if they want to report working conditions that put them and their coworkers at risk."
This article was updated Tuesday morning to include a statement from Omega sent Tuesday.
5 ways COVID-19 hit home in the Cedar Valley in 2020
UPDATE: Cedar Falls grandmother on ship with confirmed coronavirus cases to enter quarantine
CEDAR FALLS -- A Northeast Iowa woman stuck on a cruise ship with confirmed coronavirus cases off the coast of California will disembark Monday with 3,500 other passengers into quarantine, her granddaughter confirmed.
LaVina Fuller, 83, of Cedar Falls, who is traveling with her sister, Ruth, Ruth's husband and two other family members on the Grand Princess cruise ship, has been off the coast of Oakland, California, since this weekend after a 71-year-old passenger died, purportedly of the COVID-19 virus, just as the ship was leaving Hawaii and headed for its final stop in Ensenada, Mexico, according to the Mercury News.
After the death, 19 crew members and two passengers tested positive for COVID-19. The ship only tested 45 people, however, and public health officials were gearing up to test the remaining 3,490 passengers and crew at quarantine sites.
Complicating matters was the fact that Fuller ran out of the lifesaving medication that would prevent a stroke, prompting her granddaughter, Ally Latta of Cedar Falls, to post an urgent plea for help to Facebook on Saturday.
"The ship is not communicating. The CA Dept. of Health is not communicating," Latta wrote, noting she and her family had also tried contacting the Centers for Disease Control, Coast Guard and other emergency personnel, to no avail.
"She will run out tonight and could have a stroke within hours," Latta added.
Ally Latta of Cedar Falls pleads with the public on Facebook on March 7, after asking authorities for help securing life-saving medication for…
Several hours later, Latta wrote an update that said Fuller had received three more days of her needed medication.
"Please continue to pray that no one else on this cruise ship gets infected with coronavirus and that my sweet family stays healthy during the next steps of quarantine and beyond," Latta wrote.
Reached Monday, Latta said she heard her grandmother, family and more than 3,500 others on the ship finally docked in Oakland at noon Pacific time.
Once the ship is docked, passengers in need of medical support or hospitalization will disembark first, along with those who are symptomatic or have tested positive for coronavirus. Then the nearly 1,000 Californians on the ship will get off, followed by those from outside the state, according to the Mercury News.
"They were told they will de-board in Oakland today and then head to Travis (Air Force Base in Fairfield, Calif.)," Latta told The Courier on Monday. "Trying to find out now if they will be in the first group, or when they will get off. Our goal is to keep grandma with her sister for the quarantine, as she is helping grandma with her medications. Her sister is a California resident, which will complicate it a bit."
Later on Monday, Latta said the family learned Fuller will enter the quarantine with her sister Ruth, with whom she had been traveling. Both would be escorted off in the first group, but it was unclear if they would both go to Travis Air Force Base or another quarantine location.
"Big relief for everyone," Latta said. "We are all very thankful for everyone's response and help getting her prescriptions. Hopefully they stay healthy during their quarantine and she can be back soon!"
The news comes on the heels of the first eight Iowans who tested positive for COVID-19 after a cruise in Egypt and, in one case, after travel to California, according to the Iowa Department of Public Health. 
Seven of the eight are middle aged or older adults from Johnson County, according to the IDPH, and all were on the same Egyptian cruise. The remaining individual is an adult between the ages of 41 and 60 living in Pottawattamie County who had recently traveled to California, according to the department.
All were "recovering at home in isolation," according to the department.
The first three cases in Johnson County were announced Sunday night by Gov. Kim Reynolds.
"Iowa has been proactively preparing for the likelihood of a positive test in Iowa with strategic planning and safety measures," Reynolds said Sunday night. "While these are the first cases, it may not be the last and it's why Iowans must continue to practice safe habits like hand washing and staying home from work when sick."
Once five more cases were announced Monday evening, Reynolds issued a disaster proclamation, which authorizes state agencies to utilize personnel, equipment and facilities "to perform activities necessary to prevent, contain and mitigate the effects of the COVID-19 virus," the IDPH said.
The department did not elaborate. Reynolds noted she would hold her regular press conference Tuesday morning.
COVID-19 was first linked to an outbreak in Wuhan, China, but cases have subsequently been identified in several countries, including the U.S. Confirmatory testing is pending at the CDC, according to IDPH.
Tyson workers say they work 'sick'; clinic seeing 'tons of COVID-19'
WATERLOO — As Black Hawk County coronavirus cases have climbed dramatically in the past week, workers at Tyson Fresh Meats — many afraid of losing their jobs — allege their employer is allowing people with respiratory symptoms to continue working and are covering up the presence of the deadly virus.
Hundreds of Tyson employees in Waterloo have refused to work in recent days, according to multiple people who have reached out to The Courier. They say the company is not protecting workers from coronavirus spread.
Company officials deny there is a coronavirus outbreak at the Waterloo plant, and say they have provided protective measures deemed necessary by local and state health officials to ward off such an outbreak.
"Protecting our team members is a top priority for us," Liz Croston, a spokesperson for Tyson, said Tuesday. "We are continually educating our team members about the importance of social distancing, and we've implemented a variety of measures to protect our team members during this challenging time."
The Iowa Department of Public Health didn't confirm or deny the presence of coronavirus cases at the Waterloo plant, saying as of Wednesday there is not an official outbreak.
"We have not reported an outbreak at this time," said IDPH spokesperson Amy McCoy. The state says an outbreak is 10% or more of employees testing positive.
At Peoples Community Health Clinic, where medical staff say many Tyson employees go for medical care because the clinic has robust interpreting services for Tyson's large non-English speaking population, a staffer privately sounded the alarm at a growth in coronavirus cases in recent days.
"Our clinic is seeing tons of COVID-19," one staff member said, adding cases at Peoples accounted for "half or more" of the county's total. The employee is not authorized to speak to the media.
Peoples Clinic co-medical director Dr. Sharon Duclos declined comment through a spokesperson Wednesday.
A person who teaches English to some Tyson workers said Tuesday those workers say employees from closed plants were being moved to Waterloo with no quarantine time in between.
A separate individual Wednesday said at least some positive cases in Black Hawk County were residents of Columbus Junction. Tyson's Columbus Junction location has been closed for an outbreak since April 6.
The teacher said workers also said they were not being provided with personal protection equipment and alleged hand sanitizer stations were not being filled. The teacher did not want to go on the record for fear of outing students and risking their jobs.
"Management is allowing employees who are sick, and the company knows that they are sick, to come to work," the teacher said workers allege.
One Tyson employee said management knows the scope of the problem but is afraid of a work stoppage, and agreed with others that safety measures are inadequate to prevent coronavirus spread.
"We have had actual managers confirm that there are cases in the plant, but they don't want to cause panic and cause people to not come to work," the employee said Wednesday, declining to go on the record for fear of being fired.
Other workers told The Courier of at least five cases of coronavirus inside the plant.
At least one employee of Tyson in Waterloo has been hospitalized since Sunday in the intensive care unit at UnityPoint-Allen Hospital in Waterloo, his sister confirmed to The Courier on Wednesday.
She said Tyson was notified of her brother's symptoms last week, and further notified that he tested positive.
"He has been calling and emailing me for weeks expressing fear he was going to get COVID-19 due to the very lax protocols at Tyson," the sister said.
When he did catch the virus her brother had to keep working until, finally, he was hospitalized.
"He can not afford to lose his job," she said.
But Croston told The Courier on Tuesday that Tyson is encouraging workers to stay at home if they were sick.
She said the company is "working hard to protect our team members during this ever-changing situation." Tyson has relaxed its policy of penalizing workers for absenteeism and eliminated the waiting period for short-term disability.
On Wednesday, Gov. Kim Reynolds said she's asking federal agencies and business leaders for help preventing coronavirus outbreaks at Iowa food processing plants and responding to outbreaks at Columbus Junction and Tama where scores of workers are already infected.
A previous version of this story incorrectly noted the guidance for an outbreak was three or more confirmed coronavirus cases. That guidance is for long-term care facilities only. For workplaces, the guidance is 10% or more of a workforce.
'Feels like we're in the worst of it:' Tyson closure hitting hog farmers hard
LAWLER — Brady Reicks sends around 1.3 million pigs to market each year from his family's Reicks View Farms near Lawler. The majority are processed at Tyson Fresh Meats in Waterloo.
But with Tyson shutting its doors last week, joining other hog processing facilities in the Midwest, Reicks has few places left to send his pigs. Smaller slaughterhouses can't handle the massive influx of hogs from Iowa's multi-billion dollar industry.
So Reicks and many farmers face a grim prospect: humanely killing pigs and disposing of the bodies until the plants reopen.
As long lines form at food banks across the country and consumers face shortages and price hikes at grocery stores, Reicks can't help but note the disconnect.
"What's so frustrating is that people are eating pork and they just can't get it, and it's not because the plants don't want to run, and not because the grocery stores don't want to sell, and not because the producers aren't producing pigs," he said. "You can't get it through the supply chain because of the human safety issue."
Tyson shut down its Waterloo plant last week amid a COVID-19 outbreak. Spokesperson Liz Croston said Monday the company does "not have a date determined yet for resuming operations."
Reicks is hoping for some help from the government to stem losses, and perhaps even aid in the humane killing and disposal of his animals — a tough job to put on his farm workers.
Iowa's elected officials are seeking that help. Gov. Kim Reynolds, U.S. Sens. Chuck Grassley and Joni Ernst and Iowa Secretary of Agriculture Mike Naig signed on to a letter asking Vice President Mike Pence to act to keep meatpacking plants open, assist farmers and boosting rural mental health.
President Trump said Tuesday he will use the Defense Production Act to classify meat processing as critical infrastructure to keep plants open.
U.S. Rep. Abby Finkenauer, who represents much of Northeast Iowa, said she was glad to see the U.S. Department of Agriculture and the Centers for Disease Control and Prevention issue new guidance and assistance for pork producers, including establishing a National Incident Coordination Center to help identify alternative markets for pigs and help assist with "depopulation," if necessary.
Reicks said he appreciates any help that comes his way. But like many others upended by the coronavirus, he has little indication of what the future may bring.
"We don't know how long this will last, how long people will not want to go to work," he said. "Right now, it kind of feels like we're in the worst of it. A lot of plants are closing right now."
In District 60, a glimpse of how coronavirus has affected political races
CEDAR FALLS — Around this time last year, Iowa Rep. Dave Williams was rounding up volunteers, getting ready to make calls and knock on doors — all things he should be doing right now as he faces a re-election battle in House District 60.
But with the coronavirus pandemic shutting down the Iowa Legislature and restricting everything in hard-hit Black Hawk County, almost none of that is possible. And the singular issue his constituents care about is the pandemic and its effects.
"It's absolutely on everyone's minds," Williams, a Democrat, said. "If you think about urgency vs. priority, obviously right now it's high in both."
His Republican opponents, Colleen Tierney and Ryan Howard, are both first-time candidates dealing with the unprecedented pandemic and what it means for their campaigns as well as District 60, which covers Hudson as well as parts of Cedar Falls, Waterloo and rural Black Hawk County.
In lieu of door knocking, Tierney said she's been focusing more on videos for social media and expensive campaign fliers.
But she noted more people answer the phone these days and are willing to talk to her for longer, something Tierney attributed to loneliness of those stuck in their houses.
"It's definitely a strange year with this all going on, and this is my first campaign — I know this is not the norm," Tierney said. "I'd rather meet people face to face, but right now that fear is there."
Like Tierney, Williams said he misses door knocking, noting he's "very comfortable with small groups." For the most part, he's adjusted to telephone calls and emails.
"It really is like night and day," he said. "We're not gonna get to (door-knock), I don't think; if we do, there won't be much time."
Howard said he's been doing online "town hall" meetings via Facebook Live and other platforms, and said he's found some success.
"People pay more attention to these races now," he said. "Some are saying, 'Oh, we definitely need to have the right people in leadership.'"
Like the other candidates, Howard said he'd prefer to focus on his big issues — for him, that's helping to fix the state's child care shortages and enshrining stronger protections for gun owners into law. But that's not on voters' minds at the moment.
"It almost sounds silly to ask, 'What is important to you now?' Because 'coronavirus' is coming out of that," Howard said.
But Howard and Tierney don't have time to wait for the crisis to ease. They're staring down a primary less than a month away that will decide who gets to try to unseat Williams in November.
Tierney said one of her fears is disenfranchisement of older residents used to voting in person, which they can still do, though additional barriers and a fear of the virus as cases continue to climb could affect turnout June 2.
"The mail-in ballot, it doesn't seem like it's the norm for people," she said.
"A lot of them I've spoken to would prefer to go in person to vote; it feels more secure. ... It'll really be interesting to see what kind of turnout we're going to get."
Whoever wins in November will be headed into an unprecedented legislative session on the heels of massive unemployment, possible revenue shortages and perhaps even a state continuing to deal with coronavirus.
"It's going to be so painful this coming year; I'm not looking forward to it," Williams said. "But I am looking forward to continuing to be in on the discussions."
Agencies ask governor for more eviction funds as COVID economy threatens tenants
WATERLOO — Even as Iowa's governor has allocated more money toward helping keep people in their homes, both homeless advocates and those relying on rent payments warn more needs to be done.
Local agencies like Amani Community Services and Friends of the Family are two of 54 organizations across Iowa that signed onto a letter earlier this month asking Gov. Kim Reynolds to allocate at least $80 million in unspent CARES Act money toward the Iowa Eviction and Foreclosure Program.
"About one-third of all Iowa households are rentals, and pre-COVID, 28% of Iowa renter households were extremely low-income," the letter read. "And rent is now more difficult for many to pay as the state sees record increases in unemployment."
The directors of both the ACLU of Iowa and the Iowa Coalition Against Domestic Violence thanked the governor for adding funds, calling the money "crucial," but directors Mark Stringer of the ACLU and Laurie Schipper of the ICADV also noted Reynolds has another $82 million in CARES Act funding to spend by the end of the year.
"There is more federal money that Gov. Reynolds should allocate to this important safety net to keep people in their homes," they wrote Thursday, asking her to develop a state response next year as well, "since the economic impact of COVID-19 will be felt by Iowans for months to come."
Nearly 11,000 renters and 500 homeowners in Iowa have applied for assistance since the program began earlier this year, according to the governor's office. But agencies say the need is growing.
"Especially now that it's holiday time, we always see a little uptick," said Lisa Ambrose, CEO of Amani.
COVID-19 and the stop-start economy it's produced are putting pressure on more people than ever before, said Ben Brustkern, executive director of Friends of the Family.
"We're really starting to see a spike toward more need for housing assistance," he said.
On the other side of that equation are landlords, whose livelihoods are at stake when rental income doesn't come in, said Tony Miller, executive director of the Black Hawk County Landlords, an association of property owners.
"There's landlords that haven't gotten any rent since this started, and they're looking at bankruptcy," he said.
Without rental income, a landlord can't pay the mortgage on a property or do any upkeep, Miller noted. And with a federal moratorium expiring at the end of the year, he's worried about the long-term implications.
"It's a horrible domino effect, and it's going to affect our economy in Black Hawk for a long time," he said.
In Iowa, between 119,000 and 139,000 households were unable to pay their rent in October and were at risk of eviction, meaning a loss of rent of at least $121 million, according to a survey by Stout Risius Ross, a global advisory firm.
By Nov. 9, 28.5% of renters across all income categories had only slight confidence or no confidence they could pay rent on time, according to the same survey. That's more than double the 13.5% that said the same Oct. 26.
And the problem may be worse in Waterloo, which in 2016 — the last year for which data were available — had the highest eviction rate in Iowa among mid-size cities at 5.73%, according to evictionlab.org, a project maintained by Princeton University. Cedar Falls was 18th on the list, with an eviction rate of just 0.99% in 2016.
Ambrose said she's optimistic funding will come through in time to help clients. Brustkern isn't so sure, but said if a safety net isn't in place to prevent homelessness, it will cause other problems like food insecurity, domestic violence, family pressures and inadequate schooling.
"It's really important to have something like this so we can offset any issues occurring in the future," Brustkern said.